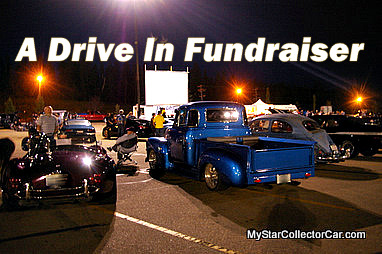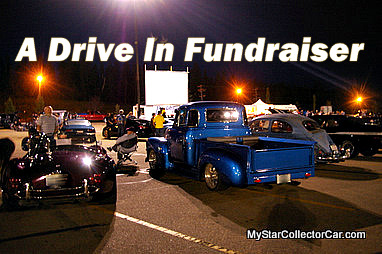 Drive in movies are part of a golden past era-we have discussed that concept at length in the past.
But we were only half right because many creative communities have brought the drive-in magic back to a new audience.
It just took some ingenuity, dedicated people and a large shopping mall parking lot with an understanding mall manager. Volunteers have dedicated their time and energy to bring back the past in a big way here in Red Deer Alberta Canada.
Ray and Susan Bouchard of Thru the Windshield fame are the kingpins of the drive-in revival in our town. They have collaborated with the Parkland Mall to host a summer- long series of drive-in movie events for our community.
The atmosphere of a drive-in movie has always had a sense of cinematic magic to it. A giant screen always added a stylish flair to the larger-than-life stars on the screen, even the B picture stars that were a big part of the drive-in experience.
Consequently it was like a big party in a parking lot that had endless possibilities on the screen and in the cars for some movie-goers.
The concession stand had its own appeal in an era when junk food was deep- fried, grilled to perfection and free from health watchdog alarm bells. The dancing food choices on the screen served their purpose very well.
This summer I took in a drive-in movie on a warm August Friday night. It had all of the sights, sounds and smells of the drive-in experience. The visual angle was 245 cars in the parking lot pointed at a drive-in screen.
The auditory angle was the familiar sound of outdoor speakers that kept movie-goers aware of the movie as they walked about in the lot.
The olfactory part of the bargain was the tantalizing aroma of food grilling at the concession stand.
The entire sensory package was a big trip down memory lane for those of us that remember the magic and occasional mayhem of the original drive-in experience. It was definitely a warm and fuzzy moment that brought us right back to a time and place when life was a pretty simple process.
So we salute Ray, Sue, Challenger Dave and everybody else that makes these events possible for an old and new generation of drive-in movie-goers. All credit to you people for making nostalgia happen in a big way.
Another big upside to the drive-in: the Parkland Mall manager picks a different charity every event and this year's list included STARS (air ambulance service), Women's Outreach, Red Deer Food Bank and September 9th's MS Society drive-in finale for 2011.
It is worthwhile for those reasons alone to attend a drive-in movie in our town, but the event itself makes it even more worthwhile for anybody that wants to relive their drive-in past-or for those that want to experience one for the first time.
The drive-in experience is alive and well in the 21st century. I would highly recommend it for everybody, including the drive-in food experience.
Jim Sutherland
More car stuff at – https://www.mystarcollectorcar.com/