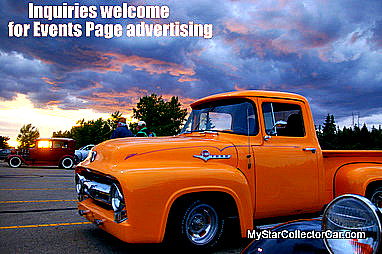 DECEMBER 2011 EVENTS
DEC 3 : Ontario, CA 13th Annual Christmas on Euclid Show, Shine & Shop presented by the Ontario Chamber of Commerce Foundation. Hours: 9am – 2pm. Open to all special interest, street rods, antiques, classics and muscle cars (old & new). Vendors and food. Contact: Don 951.206.5731.
DEC 4 : Pomona, CA George Cross & Sons, presents The West Coast's Largest Classic Car, Corvette, Porsche, Street Rod and Volkswagen Swap Meet and Classic Car Show – The Pomona Swap Meet. Held at Fairplex, Pomona. Hours: 5AM to 2PM. Over 15 miles of cars and parts for sale. Contact: (714) 538-7091 or pomonaswapmeet.com.
DEC 4: BRANDON FLA. COOKSON HILLS TOY RUN BILL & SHERI 813.643.5758
DEC. 8-10:DEATH VALLEY CA-Winter Car Festival December 8th-10th, 2011 Entertainment,Car Show with Awards and Prizes, Furnace Creek Ranch Call us at 702-987-3226
DEC 10: La Habra, CA Classic & Custom Charity Toy Drive presented by the La Habra Host Lions Club. Held at the old Burch Ford Lot, Harbor & La Habra Blvd. Hours: 10am – 2pm. All pre-1985 makes and models are welcome. Santa visit for the kid's, vintage dragster demos, BBQ, live entertainment and vendors. All proceeds to benefit the La Habra Operation Santa Program. Contact: Liz 562.665.5515 or lahabralionqueen@rocketmail.com.
DEC 10: Redondo Beach, CA 4th Annual Cruise at the Beach Christmas Car Show benefiting Cheer for Children Christmas Toy Drive. Held at Ruby's Diner Redondo Beach, 25 N. Harbor Dr. Hours: 9am – 3pm. Food & prizes. Please bring an unwrapped children's toy. Contact: 310.376.7829.
DEC. 10: TAMPA FLA. HIGH-ROLLERS MASON DIXON CHRISTMAS WISH CAR SHOW EDWARD 814.293.7803
DEC. 10: COLUMBUS GA. 6th ANNUAL CHRISTMAS FOR KIDZ CAR SHOW CRUISE IN WAYNE 506.866.5390
DEC. 10: SASKATOON SK. DRAGGINS XMAS PARTY OPEN 306.220.2446
DEC 11 – Anaheim, CA Choc Cruise 12 Toy Drive & Car Show hosted by Mini Truckin' Magazine. Held at Angel Stadium, Orangewood entrance. Hours: 10am – 2pm. Bring an unwrapped non-violent toy for admission. Contact: Tony 562.587.2545, Diana 562.587.4121 or ptfevents.8k.com.
DEC 11 – Bakersfield CA 28th Annual Bakersfield Toy Run http://www.bakersfieldtoyrun.org/
DEC 11 – Del Mar, CA 26th Annual Street Masters Christmas Cruise for the Kids. Held at Torrey Pines High School, 3710 Del Mar Heights Rd. Hours: 8am – 2pm. Open to all makes, models and years. Bring an new unwrapped toy and/or cash donation. Free pancake breakfast, raffle, poker walk, games & live auction. Contact: Ron 858.566.8629.
DEC 11 – Irvine, CA Car and Bike Show at the Great Park Farmers Market. Hours: 11am – 2pm. Free show 2nd & 4th Sundays of the month. Live music, farmers market, food trucks and drawings. Contact: info@michaelmendonca.com.
DEC. 17– Winter Garden, Florida Car Show 3rd Saturday of every month Saturday, January 15th through Saturday, December 17th, 2011 Open to all street rods and collector cars.4 p.m. until 8:30 pm Info: ramrodbruns@earthlink.net
DEC 17- LOS ANGELES FWY series 'The Finals' Toy drive & Car Show 1600 S. Figueroa St.
DEC 17- MODESTO CA 6th Year Toy Drive and Get Together for the Kids 1612 Sisk Rd. 95350 209-345-6115 aztecas300zx@yahoo.com
DEC 29- JAN 1 2012-San Diego CA 2012 San Diego International Auto Show will open Thursday,December 29, 2011 and run through Sunday, January 1, 2012. General Auto Show Information Kevin Leap Auto Show Director 858.550.0080
FOR JANUARY 2012 EVENTS PLEASE CLICK HERE-https://www.mystarcollectorcar.com/2-features/special-issue/1332-january-2012-car-shows-and-club-events.html