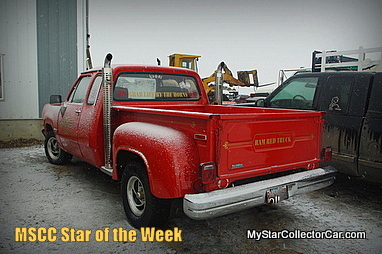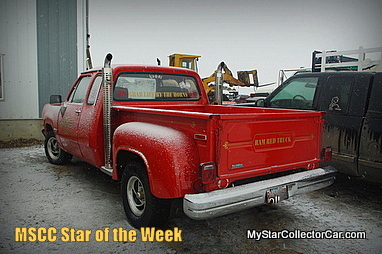 MSCC DECEMBER 22 STAR OF THE WEEK: WHAT IF THEY MADE A DODGE CLUB CAB LITTLE RED EXPRESS?
The Dodge Little Red Express debuted in 1978.
It was a beacon of light in the 1970s smog era for cars because it actually had some serious performance thanks to the free-breathing 360 Police Interceptor under the hood.
These trucks really stood out because they were bright red with two vertical exhaust stacks that told you these were the real deal on the street.
Little Red Express trucks were based on the short box regular cab version of the Dodge truck but this MSCC Star of the Day is a classic example of a "what if?" ride.
What if Little Red Express trucks came in Club Cab versions?
MSCC DECEMBER 21 STAR OF THE DAY: IHC TRUCK- A CORN-BINDER FOR THE FIRST DAY OF WINTER
Winter has officially arrived today although it's already been a grim reality for a few weeks.
Northern latitudes feel the greatest effect during this seasonal shift and one of the biggest casualties is daylight.
Daylight takes a big hit in December because it's shorter and a lot less direct. You end up with slanted, light and twilight in the afternoon.
This doesn't raise your spirits but it sure contributes to a great picture.
This old IHC pickup was beside the road a week ago and it turned an average shot into a magic shot thanks to that crappy winter daylight.
This MSCC Star of the Day is courtesy of the waning winter light.
MSCC DEC 20 STAR OF THE DAY: 1962 PONTIAC LONG ROOF-THEY JUST KEEP PILING ON THE COOL FACTOR
There was a time when you couldn't give away a station wagon. Long roofs were used up, entered in demo derbies or used as landfill.
Wagons were mere tools of the trade for family rearing and they meant less than a dead goldfish when they were gone.
The carnage continued for decades until the day station wagons became cool.
That wasn't long ago but thanks to the reprieve from certain death you get to see some very cool long roofs like this MSCC Star of the Day '62 Pontiac from a fall day back in November 2010.
DECEMBER 19 STAR OF THE DAY: CHEVY CONVERTIBLE-THIS IS WHY YOU RESTO-MOD
There are many schools of thought on old iron.
One is to keep them bone stock so the experience behind the wheel is exactly like it was when the car rolled off the factory floor.
This is a great way to preserve history and it's very applicable to survivor cars.
The other path is a resto-mod.
A resto-mod makes real sense when a car is dangerously close to basket case status and the benefits pile up when you can haul a trailer at highway speed in comfort and style.
This MSCC Star of the Day Chevy convertible was on the road a few years ago and it made a big case for the resto-mod
DECEMBER 18 MSCC STAR OF THE DAY: 1967 FORD METEOR-A CENTENNIAL RIDE IS A GREAT WAY TO CROSS THE COUNTRY
1967 was a huge year in Canada because that was a 100th birthday party.
People crossed this massive country just to see what it looked like from coast to coast.
There were celebrations in every pocket of Canada and a lot of people aimed for Expo 67 in Montreal where they "welcomed the world".
A lot of Canadians headed out in cars like this MSCC Star of the Day 1967 Ford Meteor. This was a uniquely Canadian name for Fords and they sold fleets of these dependable mid-range cars to a birthday happy Canucks.
This particular '67 Meteor crossed Canada twice in 2010 so it clearly had the same dependability 43 years later.
DECEMBER 17 STAR OF THE DAY: '58 CHEVY-FIGHTING THE GOOD FIGHT AGAINST MORE-DOOR BIAS
One of the written mandates of MSCC is to celebrate the four-door sedan.
There's a stigma attached to more-door cars and most guys either part them out or paint them flat black and slam them an inch off the ground.
So four-door sedans are either organ donors or belly-crawlers.
That's why you rarely see stock, pristine examples like this '58 Chevy at a 2010 car show.
This MSCC Star of the Day is a clear reason why there should always be a third option with classic "more-door" sedans.
DECEMBER 16 MSCC STAR OF THE DAY: 340 CUDA-DRIVING STRAIGHT INTO LEGEND
The E-body Cudas are a blue chip stock in 2013. You can take the most bagged-out, thrashed, rusty and stripped project Cuda and ask for money that would humble an extortionist.
That's the price of fame.
E-body Cudas were clean, well designed cars that responded well to performance upgrades because of their weight.
This MSCC Star of the Day Cuda was at a September 2012 show and it was a classic example of why these cars are in so much demand.
For past Stars of the Day please follow this link.
Star of the Day page sponsored by Southside Dodge.