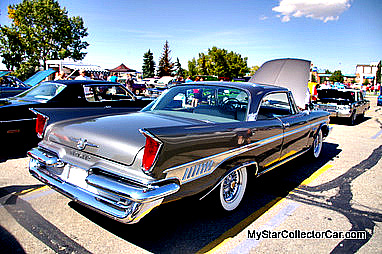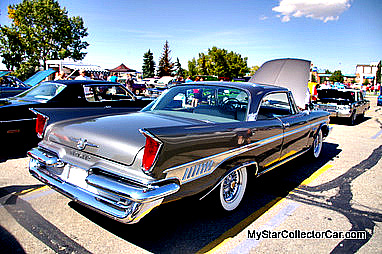 Derek Sparkman has had a direct relationship with 1959 Chryslers since Day 1 of his driving career because he earned his license in one.
In fact, that 59 Chrysler Windsor was his first car.
His relationship with this 59 Chrysler New Yorker is considerably longer-it extends over 35 years.
Mopar fin cars have enjoyed a steady rise in value over the last decade thanks to more parts availability and a spike in prices at the bigger auctions for specific vehicles like Chrysler letter cars.
Actually Derek takes pride in his New Yorker because "everybody's doing letter cars and nobody does 59 New Yorkers". No doubt about that-Derek reported "there are only 2 others just like this car and both are in California".
Derek bought this car from the original owner in Portland Oregon back in the 70s. It was "an extremely low mileage garage kept car. I had to have it."
Clearly Derek has an intimate knowledge of this car after several decades and every second of the experience has been incredibly positive. He's driven this car thousands of miles in complete comfort behind the wheel of this large luxury liner from an era when Frank Sinatra ruled adult radio. This car is fully loaded with power steering, power brakes, power seat, 40-60 front seat, automatic headlight dimmer and auto pilot because a New Yorker buyer was used to upper end luxury.
Those add-ons make this 1959 New Yorker an absolute force on the highway-even in 2011. Derek confidently adds "I'll drive it anywhere, you gotta drive them and I've never had a problem". Over the years he's been fearless with the car and 1000 mile one way trips are events that he enthusiastically embraces, rather than fears.
The car loafs at 75 miles per hour thanks to a 413 engine linked up to a 2.76 rear end. Not only that, it does an honest 21 miles per gallon on the highway-that is absolutely phenomenal performance for a giant old tech car from the late 1950s.Derek adds "this car has no rattles, wind noise, the torsion bars don't even squeak". He was so confident in the car that he even towed a tent trailer when his kids were younger and he didn't notice any dip in performance.
The trips have come with a price-he had a rock nearly come through a windshield on a British Columbia highway several years ago and that cost him the price of new glass. He made one other refinement. Derek adds that "switching to radial tires really made a difference in the ride and handling".
The New Yorker has really benefited from careful ownership as Derek explains,"I have a buddy who owns a hot rod shop, he looked it over and told me that there's not a speck of rust on the car. This one is mint".
This is obviously the best car and owner relationship possible and Derek envisions many more happy miles behind the wheel of this classic 50s Chrysler. He's still a young guy and he still enjoys car shows-possibly because this New Yorker has easily won best of class at several Mopar shows but mostly because he's the right owner for this car.
Class, style and long term relationships-that's what 59 Chryslers are all about.
Jerry Sutherland
Car stories abound via this link-https://www.mystarcollectorcar.com/