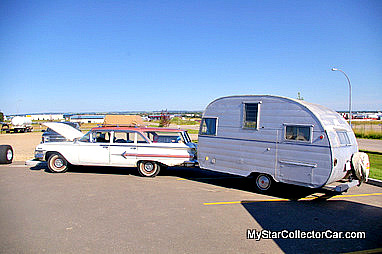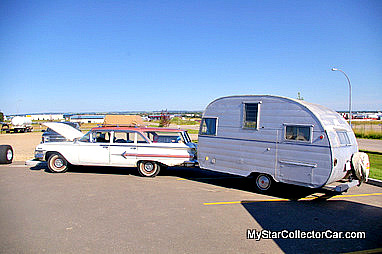 Steve and Dee Pasztor like the adventure of life on the road with a vintage wagon/trailer combination and they like to share their adventures with nephews and nieces.
In fact they even let their young charges give their 1960 Chevy wagon a name: the Whale Car.
From the creative minds of kids comes a great name for their venerable old summer holiday hauler, a name the youngsters drew from 'Finding Nemo', a full length Disney cartoon that had a marine theme to it.
The movie had a kindly whale in it, so the kids wanted to name the Nomad after something with size and fins that they liked well enough to fit the car, enter the 'Whale Car'.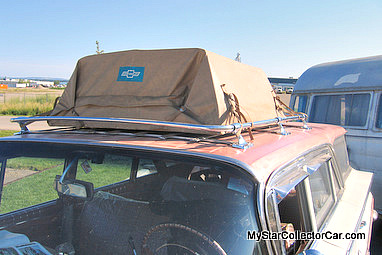 The 'Whale Car' is not a completely restored beauty, in fact the Pasztors have invested just enough to keep it reliable on the road-while towing a vintage trailer. We caught up to the nomadic wagon at a vintage car and trailer show this past summer.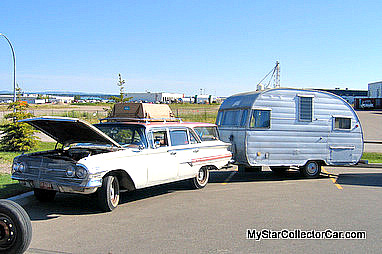 The Pasztors are not afraid to take their Nomad anywhere because, in their words, they are "not afraid of bumps and bruises" on the wagon. They do not seek out more door dents but they are not afraid to use the car in everyday situations.
The car has a 348 4-barrel engine and likes highway speeds with its 1952 trailer in tow. The engine has a new timing chain, but it has no other work done to it on their watch. The vintage trailer maintains the aura of a bygone holiday on the road philosophy, plus it curtails any need to sleep in the back of the Nomad after Dee discovered a massive mouse problem in the interior roof panels.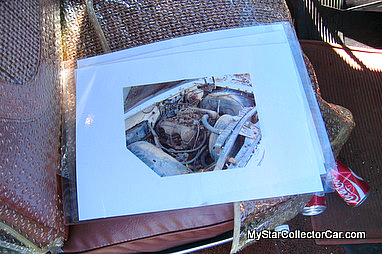 The Pasztors are the fourth owners of the Nomad and we commend their efforts to maintain its long heritage of family vacations in similar fashion to one of its former owner's family.
In fact, the Pasztors have contact with Greg Cole, the son of its second owner, and a guy that can vividly recall the car from his childhood in 1962. Greg's father was a business machine salesman who logged thousands of miles behind the wheel of the Nomad on the road as part of his job.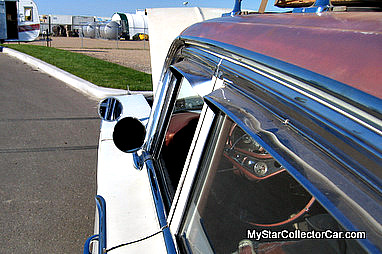 Greg remembers the Nomad very fondly as the family vacation car during the 60s and the day when his father announced that the family was about to get a new car. He related his first impressions, "The car was bought when I was about 5 so that would be in 62….it still smelled new ! Dad bought it because he was a salesman with Burroughs Business Machines and needed to carry his cash registers and adding machines with him as he travelled southern Alberta. He traded our old 2 tone 55 4 door on it."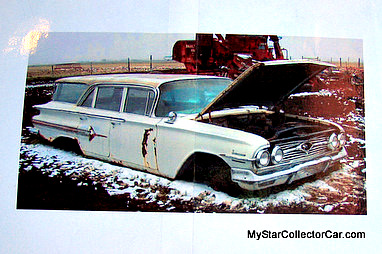 Then he drove the car around the block and zeroed the odometer on the Nomad because it had just hit 100,000 miles- enter the new car.
Greg remembers 'Bambi' at the drive in, a hood dent from a slippery street on New Year's Eve, and all of the other things that made the Nomad a member of his family during Greg's childhood. He listed a few of the highlights "We always went to Tappen in the summer which is near Salmon Arm and I often slept in the back with the seat folded down. Another trip to Sheep River camp ground was pouring rain and us kids slept in the 2 wagons, my uncle had a green 59. I woke up the next morning in the Nomad…. in front of our house on Kilkenny Road…. because the campground had been evacuated that night for fear of flooding….Dad had slept there with me and I punched him when I woke up because we were home. The damage to the front end happened on New Years Eve probably 1969 or 70 when we were at the Wray's house for a party ….I would have been a kid of 12 or 13….and Dad had too much to drink so Mom drove home and we were heading east on Glamorgan Drive where it meets 37th Street which is slightly downhill….and it was very icy and Mom put on the brakes but slowly slid into the car in front of us. So back then there wasn't mandatory insurance and Dad went out and worked it out with the other guy …no problem…. Another great story though….when the Nomad was still our family car….Dad came home from work and said "we are going to see our new car…..! " We said " What ??…..a new car ???….so we drove around Killarney area in the Nomad for a few minutes with all of us confused about where we were going….and finally Dad said " Here it is " and we said " What car ? Where " and he pointed to the odometer on the Nomad and it had spun over to 000000 ! We were not too upset because we loved the old Nomad…."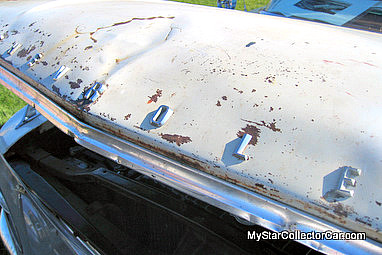 Greg can recall a Banff National Park incident where the family dog was supposed to be quieted down through the entry gates because the park did not allow pets entry through the gates in family vehicles and a race where the 348 4 barrel came in handy, "We went to Grande Prairie to visit Uncle Bill Donaldson in the mid 60's and he had a big Chrysler of some sort and my Dad raced him up a gravel road hill and won !.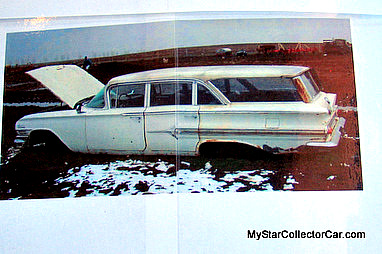 Judy is Greg's sister and her first impressions of the Nomad were less than positive as she recalls, "My first memory of the Nomad was NOT a good one. I was at my Highland dancing lessons in East Calgary near the old brewery and Mum, Dad and Greg picked me up in A NEW CAR!!!! I was a bit of a wuss back then and I was just SOOO unhappy because the old green one was gone and I never had a chance to say goodbye. For quite some time after that, I worried about what family that dear old car ended up with…"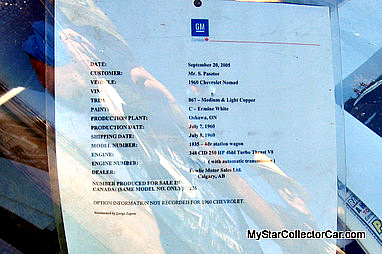 However Judy questioned the validity of the dog rule angle and felt that her parents simply wanted a few quiet moments on the vacation "Regarding my brother's story about the dog: I'm quite sure that dogs were allowed through the Banff Park!!! How else did anyone travel between BC and Alberta with their pets? I have come to believe that our parents were smarter than we thought and they managed to get a few minutes of peace while we were terrified of losing our beloved Teddy".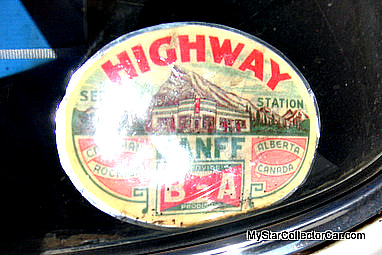 Speaking of restless kids, Judy was always amazed at her mother's ability to swat kids from the front seat of the Nomad. The woman had plenty of reach in a less politically correct era when you could swat kids as Judy explained, "I remember many whacks from the back of my Mum's hand while we were fighting in the back. Honestly, her arm could reach any spot in that back seat without her head even turning around."
Judy recalls Greg's bout with carsickness-a malady experienced by many of us on summer car vacations. Greg managed a successful vomit launch from the back seat into his father's lap on one memorable occasion as Judy recalled, "Also, my brother left more than urine DNA in that car as I distinctly remember him on one family trip standing up right behind Dad and barfing over his shoulder and onto his lap. I was disgusted with him and wondered why on earth we had to bring him with us on every trip…..heeeheee"
One thing was very clear to us when we heard from Judy and Greg: they both loved this Nomad like a member of the family when they were kids. It represents all of those great memories from their lives as young kids in the 60s. Drive-in movies were big in those days as Judy recalled,"I remember going to the old 17th Ave Drive-In (45st and 17ave SW) in our pyjamas with the seats pushed down and the entire back covered in mattresses. We saw Dumbo".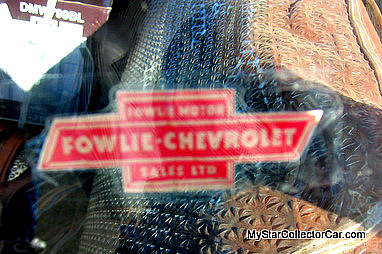 For that reason alone they are very happy that Steve and Dee now own the Nomad and respect its history in a family that loved it a generation ago, "I am so glad that the Nomad went to a good family who will treat him well!"
That's a happy ending-1960 Nomad style.
Jim Sutherland

Many more great stories at–https://www.mystarcollectorcar.com/
copyright 2011