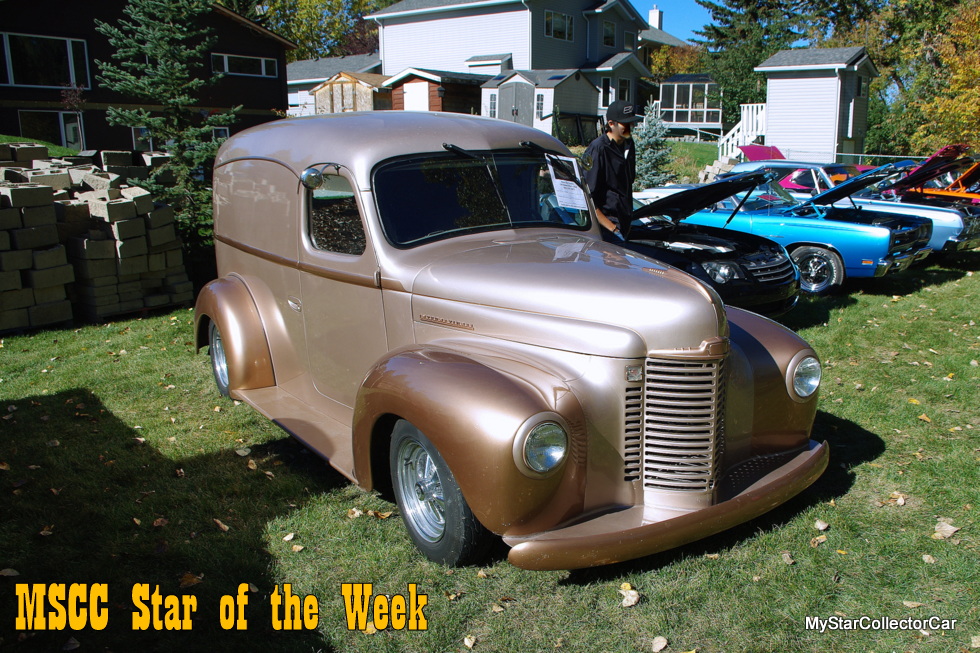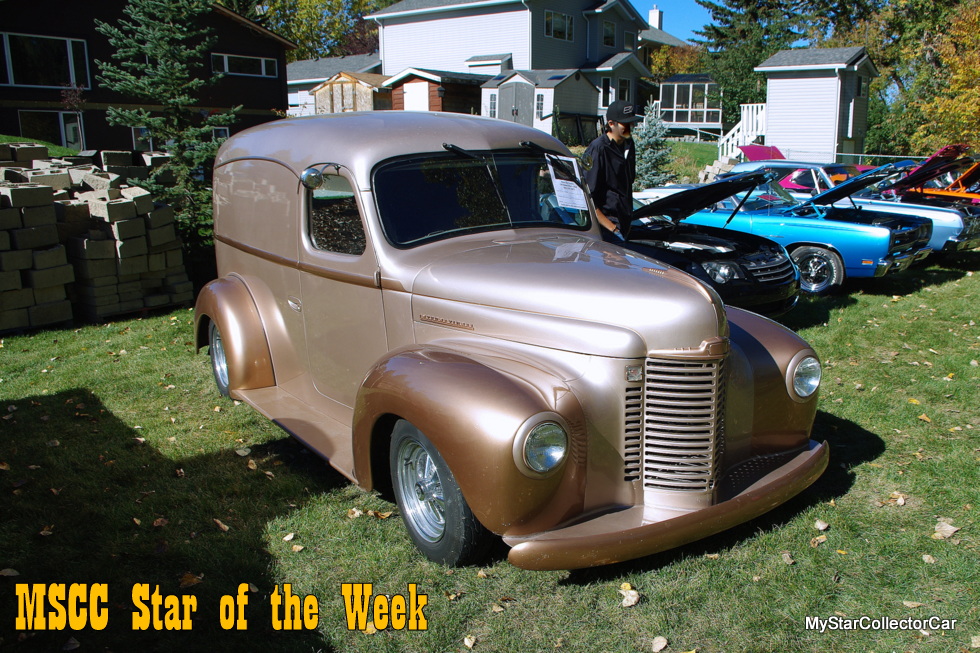 MSCC NOVEMBER 8 STAR OF THE WEEK: '46 IHC—THE CONCEPT OF OUTSTANDING IS A LIFETIME COMMITMENT
There are many way to stand out in the world.
You can make it big in Hollywood or as a pro athlete and the spotlight will be on you…for a few years.
'Or you can build a really cool ride and be in the spotlight every time you drive it.'
This '46 IHC panel van is an MSCC Star of the Week because the concept of outstanding is a lifetime commitment.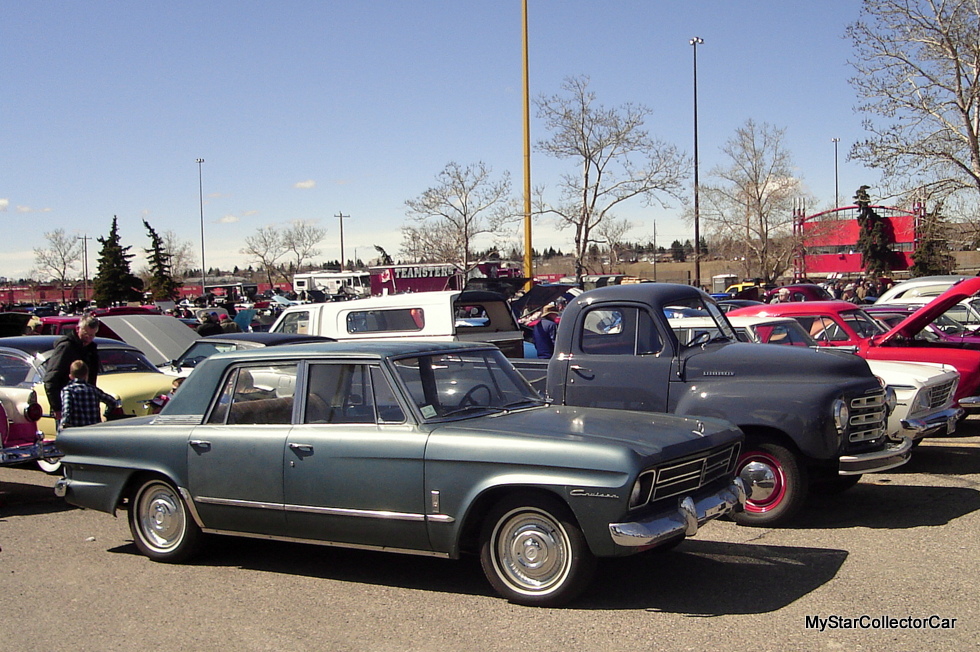 MSCC NOVEMBER 6 STAR OF THE DAY: A STUDEBAKER SHOW OF STRENGTH
Studebaker was a household name from the first day they built a horse-drawn wagon.
'This was the start of something big for Studebaker because they had a source of dedicated buyers for decades.'
That would end in 1966 when the last Studebaker was built in March.
This MSCC Star of the Day is a Studebaker show of strength.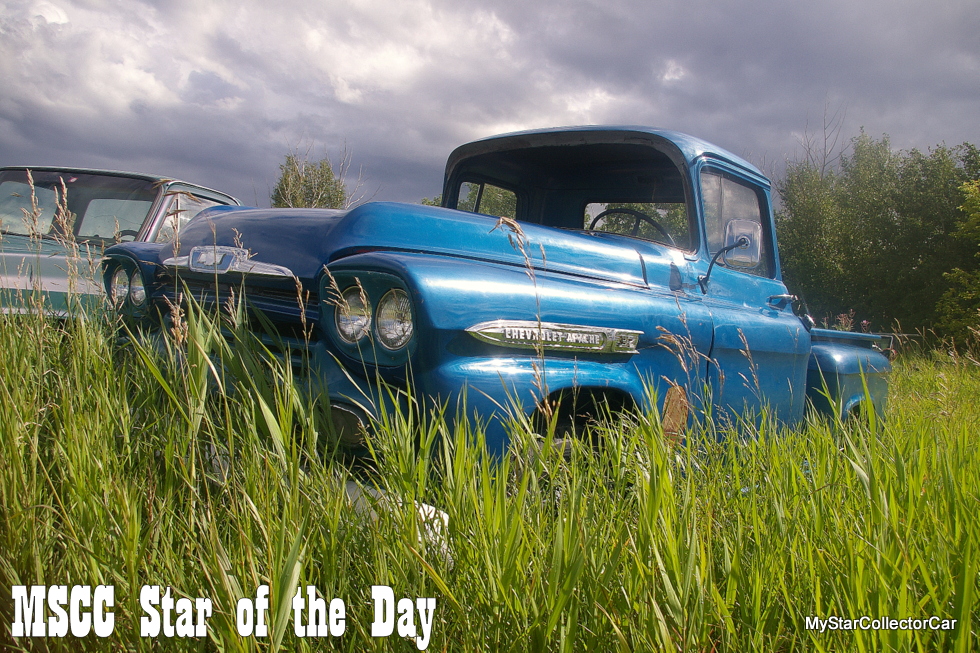 MSCC NOVEMBER 6 STAR OF THE DAY: CHEVY APACHE—LIGHTWEIGHT WITH A HEAVYWEIGHT PUNCH
Trucks have always had different load capacities so it really came down to what the customer needed.
Most people can get by with a half-ton if the biggest job during the week is hauling a few sheets of plywood or spearheading a bottle drive for your kid's football team.
'Anything beyond that job description—like a big load of cement bags or a large bull means you have to step up the ladder to a ¾ ton or better to handle the load.'
This MSCC Star of the Day is a Chevy Apache—they were a lightweight truck but they routinely had to pack a heavyweight punch back in the late 50s.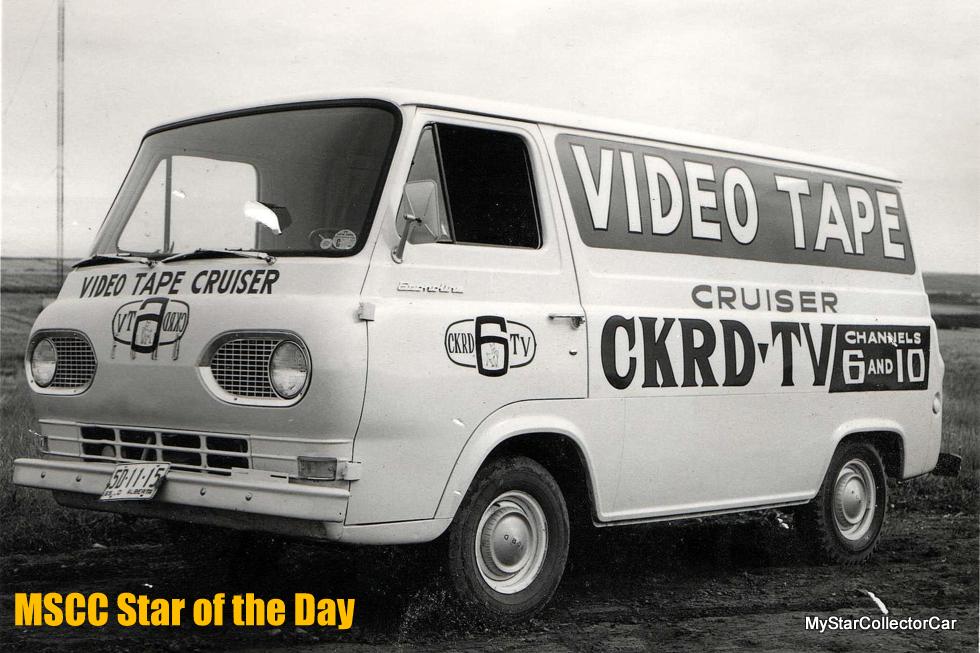 MSCC NOVEMBER 5 STAR OF THE DAY: EARLY TV SURVIVED THANKS TO WORKING TRUCKS LIKE THIS FORD ECONOLINE
The history of TV is often summed up with names like Ed Sullivan, Lucille Ball and Herman Munster but those were the people in the spotlight.   The real work was done behind the scenes with cameras the size of Volkswagens and the vans that had to haul them to remote locations.
'Unlucky guys had to load these giant cameras in and out of vans to get them to the scene of the crime or whatever passed for news back in the 50s and 60s.'
This MSCC Star of the Day is a Ford Econoline from a 1960s small market TV station because early television survived thanks to working trucks that could carry massive amounts of equipment.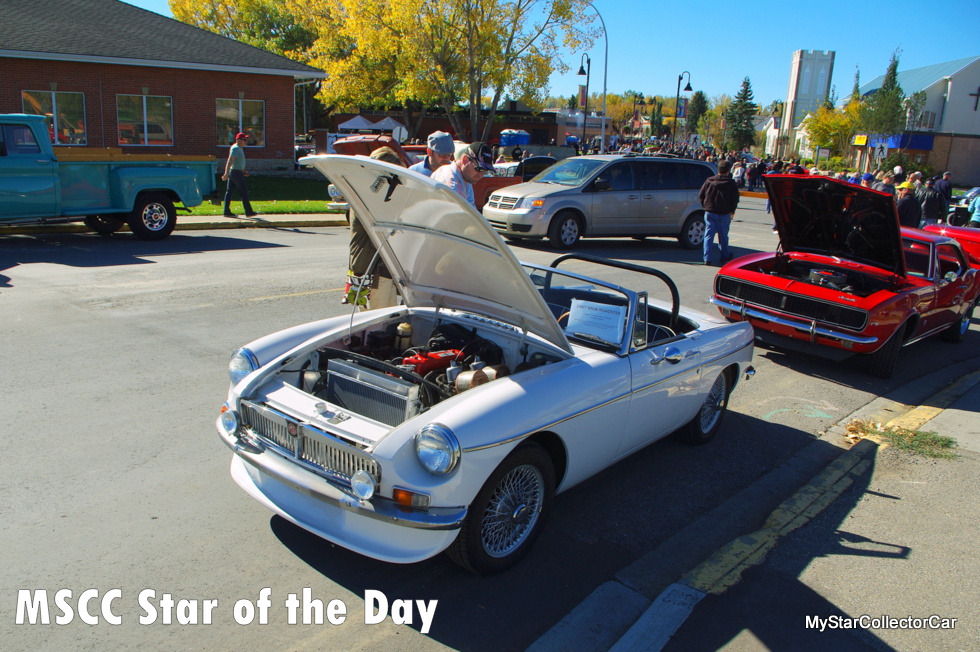 MSCC NOVEMBER 4 STAR OF THE DAY: A TOUGH LOOKING LITTLE '67 MGB SHAKES AN IMAGE STEREOTYPE   The MGB is a legendary name in the history of British sports cars.   They were born with an eye to the North American market so they were tamer than their older cousins, the MG-TC and TD.
'MGBs were more civilized than their predecessors so they earned an image of being a softer version of the more rambunctious TCs and TDs.'
This MSCC Star of the Day '67 MGB shook up the image stereotype because it was a muscled-out version of a British legend.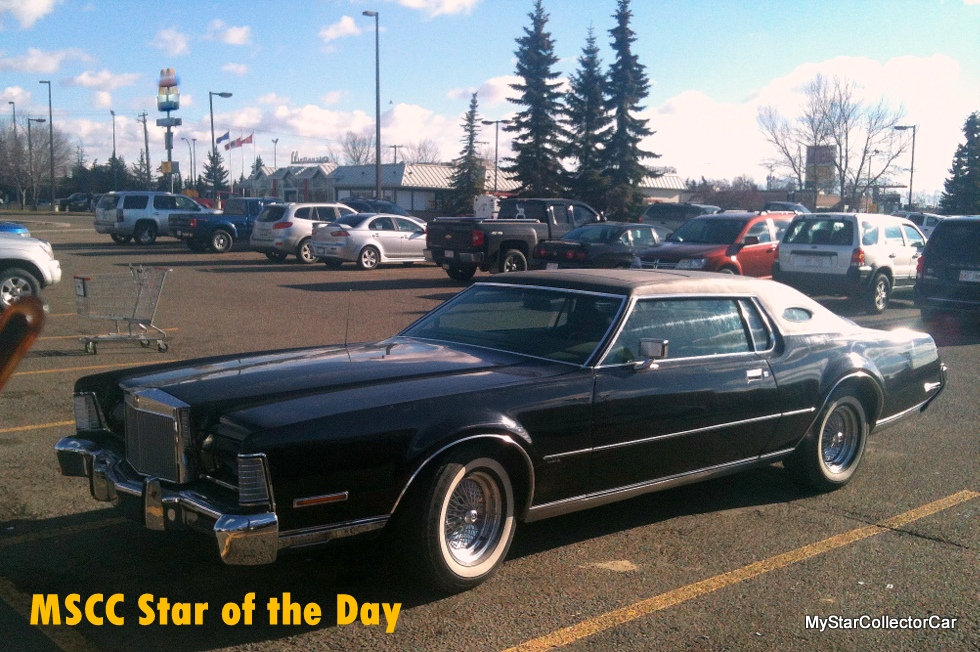 MSCC NOVEMBER 3 STAR OF THE DAY: LINCOLN MARK IV—WHEN THE TERM PERSONAL LUXURY CAR REALLY MEANT SOMETHING     Once upon a time there were personal luxury cars and some will argue that the trend began in '55 with the Chrysler letter cars but the term really took off with cars like the Olds Toronado, Ford Thunderbird and Buick Riviera.     The key to a personal luxury car was a massive engine in a massive car with only two doors and lots of built-in options.
'Personal luxury cars weren't supposed to be practical because the impracticality made a statement on its own—you had arrived.'
This MSCC Star of the Day Lincoln Mark IV is perhaps the definitive form of the personal luxury car because it was built when the term really meant something.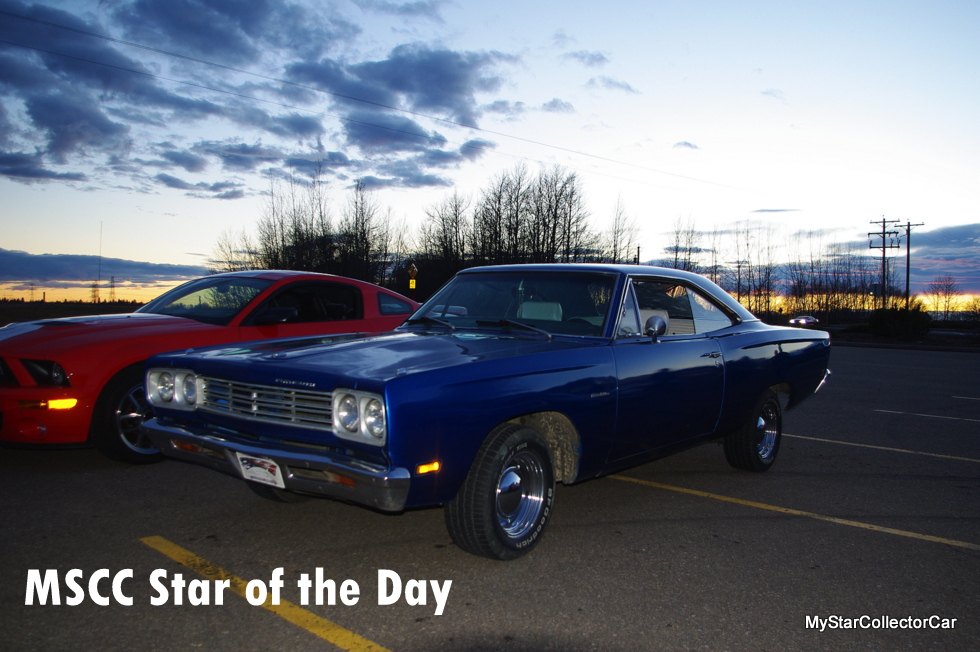 MSCC NOVEMBER 2 STAR OF THE DAY: '69 SATELLITE – THEY WEREN'T ALL ROAD RUNNER AND GTX OPTIONED   B-body Mopars really took off in 1968 with the introduction of legendary names like GTX and Road Runner.   Plymouth dealers couldn't keep these cars in their showrooms and the trend continued into '69.
'They sold Road Runners but they also sold less glamorous versions of B-body Plymouths in the form of Belvederes and Satellites.'
This MSCC Star of the Day Satellite was at a late season show last week—they weren't all Road Runner and GTX-optioned.
CLICK HERE to Like us on Facebook   CLICK HERE to Follow us on Twitter   CLICK HERE to Follow us on Pinterest   Please re-post this if you like this article.