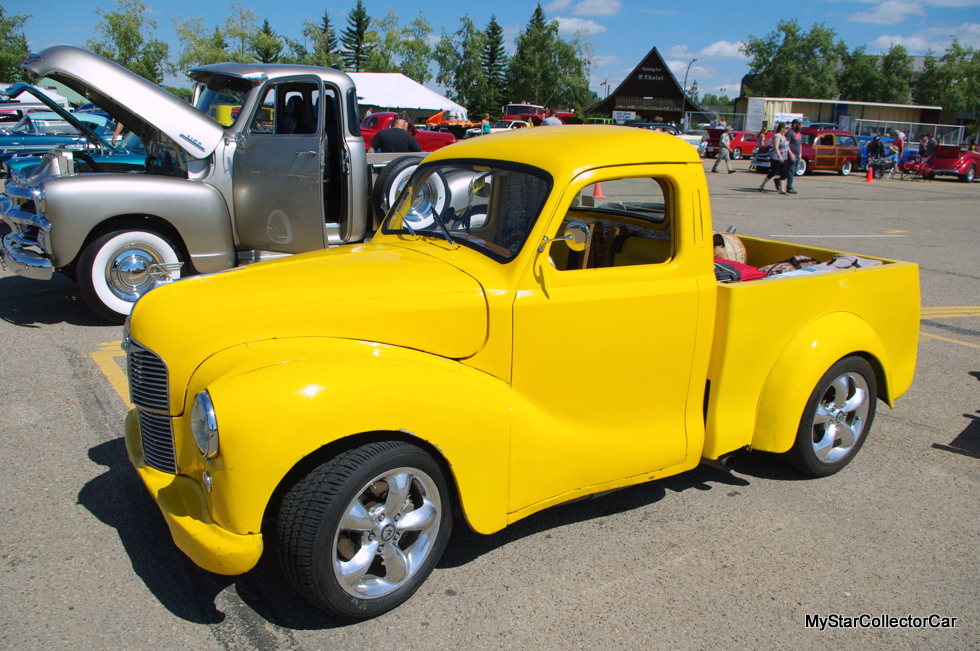 Austin A-40 pickups are a rare sight in North America because they didn't sell them in numbers like the Chevys, Fords or Dodges.
They were cute little devils but their 1/4 ton payload capacity and size worked against any big roles on the farm or job site.
'An Austin A-40 may not be the biggest workhorse on the job but they are definitely something you won't see at many car shows.'
Reinholt Teichgraber is the proud owner of a 1948 Austin A-40 and he wasn't really concerned about how rare it is or how much gravel it will carry in the truck bed but he did want something he could drive all year round.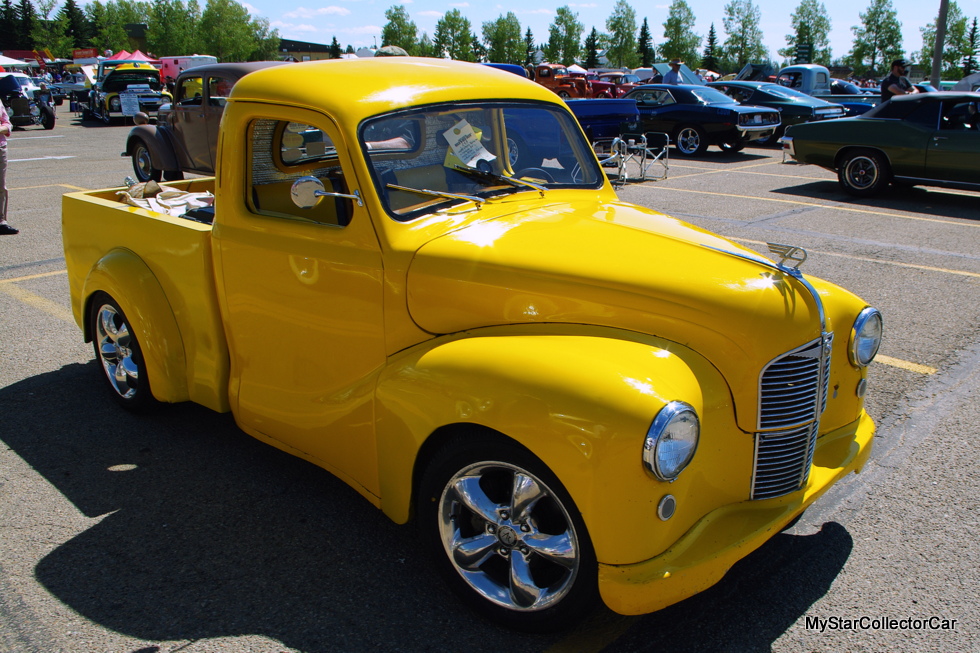 He had a pretty simple game plan for the old Austin—make it functional in the simplest, cheapest manner. The only way this plan works is via hours and hours of sweat equity because professional help would turn this Austin into the most expensive vehicle Reinholt ever owned.
There is a resto-mod movement in the old car world that's really taken off because it keeps the vintage look of a classic ride but adds modern tech to the game. Reinholt knew he wanted a Japanese power train because they're cheap, readily available and the size works in a big way with a small truck.
He started back in 2003 with "a rusty shell and a butchered frame" so there was a massive amount of work required to put this '48 Austin back in action.
Reinholt picked up a 1987 Mazda Club Cab B-2000 for the heart transplant. He had to shorten and narrow the frame down to 91" to make it work under the '48 Austin but it was his time invested in the project—not a high-priced tech guy. There's an RX7 independent rear suspension under the back of this Austin, front air struts and discs all around so it handles a lot better than it did back in 1948 but Reinholt admits "it's a little choppy ". The only thing Austin under the hood is the original radiator.
This is a custom build and the truck reflects that philosophy because Reinholt's wife Sylvia put it together and Reinholt built a homemade pistol grip, built the seat and the wooden dash plus he added '64 Chevy tail lights. He also did all the paint and body work on this little Brit so the sweat equity bill is on the high side.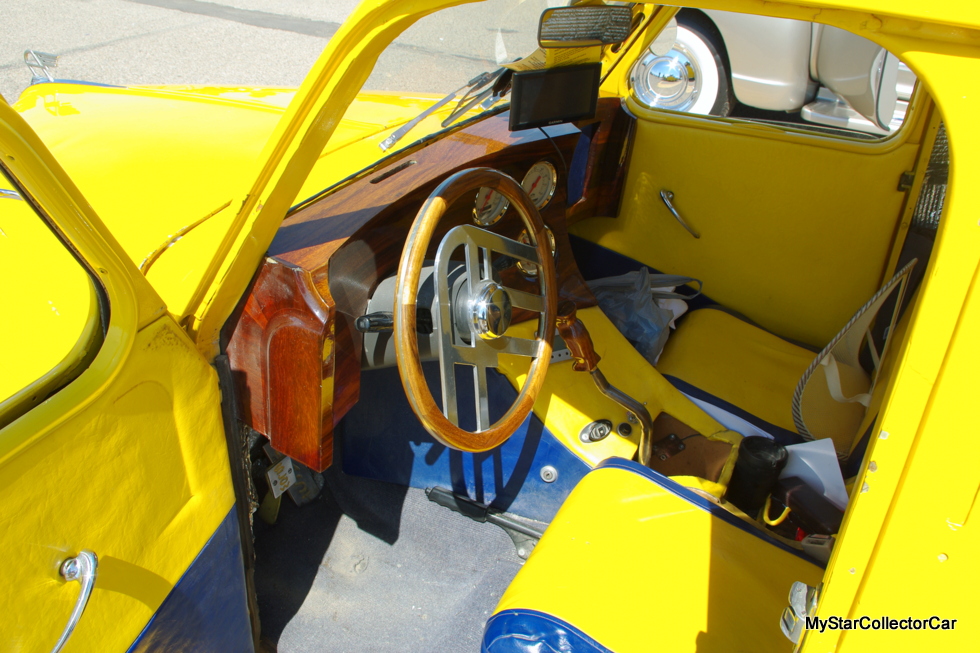 The Austin hasn't been trouble-free because Reinholt confesses he's on the third engine. He was down in Minnesota for the Back to the 50s show and he "blew the motor up, rented a car, drove home, got a trailer and picked it up". The second motor blew up too so he replaced it overnight and he was back at the show the next day. There's a simple explanation for the mishaps— "You have to find a complete truck and there's always lot of miles on them".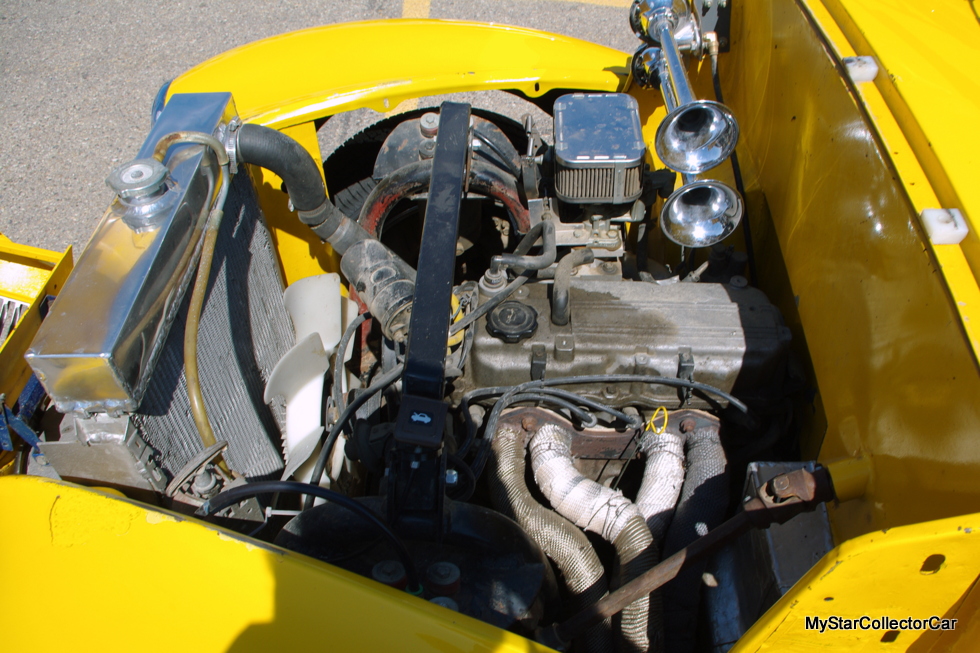 Despite the setbacks, Reinholt put on over 4000 miles last year alone so the he's had plenty of time to analyze the experience. He can run it comfortably at 60-65 miles per hour, get 34 miles per gallon in the process and he "can haul a lot of stuff" in it but it's "pretty noisy" because there's no weather stripping.
Reinholt continues to run up the miles on his Austin –winter or summer and he's still impressed with the little truck.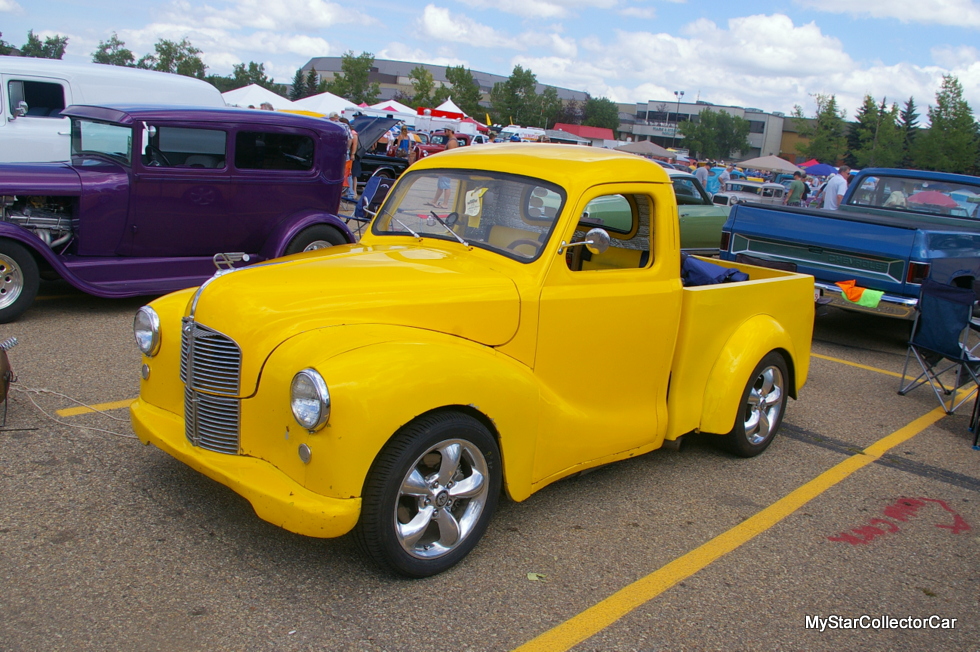 There's very little chance this Austin would still be an all-weather driver in 2015 but thanks to a Japanese heart transplant, the little truck continues to be an all season warrior.
Jerry Sutherland
.
CLICK HERE to Like us on Facebook
CLICK HERE to Follow us on Twitter
CLICK HERE to Follow us on Pinterest
Please re-post this if you like this article.