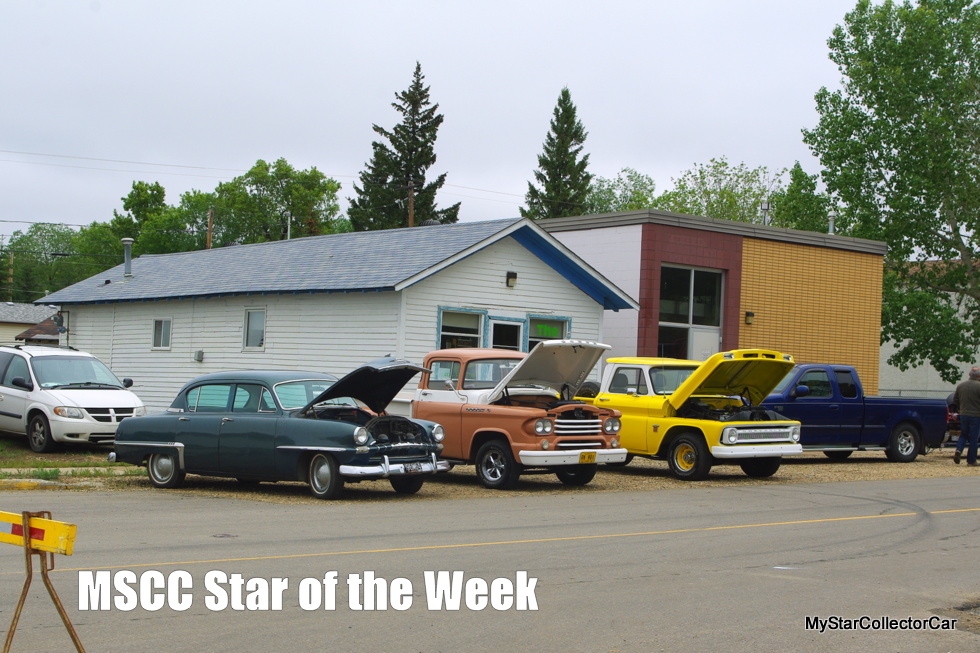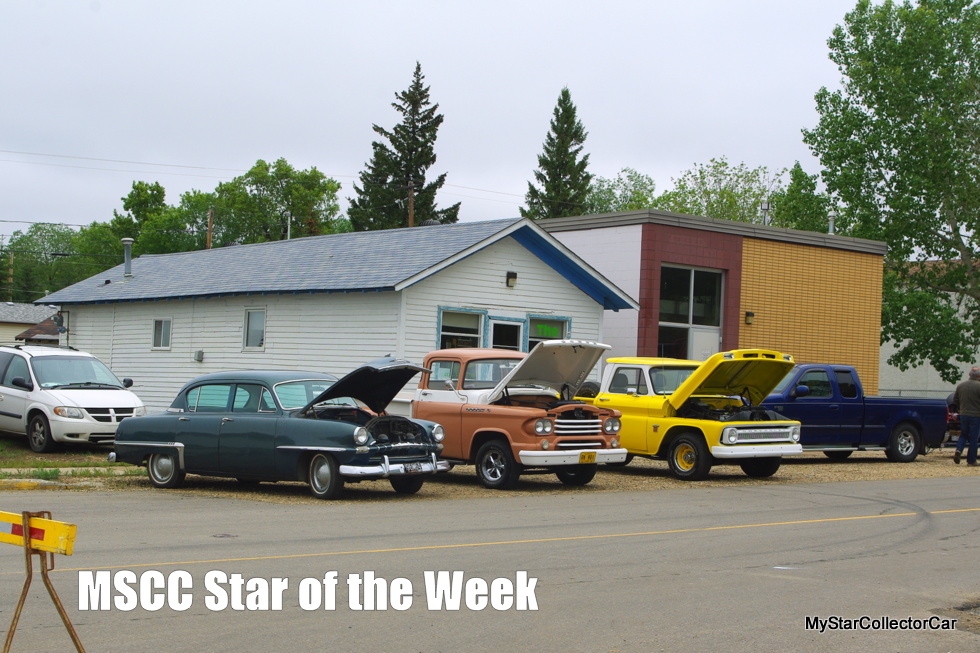 MSCC MAY 22 STAR OF THE WEEK: THE OWNERS WHO SUPPORT THE SMALL TOWN CAR SHOWS
Old cars and trucks are a huge part of a small town community event.
They'll draw people to a venue because people like to look at these 4-wheeled reminders of a much more interesting automotive past.  
'There was a show in Mirror, Alberta yesterday and it was touched by the fickle weather gods because it was a cold, cloudy and dampish day—a typical May long weekend in Alberta.'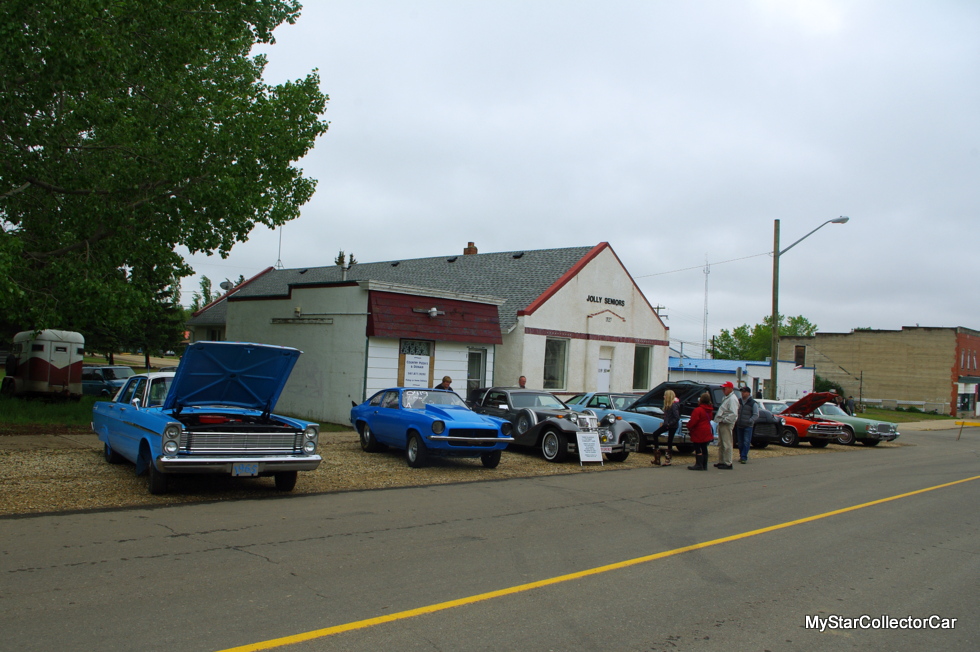 Despite the abysmal weather, the MSCC Star of the Week is this group of car guys came out to support a great little small town car show on Saturday.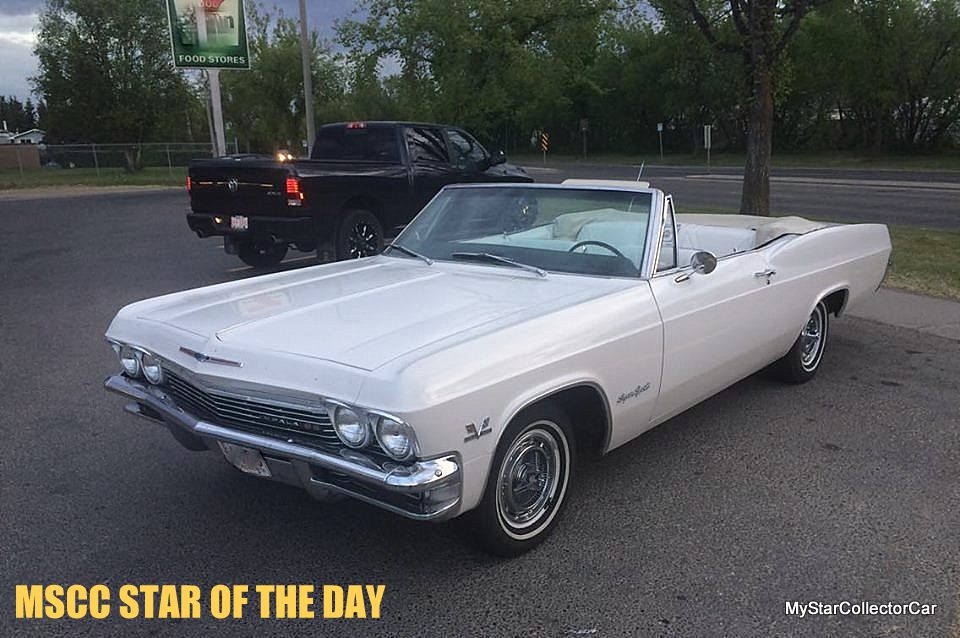 MSCC MAY 21 STAR OF THE DAY: 1965 IMPALA SS396 CONVERTIBLE—AN AMERICAN ICON
There are many images that are exclusively American.
Any picture of John Wayne—particularly one with 'The Duke' on a horse is an exclusively American image.
'There are many other exclusively American images like the Golden Gate Bridge, the Statue of Liberty, the White House and the Grand Canyon—they all connect you with the United States because they are American icons.'
This MSCC Star of the Day '65 Impala SS396 is yet another example of a true American icon.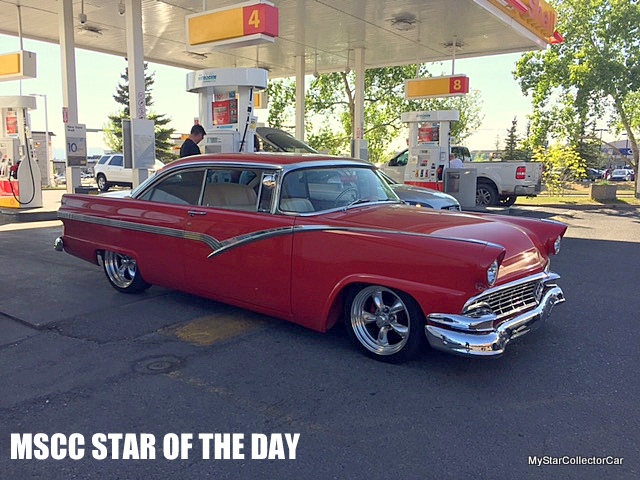 MSCC MAY 20 STAR OF THE DAY: '56 FORD—GAS STATIONS ARE RARELY THIS INTERESTING IN 2016
The gas station used to be a lot more interesting.
'They actually worked on cars at gas stations, they had their own tow trucks, checked your wipers, checked your oil, checked your tires (air was free), clean your windows and they pumped your gas.'
They were a far cry from today's self-serve, pay as you go pay a buck for air, sterile gas stations.
This MSCC Star of the Day '56 Ford was fueling up yesterday and it was a welcome sight because gas stations are rarely this interesting in 2016.  
MSCC MAY 19 STAR OF THE DAY: '51 NASH—FOR THE GUYS WHO THINK MUSTANGS, MOPARS AND VETTES ARE TOO EASY
There are cars with massive parts catalogues and none of them are called Nash.
The Nash wasn't at the top of the heap for sales and over decades later, there hasn't been a massive spike in guys who want to take on a Nash project.     
'Lower numbers doesn't mean these cars don't have fans—in fact they have some of the most dedicated fans in the world because guys who take on a Nash project are doing it without a big parachute of reproduction parts.'
This MSCC Star of the Day '51 Nash is for the guys who think Mustangs, Mopars and Vettes are too easy.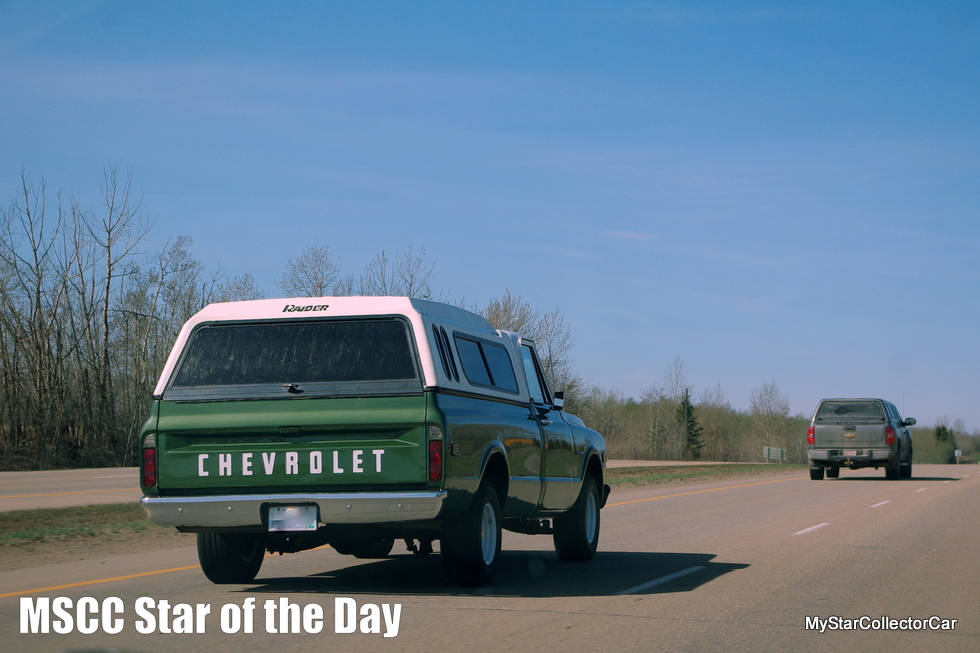 MSCC MAY 18 STAR OF THE DAY: OLD CHEVY VERSUS NEW CHEVY—STYLE TRUMPS FUNCTION EVERY TIME
The 2016 car or truck is light years ahead of anything built 30 years ago.
'They're safer, more powerful, more efficient, more comfortable and more reliable (until the computer chip crashes) but what new vehicles gain in technology, they lose in style. '

Few 2016 cars or trucks will be classics—if they're even on the road 45-50 years later.
This MSCC Star of the Day is this vintage Chevy pickup on the road a few weeks ago with a decades newer Chevy truck in front of it because style trumps function every time.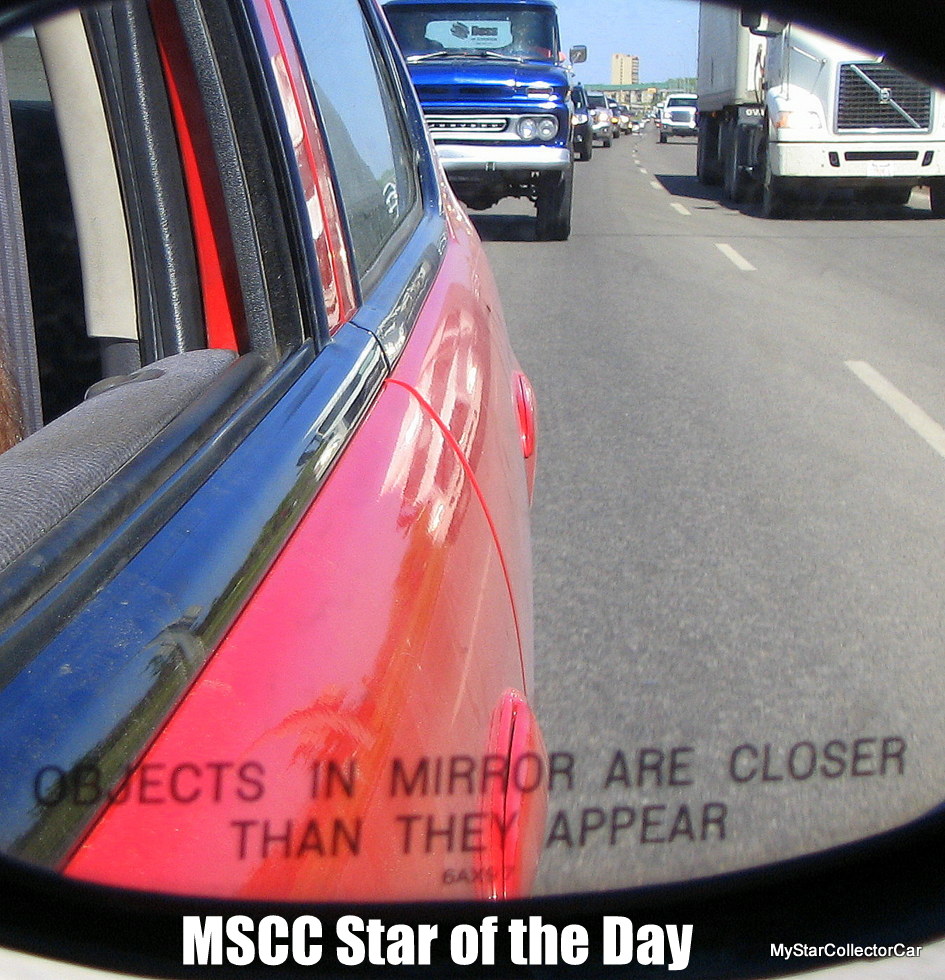 MSCC MAY 17 STAR OF THE DAY: THE ETERNAL STRUGGLE TO GET A COOL PICTURE IN TRAFFIC
The elusive shot for 'carparazzi' is the coveted picture of old iron in traffic.
'You'll spot a classic ride on the road and mentally register what it is, but in the split second it takes to grab whatever camera or phone you have handy that elusive prey disappears.'
You don't get the coveted shot and you end up with a great picture of a giant truck or a blurry picture of a city bus.
Sometimes the shot ends up behind you like this MSCC Star of the Day Chevy short box—it's all part of the eternal struggle to get a cool picture in traffic.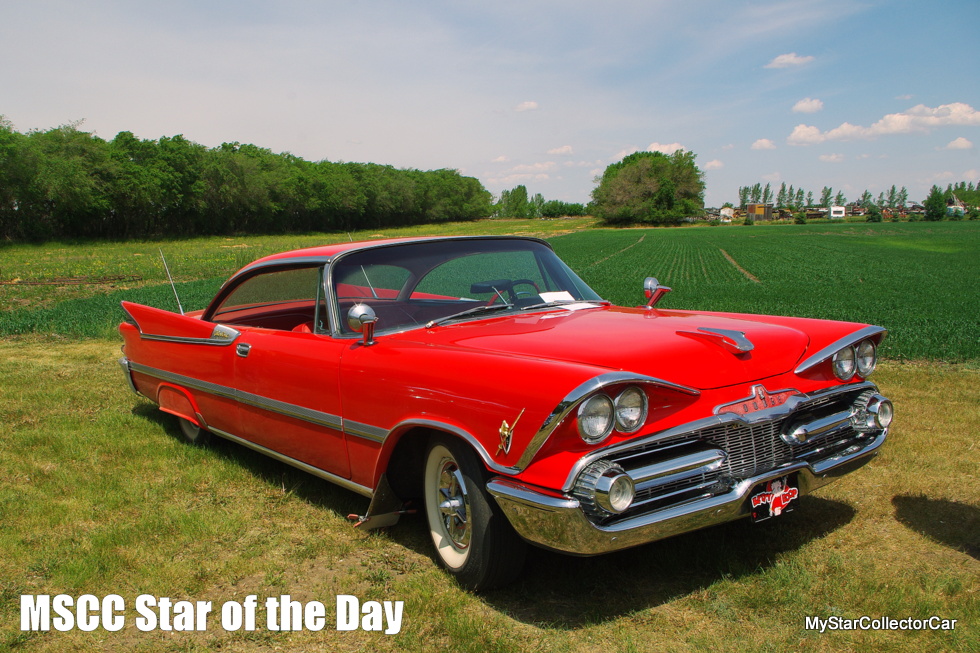 MSCC MAY 16 STAR OF THE DAY: '59 DODGE CUSTOM ROYAL—THE LAST, BEST YEAR OF THE 1950S
The 1950s were breakout years for Detroit.
This was an 'anything goes' era because the Big Three took the gloves off in the style wars and cars took on a form over function form after the practical pre-war designs ran their course by 1948.
'There was a space race on plus the jet age was in full flight so cars reflected the power, fins and pushbutton philosophy of this incredible era and the year 1959 had Detroit at the top of its game.'
This MSCC Star of the Day 1959 Dodge Custom Royal is the last, best year of the 1950s.
CLICK HERE to Like us on Facebook
CLICK HERE to Follow us on Twitter
CLICK HERE to Follow us on Pinterest
Please re-post this if you like this article.