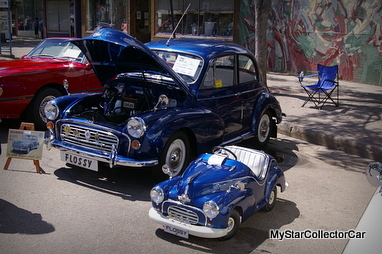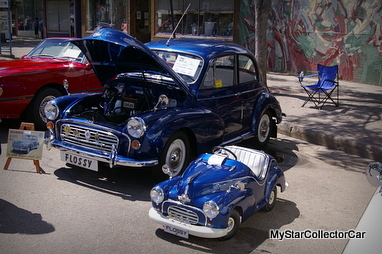 The Morris Minor was a popular car during its long production run in the British Isles.
These economical little cars were used as family haulers by generations of budget-minded English, Irish, Welsh and Scots.
The Morris Minors left a lasting impression on Ken Davison when he was a kid because his family owned one.
Ken also worked on Morris Minors during his early years as a young mechanic in Northern Ireland. Ken is now a retired mechanic who moved to Canada in the late 60s to ply his trade in the Great White North.
He never lost his attachment to the Morris Minors because of their connection to his family, but the little cars were not common in Canada and required a search for one.
Eventually he found one about ten years ago as a restoration project for his impending retirement. It took 3 ½ years for him to complete the restoration on his 1957 Morris Minor and he kept the original philosophy of the car in mind during the process.
For example, he kept the original 1000 cc/ 29 horsepower engine in the Morris. The car is not exactly a ¼ mile car by any stretch of the concept, but it will keep a steady 60 mph (100 km/h) on the highway because of a great weight to power ratio.
The best part is the Morris Minor also gets around 48 mpg on the road, and great mileage is a necessity with its 5 ½ gallon gas tank.
Morris Minors have an unusual electrical system because of the positive ground, so Ken overhauled the entire electrical system and converted the car to a more conventional negative ground system.
Incidentally, the British term for "ground" is "earth" for those of us who live in North America and are unfamiliar with the term.
The other minor changes to the Minor were cosmetic because Ken put larger 1959 Morris Minor taillights on the car so he could add size and chrome to the car. He also added the optional eyebrows to the headlights on his car.
One of the unique features of some older British cars is the signal light system because they are swing-out arms that extend from the door pillar behind the front seat.
The signal light arms are usually not functional after all these years, but Ken's Morris Minor's signals are in working order.
Ken wanted to retain this signal system on his car and they look very impressive when he makes the little signal arms do their job.
One of the pleasant parts of a Morris Minor restoration is the availability of parts because Ken was able to order both front and rear fenders from a thick catalog. The net result of Ken's efforts is a very drivable car that steals the show at every car event.
Ken has a sticker that says No Trailer Queen and he is loyal to that idea. We ran into Ken at several shows last summer and he drove his Morris Minor to every one of them.
The car is named Flossie and it is a tribute to Ken's late mother in law who unfortunately passed away before the car's completion. It was pretty hard to miss a pint-sized companion of the Morris Minor named Flossie Junior which was a pedal car birthday present for Ken from his wife to celebrate his 65th birthday.
Flossie Junior is a huge hit with kids and Ken is happy to explain its background to the younger set. We are certain his full-sized Morris Minor is a huge hit with the older set because we saw how much attention it received whenever it was at a car show.
It most certainly got our attention.
Jim Sutherland
CLICK HERE to Like us on Facebook
CLICK HERE to Follow us on Twitter
CLICK HERE to Follow us on Pinterest
Please re-post this if you like this article.