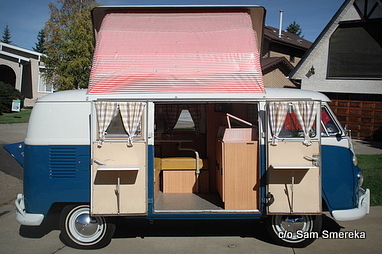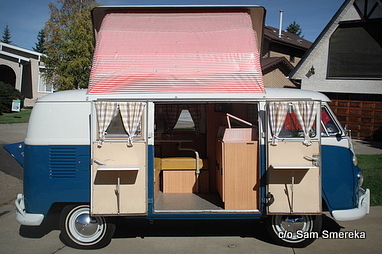 Vintage Volkswagen vans have spiked in value thanks to recent high profile auction results.
These humble little people haulers have taken on a life of their own thanks to these bullish results in the open market.
Despite their meteoric rise in value, most vintage VWs are owned by people who care a lot more about the history of these unique vehicles than their book value.
Sam Smereka is that type of 1966 VW Westfalia SO44 van owner. He explained the story behind his connection to all things VW: "I had always been drawn to Volkswagen's; be it older VW beetles, antique VW trucks, buses, and camper vans. I had been fortunate to have owned a few throughout the years. We lucked out when an old friend asked if we'd be interested in buying his old VW camper that he had."
This VW van wasn't exactly pristine: "Went and checked it out to find the camper had been sitting on his acreage for many, many years, just outside Stony Plain. The paint was really oxidized and tires were flat. Having always been drawn to VW's, we bought the camper and made it our hobby."
Despite the rocky start, this VW was an incredible find: "Later we discovered that what we purchased is ultra-rare and unique.Through various sources, we discovered there was only 500 '66 SO44 Westfalias built, with only 10 known to still exist!!" That makes it rarer than a Hemicuda.
Sam has owned the Westie for 15 years and he's found it to be relatively trouble free: "At first we did very little: new tires, new battery (kept as original 6V system), polished the badly oxidized paint and topper. It ran okay, however often had to short the starter to start it up."
Eventually every car guy wants to take a project to the next stage: "After a few years of attending VW shows and networking with various VW enthusiasts, we started the restoration. The mission was to restore BUT keep the old camper as original possible: Engine is totally rebuilt, all new brakes, bearings, tie rods, brake drums, exhaust, rust preventative paint inside the doors and w/ wells, new professional paint, restored engine, and converted to a more reliable 12V system."
Road manners are a huge factor with old vehicles and Sam is happy with his Westie: "It's actually quite fun! Imagine yourself driving a big old fashioned school bus… Big round steering wheel, flat front (curb is literally 2 feet in front of your knees), tops out at 100km/hr in 4th gear."
These vans lean toward the cute and innocuous more than road warrior so the reaction from the public is predictable: "It's definitely an eye catcher. Every time you drive it is an adventure… It's a fun ride! Everyone gives thumbs up everywhere we drive!"
Sam is protective of his Westie so the road time is a measured experience: "We took my youngest son camping once when we first bought the camper. Otherwise, I have always hauled in an enclosed trailer for highway trips. Often drove it to local shows where we've won many trophies and people's choice awards at various antique car shows."
Sam's owned this VW for a long time but he is philosophical about its future…
"After 18 years, it is time to pass on the fun and enjoyment to another interested enthusiast."
Jerry Sutherland
CLICK HERE to Like us on Facebook
CLICK HERE to Follow us on Twitter
CLICK HERE to Follow us on Pinterest
Please re-post this if you like this article.