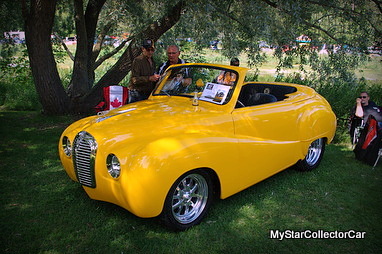 There are many themes to any custom build.
Some guys like to stick to a pure nostalgia vibe so their ride is a reflection of past hot rod style cues.
Other guys will build a custom that truly reflects their personal standards and tastes for a hot rod.
Finally, there are guys who build a car because they are hardcore Boston Bruin fans.
Clearly, Al Petersen is that guy. He's a self-described "big Bruins fan" and he's known Bobby Orr for a few years so the theme was set for his 1952 Austin Somerset convertible.
This is a rare car on its own but once Al took it on, this car became a one of one '52 Austin.
Cars like this are hard to miss at a show despite its relatively small size because it's a blinding shade of yellow to encompass the Boston Bruin theme. The Austin is actually Sunfire Yellow and that's why it stands out like a neon sign at midnight.
Austins are notoriously susceptible to the rust worm after 40 or 50 years but this one survived remarkably well. Al admitted it "had a pretty decent body" and that is a magic phrase to anyone who takes on a major car project.
Despite that relatively clean bill of health, Al confessed it took "about two years" to get this beauty done. Part of the reason is the complexity of any build and once you get specific about the 'custom' side of a custom build the hours add up in a big way.
This '52 Austin is clearly not the same car that left Britain 63 years ago because it's a blend of new and old tech. Al explained the Chevy Nova front clip was "modified a bit" and there's a 350 small block under the hood instead of the venerable Austin 4-banger. That meant the firewall had to be moved back to handle the extra size. The tonneau cover is customized from a '97 LeBaron.
This is a full load custom so it has AC and power windows to add to the comfort zone you wouldn't have in a stock '52 Austin.
There are a few other touches that no Austin has and it's found near the gas filler cap where there's a Bobby Orr signature and it's etched in the dash plus there's a Gary Cheevers signature under the hood.
There are other connections to the Boston Bruin legacy including the completion date as Al explained, "the car was finished the year they won the Stanley Cup (2011) and I actually went to Game 4 that year".
The other big cue is the role the Austin played in the transportation of the Cup that year, "Johnny Boychuk had the Stanley Cup so he brought it over". There's a picture of Johnny and the Cup in the car to back up his claim so this Austin may be the most coveted one in Bruin history.
Most real car guys like their custom rides to look good but the big test is how they drive and Al was very enthusiastic about his little Austin. He reported, "It's got lots of get up and go, it's pretty solid and it's kind of loud".
That sounds a lot like the Stanley Cup winning Boston Bruins and their fans.
Jerry Sutherland
CLICK HERE to Like us on Facebook
CLICK HERE to Follow us on Twitter
CLICK HERE to Follow us on Pinterest
Please re-post this if you like this article.