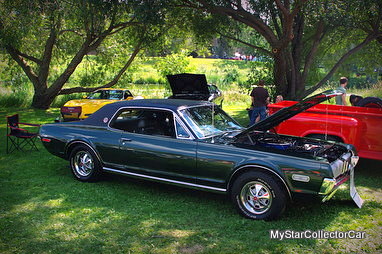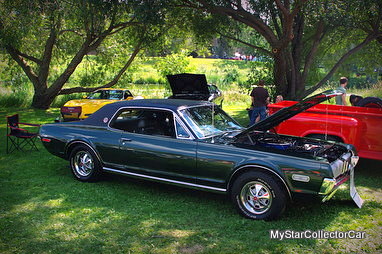 Carroll Shelby is a legend in the world of racing and most people remember him for three cars.
The Shelby Cobra was built to be a Vette killer, the GT40 was built to be a Ferrari killer and the Shelby Mustang was built to be a Cuda and Camaro killer.
Shelby succeeded at all three tasks but few people realize he had a connection with the '68 Cougars.
Wayne Bousquet knew about that connection to Shelby and that's why he's the proud owner of a '68 Cougar XR7G. Wayne is the human version of Google for information about these cars and he's a proud caretaker of this particular XR7G. The 'G' in the name is a direct reference to legendary racer Dan Gurney's connection to this Merc.

Wayne found this car back in 2003 and said it was built in Atlanta on March 18, 1968. He is well aware of how unique these Cougars and he's patient at car shows because the Shelby connection is such a mystery even to veteran car guys.
Mercury only sold 619 of these Shelby-ized Cougars so that explains why they're not on the radar with most car guys. Wayne explained, "It's a really odd car" and if understatement was a crime, Wayne would be in jail for a long time because from the outside looking in, this is a very understated car.
These cars had sunroofs in most cases, but Wayne's doesn't so that makes it one of only 188 but he was motivated by a less practical reason-he liked the color, "it's Augusta Green".
This was a relatively difficult project and as Wayne recalled, it "was in a body shop for one month less than two years" so it fell within typical on the car project scale. One of the more difficult parts of the project was replacing the C-pillar, but he finally got the car home in 2006 and the relationship is solid to this day.
Cougar XR7Gs had some very distinctive features to define them as members of the Shelby family and Wayne listed a few of them on his car, "They have exclusive things like a hood scoop, special mirrors, special badges and special pipe in a pipe tips. It has a lot of oddball parts and that's what made it a tougher project".
Most Shelby vehicles have amped up performance and the XR7G was no exception. Wayne's is a 390 2V cubic inch and that makes his Cougar one of 62 with that combination. The key to this car is its subtlety because you really have to look close to the see the Shelby touch on this car.
The refinements are clear because the interior is already at an XR7 level and Shelby added little things like a console exclusive to the XR7G, a gold XR7G badge on the dash, a special XR7G steering wheel and a special shift knob.
This Cougar XR7G speaks performance and style because the XR7 as a base model was a classic ride back in '68 but the Carroll Shelby touch makes it a show stopper at any Ford meet.
Wayne is a student of his car but more importantly, he's a huge fan of it so when the time came to invest, acquire and rebuild this legend back to Shelby standards, he didn't hesitate.
He knew his cat was rare.
Jerry Sutherland
CLICK HERE to Like us on Facebook
CLICK HERE to Follow us on Twitter
CLICK HERE to Follow us on Pinterest
Please re-post this if you like this article.