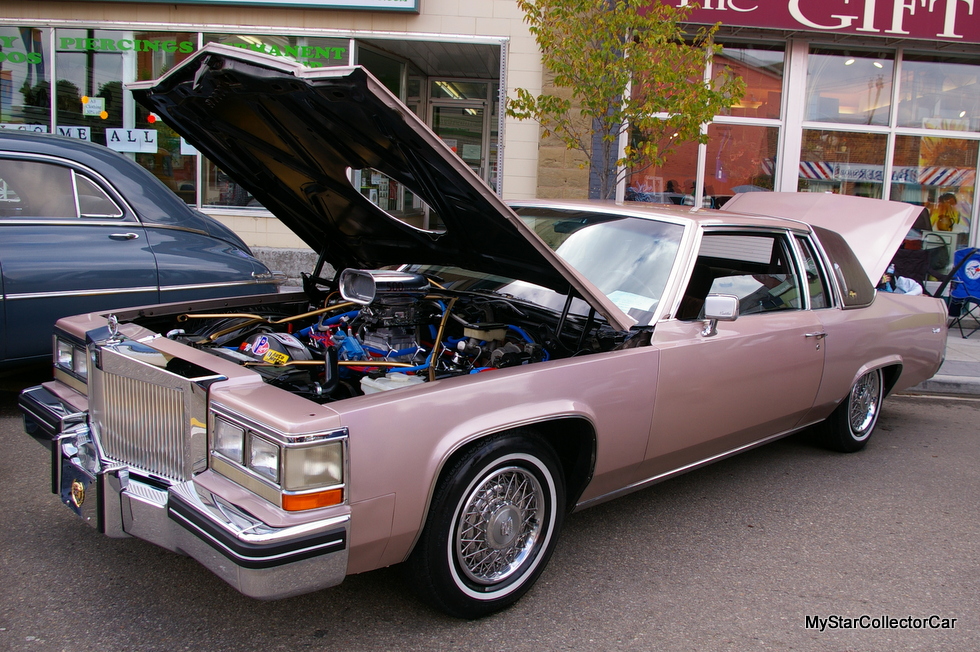 A 1982 Cadillac Coupe de Ville was not the stuff of dreams for hard core hot rodders.
These were full-size Caddies and they stayed large and in charge, even after the 1973 oil embargo changed the car game in the 70s.
Giant cars with huge engines were headed in the same general direction as disco by 1982, but the holdouts were the loyal Caddy customers from a bygone era: older drivers who still loved a lot of car around them and did not care about mpg.
The typical Caddy owner from the past was in his or her golden years and still had a few bucks left from their sizable investment in the baby boomer generation as parents of same. The old school Caddy owner may have shrunk in stature with age, but they still wanted a car that had not shrunk in the wash.
Enter the 1982 Cadillac Coupe de Ville, a full-sized automotive anachronism when it hit GM dealership showrooms during the early Reagan years. We spotted a 1982 Cadillac Coupe de Ville at a show and knew instantly that it had developed a completely different personality over the past 33 years.
For one thing, the Caddy had a big hole in its massive hood so it could show off a supercharger-styled air cleaner. The blower was not an option for Caddy buyers in '82 because most buyers saw little need for the kind of speed produced by a large supercharger that made a big hole in the hood.
Our first reaction was to track down the guy who transformed the king of retirement rides into a street monster look. His name was Indo van den Hemel and he was a big fan of the old school Caddys.
Indo was also a talented wrencher with a vision for his full-sized Caddy. One of his employees had his father's Caddy and wanted to sell it.
The idea of a well-maintained Caddy in great shape was critical for Indo, but he wanted to put his own unique stamp on the car after he bought it.
Indo started with a 500 cubic inch engine donated from a 1971 Eldorado. These brutes produced 365 horsepower and 500 ft lbs of torque out of the factory and Indo pulled a Tim-the-Toolman-more-power upgrade to the donor engine. A livelier cam fit his game plan to a tee.
1982 Caddys were known for their quiet elegance but that was yesterday for Indo's Caddy. He describes his car as "loud as hell with lots of power."
Indo told us his car was "just for show and only a cruiser." He knows he has plenty of horses under the hood but here are his thoughts about melting the original rear tires on the Caddy; "If I burned off the tires I'd cry".
Good call because the limited slip differential and beefy Turbo 400 Hydromatic tranny would ensure the tires would be dispatched to the recycling bin in a big hurry. It appears the Caddy is still in good hands with Indo because he chooses to keep his unusual Caddy hotrod corralled on the road and simply enjoy the ride.
Kind of like the original owner with a twist: the Caddy is now a monster.
CLICK HERE to Like us on Facebook
CLICK HERE to Follow us on Twitter
CLICK HERE to Follow us on Pinterest
Please re-post this if you like this article.
Jim Sutherland