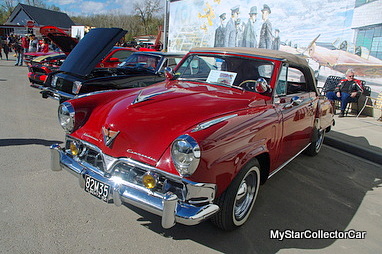 Some people see the old car hobby as a vice that travels in the same circles as drinking or gambling.
Wives are particularly onside with this perspective because all they see is gobs of money squandered on old junk.
Fortunately this vice produces some incredible results like a '52 Studebaker convertible.
Boyd Lampman is the proud owner of a very rare 1952 Studebaker Commander State convertible because, like he admitted, "I don't drink or smoke", so this car made a lot of sense in the vice department.
Boyd is the fourth owner of this rare Studey and he had some help from the Studebaker brotherhood deciphering the history of this unique car. The records suggest the original owner was the Attorney General for Pennsylvania when he took delivery of this then brand new '52 Commander soft top.
There are many reasons to own an old car and Boyd's reason was pretty basic—he knew who did the bodywork on this classic Studebaker and he called it a "good job". Sometimes the simplest reasons are the best and this car met his expectations.
Boyd was clear on the process after he bought the car because he simply wanted "to make it safe". This '52 Studebaker was pristine on the outside but under the surface there were a few issues so Boyd itemized them and fixed them. He summed it up in one sentence, "The brakes were shot and the steering needed work".
Basically Boyd had the whole undercarriage completely rebuilt so this Studey rides and handles like it did the day the Attorney General took delivery back in 1952.
Boyd was highly impressed with the results because now he can comfortably run the car at posted highway speeds with ease. He added, "It feels good and the overdrive keeps the engine from working too hard" so this car has delivered an honest 22 miles per gallon (imperial measure).
Studebaker was ahead of the curve with its competitors so this 232 cubic inch OHV V-8 was unique in an era when lower end cars ran flatheads or straight six cylinders.
Boyd had nothing but praise for the engine and the only thing he could say was that it takes a bit to start in the spring because the gas needs to pump through. There is no oil consumption and the only leaks are typical for an old car that sits all winter.
Boyd is realistic about the car's comfort when it's running with the top down and admits, "It's good in the front but it's a little windy in the back". His grandkids would be able to confirm that experience because Boyd does take them for the occasional ride in his classic Studebaker.
This Studebaker goes to a fair number of local shows but Boyd said he could take this car anywhere because he knows it's that reliable. He's comfortable with a few summer runs and he'll drive the car into the fall-weather permitting.
Boyd is a typical car guy because he knows his car is never 100% done because he had a problem with his convertible roof and the replacement top wasn't correct so that item is still in the pending file. He also wants to redo the seats because he admits he's "sitting on springs".
Boyd explained how this car will be his , "as long as I own it" and that makes sense because he admitted he "probably had a little more in it than I should".
In the end, despite the cost you could call this classic Studebaker a good kind of vice.
Jerry Sutherland
CLICK HERE to Like us on Facebook
CLICK HERE to Follow us on Twitter
CLICK HERE to Follow us on Pinterest
Please re-post this if you like this article.