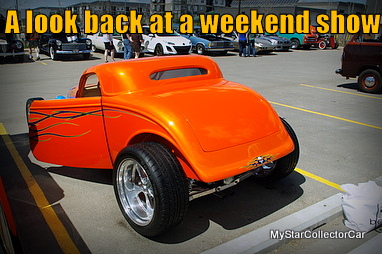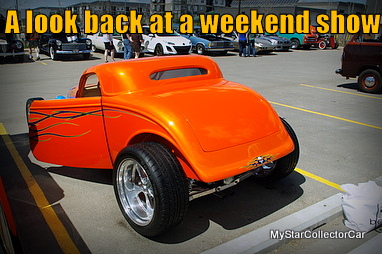 We took in a car show at a high school this past weekend and found a few surprises at the event.
Most of the attendees were well beyond their high school years, and so were their rides, but the show was an education for us at MSCC.
The first surprise was a 1984 Pontiac Fiero, a somewhat forgotten sports car from the Iron Chief.
My only memory of Fieros was a co-worker who was coerced into co-ownership of one with his then-girlfriend. Neither the car nor the chick stayed around very long in this cat's life.
I never really thought about Fieros too much beyond that brief anecdote, but a 1984 Indy Pace Car version really caught my eye at the high school show. Its owner was an encyclopedia of knowledge about Fieros and explained how his limited edition Poncho ran laps on the actual Indianapolis 500 track-twice-and 30 years apart.
See how in a future MSCC feature story.
We also found a colorful 1955 Fargo pickup truck in the high school parking lot. The story behind the unique Canadian-only model truck was as interesting as its color scheme and will be found in a future MSCC segment.
Incidentally, the owner has a long history with his Fargo and assured us his paint scheme was original.
Another unusual ride was a 1962 Valiant with a colorful owner who knew everything about his survivor compact Mopar. We received an extensive education about the engineering behind the little Valiant and even learned about the creator of the famous Slant Six engine from the owner.
One thing we already knew before we got our history lesson from the Valiant owner: people either love or hate the design of these Kennedy-era compacts. We at MSCC love them and will feature this '62 Valiant in a future article.
One of the most popular cars ever made was the original Volkswagen Beetle. These lovable little German cars were a mainstay on North American roads for many decades. They were always popular with kids and the Beetle's popularity went straight through the stratosphere when Herbie the Love Bug made his movie debut.
These days the original Beetles are not found in abundance on the road. They were not able to keep up with the times or traffic in a modern world with their small air-cooled engines and most of these VW legends have disappeared from North American roads.The co-owner of this VW Beetle had family influences behind his story. The air-cooled VWs from a past era were also part of his life history and he will explain why in a future MSCC story.
His family history also includes another cool surprise from the high school car show because his wife was one of the organizers and the co-owner of the Beetle and their other ride, an early 70s VW Westfalia.
Sure that kind of buy-in from his bride is kind of cool but you know what is even cooler and our final surprise?
His wife is the automotive teacher at the high school and a licensed mechanic.
Jim Sutherland
CLICK HERE to Like us on Facebook
CLICK HERE to Follow us on Twitter
CLICK HERE to Follow us on Pinterest
Please re-post this if you like this article.