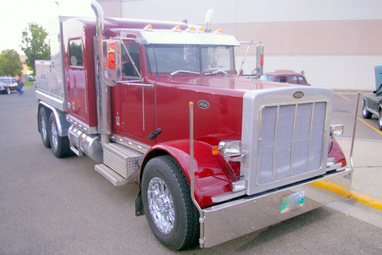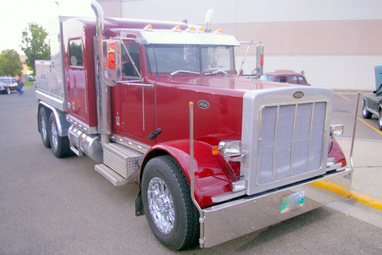 "Little Peter" is an obvious name for a tribute truck based on a full-sized Peterbilt that leads two lives as a work and show truck.
'John Coulter is the proud owner of Little Peter and he has built function into his custom truck.'
It is a fully functional tool truck that is based upon a 2002 4WD Duramax frame.
After that, a whole lot of custom kicks into the equation. It starts with an air suspension that gives this mini-Peterbilt an incredible ride down the road.
The limited edition custom Peterbilt body was built by a Nashville Tennessee company that specializes in these very unusual truck styles. After that, John fitted it with custom-made tool box cabinets that give the truck its working credentials.
The tool boxes can be removed when John and Little Peter get a little holiday time and need to pull a fifth wheel trailer. A fifth wheel hitch is hidden from view when the rig has its tool box over top of the hitch. Work and play are two separate concepts in one truck.
This truck has every creature comfort available to a 21st century driver. It has a full navigation system, while John and his passengers travel in ultra-comfortable leather seats and air-conditioned luxury. It may be a working truck, but who says you can't go to work in four star comfort and style?
Add economy into the equation, because Little Peter will get 20 mpg on the highway. You will have to navigate yourself through a crowd when Little Peter pulls into a show and shine because there are many people that want to know how a Peterbilt shrunk down to a one ton size.
'Fortunately owner John is more than happy to provide an answer to every question about his unusual ride.'
Jim Sutherland