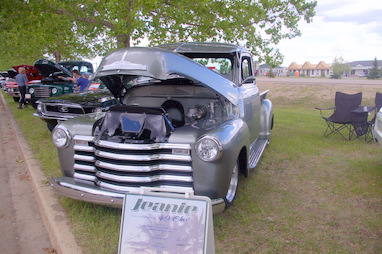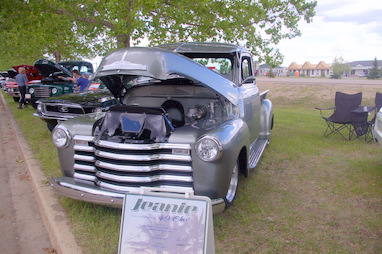 Jeanette is the proud owner of this incredible 1949 Chevy pickup named Jeannie-originally this car was destined to be a pretty basic driver.
'But like many projects the game plan changed and the result was this outstanding example of the classic late 40s early 50s era Chevrolet truck.'
These trucks are by no means a rare site at any given show but what made this vintage Chevy outstanding was the color and the details.
The attention to detail was enough to catch the attention of legendary car guy Dennis Gage at a World of Wheels show-where it had just won best of class in its first show.
Dennis, like most guys who see this truck in person was taken by the subtle, but incredibly effective build on this truck-he was impressed enough to autograph this award winning ride at the show.
Jeanette gives full credit to the guys who did the work- she reports that " it only took a year and very good people were involved". She and her husband rescued this truck from a guy who managed to tear it apart but forgot the "putting it back together" side of the job.
No matter. Jeannette was totally involved in the decision-making on the Chevy and one of the things that she really liked about the process was that the builders talked to her-not her husband Roger. That's why she came through one the color-she let feminine taste rule the day. Most guys would have painted this truck "look at me yellow" or "stop me lime green" thanks to the Vette motor under the hood but Jeanette brought style to the game.They insisted on the nickname "Jeannie" for the truck-Jeannette's nickname.
Now Jeanette and Roger tour together (he's got a 64 Chevy) and they're linked by walkie-talkies. Jeanette can't get over the attention this car gets at shows-a guy in a Lamborghini took a picture of her truck at a traffic light but most guys know why this truck is such a draw.
'It's such a classy looking ride and as guys we appreciate it-let's be honest…we just don't have the good taste that somebody like Jeannette has to pull it off…'
Jim Sutherland