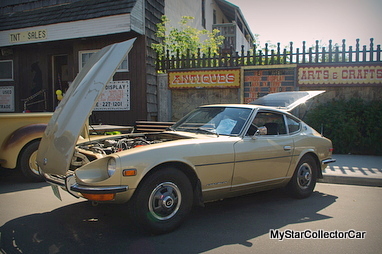 The Datsun 240Z was a pioneer in an era where speed and displacement went hand in hand.
This was a period when massive big blocks and enough horsepower to pull a train set the standard in performance.
The 240Z was a far different concept because it was a powerful, yet nimble and affordable sports car.
Datsun 240Zs are starting to come into their own as collector cars because they were one of the first entries in a long line of Japanese sports cars.
The Zs were an entry level driving machine that could run with a Porsche so they started a buying trend in North America that has never really ended.
The key to the Datsun 240Z success story was a price that really attracted customers plus they were beginning to establish a solid dealer network in North America.
Dealers had to set up a waiting list for buyers because these cars were new, innovative and sporty so the targeted British sports car market definitely took a hit when the Zs arrived.
The 240Zs had a solid 0-60 time plus they had enough top end to get you a date in court and they handled like they were on rails so a long waiting list wasn't a big leap in logic. Nor is the fact that they sold over 150,000 of these 1st Gen Zs (70-73) in North America.
They were trendsetters back in the early 1970s and many of them suffered grisly fates thanks to a combination of brutal North American weather on sheet metal and owners who drove these cars into oblivion.
Steve Turner has a long association with these legendary Japanese cars as he explained: "I had one when I was a kid, it was a '71 with a sunroof and my insurance payments were higher than my car payments".
This car came along much later in life for Steve but the payments were far less traumatic for him: "It was my stepfather's car and I bought it off him. I was talking to him and he talked about the 240Z and told me it was for sale. Then he asked me "gotta dollar?".
The transaction was done in timely fashion: "It was the fastest trip I've ever taken".
Steve explained some of the history behind this car: "I've had it for five years now, it was orange but now it's Porsche gold. It's a dual carb car and it's got a five-speed now because it did rev a little high. Even the interior light works".
This car is the anti-trailer queen because Steve likes to drive this old Japanese classic: "I drive it a lot because I don't like to let them sit. I drive it from Edmonton to Calgary and it just purrs".
Steve's motivation was pretty straightforward because it was based on nostalgia but he does admit the fun factor is a huge piece of the puzzle: "You like to drive them because this is such a treat to drive".
Steve has a collectible on his hands thanks to a combination of good timing, family connections and the incredible buying power of one dollar.
Car guys around the world are definitely suffering from Z envy.
Jerry Sutherland
CLICK HERE to Like us on Facebook
CLICK HERE to Follow us on Twitter
CLICK HERE to Follow us on Pinterest