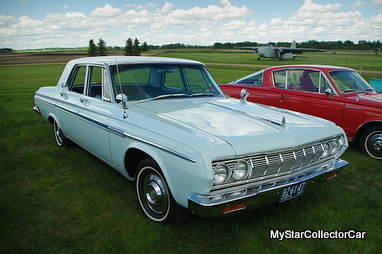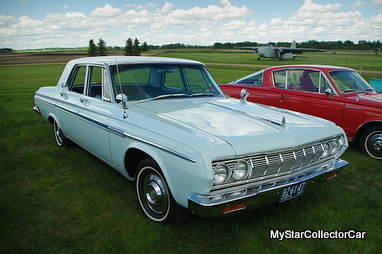 There's little doubt the four-door sedan is the unloved cousin of the two-door hardtop and convertible.
Cars with more than two doors are on the fringe of the collector car hobby thanks to low resale value in an era of six-figure vintage muscle car prices.
Fortunately there are guys like Tom Sand who don't buy into the more doors equals less value philosophy –that's why cars like this incredible 1964 Plymouth Fury survive to this day.
Tom bought this mid-size Mopar for the purest of reasons as he explained: "My Dad had one just like it, he always drove Plymouth cars and Ford trucks.He bought it custom ordered from the factory because he was willing to wait the extra month and my Mom told him what options to order".
That '64 Plymouth set off a chain of life events for Tom including his first experience behind the wheel: "I learned to drive in it and I taught my wife to drive in that car and it was exactly like this one".
Nostalgia is the backbone of the old car hobby and it inspires car guys to recapture the past in a big way.This story is no exception so he went on a hunt for an exact copy of his father's '64 Fury: "It took a very long time but it was worth it. I found it when I moved home, it was originally owned by a doctor in North Battleford and he drove it for a while then parked it and a guy bought it. It only had 77,302 miles so I sprung it on my wife and it was news to her".
Tom's wife was not only supportive but she also offered some sound advice as he admitted: "She told me if you're going to show it then you're going to show it right so she bought a bunch of stuff for it".
This '64 Fury didn't need a lot of fine-tuning: "When I got it the car, it was original and nothing had been done, it had a little bit of rust but I did a little work there rather than repaint the fenders.There was a small dent in the trunk and the front seat was starting to tear but I wanted to keep it as original as possible".
This car is low optioned because it has an automatic transmission and an AM radio. Like the old joke— "It's got a block heater instead of signal lights so I figure it must have been a Winnipeg car because they don't use signal lights there".
Tom's game plan was pretty basic for the 50-year-old Plymouth: "This is a driver, not a show car so I like to take it out as soon as the snow is gone. It's fun to drive because it goes like stink on the highway because it's got lots of torque. I'm not sure if it's a 318 or a 313".
Fittingly, this '64 Plymouth Fury is in the family for good because there is a well-defined succession plan:
"I'm going to will it to my son because he likes old things-that's the current plan".
Jerry Sutherland
CLICK HERE to Like us on Facebook
CLICK HERE to Follow us on Twitter
CLICK HERE to Follow us on Pinterest