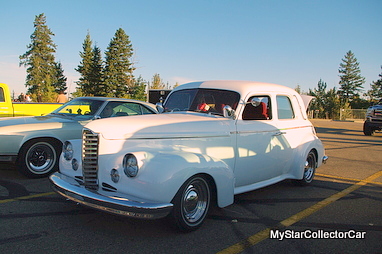 Frank Bergman is a typical car guy because he had very clear game plan when he started a quest for a custom ride.
Car guys tend to very specific about details in modified cars because these customs are so personal.
Frank's biggest concern was simple—it had to have two extra doors.
Frank had a definite reason for the extra set of doors as he explained: "I sold a Buick and I wanted a four door with suicide doors because I always liked something different–everybody has two doors".
This 1940 Chevy is somewhat difficult to ID because the styling cues are definitely mix and match in this old classic: "Nobody knows what it is when I go to car shows so I put a sign on it that says 'what is it?' instead of the model. It's got a '47 Packard grill and Cordoba signal lights so nobody knows what it is. I added parts to make the grill work and it's cut metal, not plastic. A lot of people think it's a 50s Hudson but it's really a not another one in the world car".
Frank's '40 Chevy is the perfect example of attention to detail in a custom ride: "It took nine years to build, all the seams are filled. It's a 1973 350/350 Chevy with a 3:55 rear end. It's got power steering and brakes seat plus it's got a Nova front end with an MCI rear end and that's sunset red pearl in the paint and sparkle in the chrome".
Cars like this are often built strictly for show and not go but Frank's Chev is definitely a street machine because it's on the street early in the season: "I like to get it out in the spring and go down to Sand Point and places like that. I go through BC, Alberta and Saskatchewan and then into the States-I drive it a lot down there. I've got over 11,000 miles on it now. A lot of guys think I'm crazy but that's why you own them".
Frank loves the driving experience behind the wheel of his custom Chevy but he's also a car guy so certain tendencies really stand out for him: "It just launches on the highway, it cruises at 70 miles per hour and it gets 22-25 miles per gallon. With four windows down, it really cruises nice".
This classic ride is still under construction: "I want to set it up for a trailer because I'd like haul a tear drop trailer behind plus a few other things like chrome reverse wheels with baby moons and curb feelers on it for fun".
Most car guys have a vision for their rides and Frank's '40 Chevy's is clear – he wanted a 1940 Chevrolet that didn't look like a 1940 Chevrolet (or anything else) so he achieved that with an understated custom look.
Frank's car had to be a comfortable, civilized driver with a nice blend of new tech so this car could do the long road trips in comfort and style.
Finally, he wanted build a car that would be a permanent guest in the family and he summed that up with a brief sentence:
"I'll keep this one."
Jerry Sutherland
CLICK HERE to Like us on Facebook
CLICK HERE to Follow us on Twitter
CLICK HERE to Follow us on Pinterest