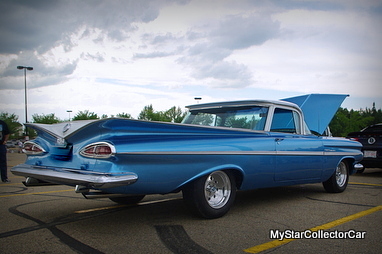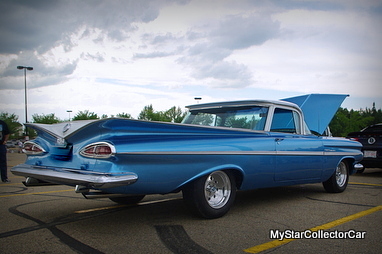 The history of the 1959 El Camino actually began in '57 when Ford introduced the Ranchero.
They saw the need for a gentleman's pickup and filled the need.
Jim Crough had his own need— own a vehicle from his birth year and this 1959 El Camino filled that need.
Jim explained his quest for this rare light truck: "I was looking for something from 1959. I wanted a '59 of something and it had to be birthstone blue and I found this El Camino. I took a while to find it and when I did the owner and I went back and forth because this was his baby. He just drove it every now and then and mainly on a Sunday. It was originally a 283 Powerglide car".
1959 Chevys are a reasonably common sight at car shows thanks to a spike in '59 Impala interest but these light trucks are another story. They don't get the same adulation from car guys the two-door hardtops and convertibles receive from the hobby, but that doesn't mean they are disrespected in the world of old iron.
Jim's '59 El Camino was surrounded by fans at a car show so it took some patience to get some shots of his unique ride. These light trucks are far less familiar than full-size Chevy pickups from the 50s era but with that unfamiliarity comes curiosity.
This El Camino was far removed from survivor status as Jim recalled: "It actually took two cars to build this one back in 1995 and then it sat for twelve years".
That kind of retirement plan can be lethal to old iron but this 55-year-old El Camino fared well after the restoration because it still looks Best of Show ready in 2014.
The hibernation has caused a few problems for the old Cammy as Jim confessed: "There's a little work to do because the radio and gas gauge don't work but I'll get at them".
This El Camino gets to stretch it out more because Jim likes the open road and he was candid about the experience: "The longest it's been on the road is about 30 miles here and back, I run it around 70 miles per hour and it's pretty quiet in the cab".
Jim was definitely blunt about his time behind the wheel and he summed it up in a short sentence, "It drives like a boat".
Despite that lukewarm assessment of the El Camino's behind the wheel feel he's sold on the experience because this light truck is so unique in 2014 and he explained "people were definitely looking at it on the road".
There is little doubt this light truck represents an era when a concept like a passenger car with a decent payload made sense but now we are in an era where massive one-ton pickups are more luxurious than a Jaguar. Vehicles like this El Camino were the predecessors to the Lincoln Navigator and Cadillac Escalade.
Regardless of the unique history, Jim's El Camino is defined as a "keeper" for one big reason.
You simply cannot find a better reason to celebrate a birthday.
Jim Sutherland
CLICK HERE to Like us on Facebook
CLICK HERE to Follow us on Twitter
CLICK HERE to Follow us on Pinterest