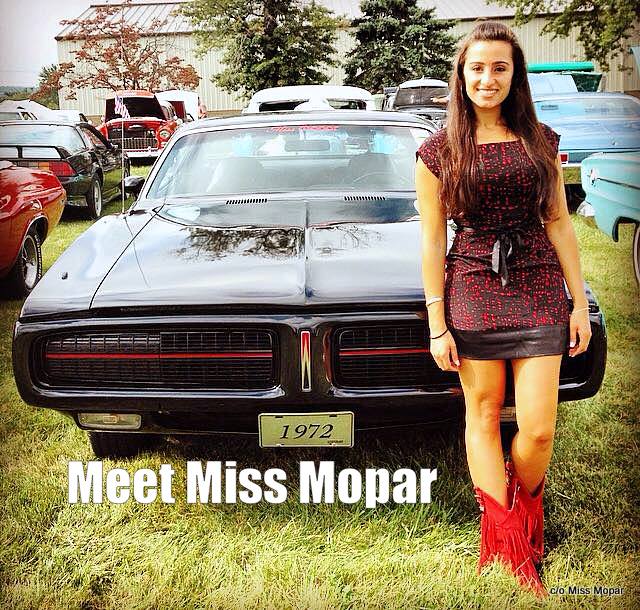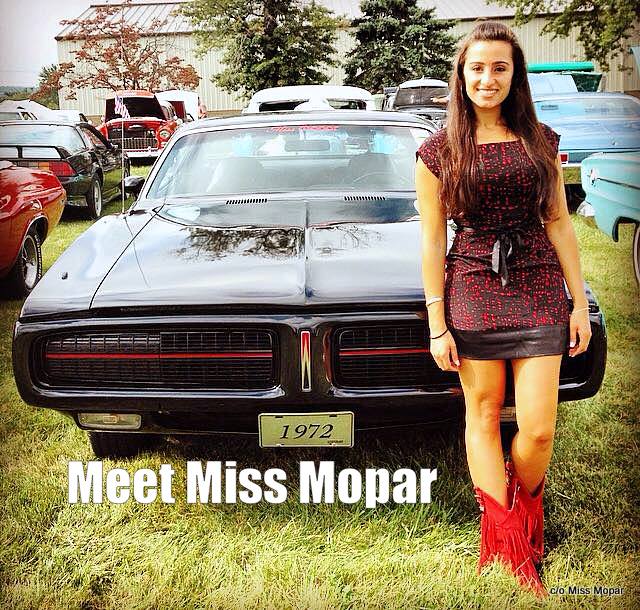 We have some pre-conceived notions when it comes to the car hobby. Most of us assume it is a males-only hobby designed to help aging car guys remember their wild and crazy youth.
Over the years, we at MyStarCollectorCar.com have discovered the vintage car hobby has many enthusiasts from many different generations and both genders.
The actual owners of the old classics are typically older males, but we have encountered enough younger owners to make us believe the future of this hobby is in good hands.
Most of the younger owners have built or restored their vehicles with a large investment of hard work and talent.
We should add that a significant number of younger women also work on their own cars.
One of the more famous members of this new generation of car girls is Michaela Brass, better known in car circles as Miss Mopar. Her nickname will give a big clue about her car preferences (early 70s B-body Chrysler products to be precise), and Miss Mopar can run with any car guy when it comes to mechanical skills.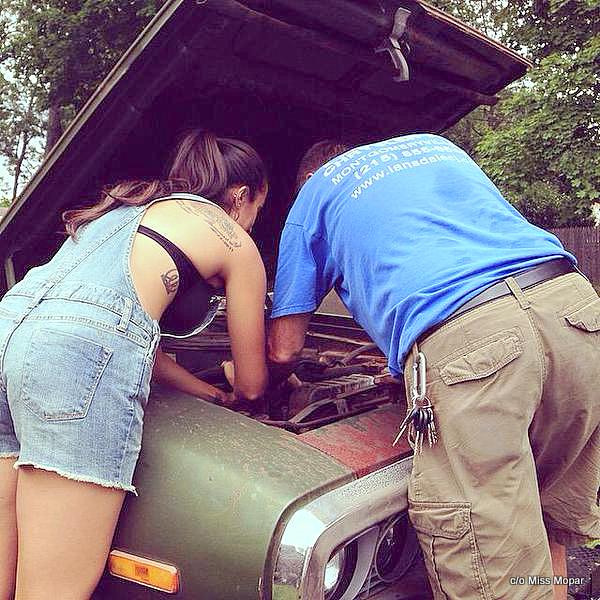 She comes by it honestly because she is part of a multi-generational family of auto technicians who are also big fans of Mopars. Miss Mopar learned from the best and we were happy to get an interview with her for MSCC.
The following is a series of questions we presented to Miss Mopar:
1. How did you get the name Miss Mopar? "I adopted the name "Miss Mopar" in the summer of 2010. Rather, it adopted me! I was going into my senior year of college and my senior project was a car show slated for September 11th called "Hot Rides For Heroes": a fundraising event which would benefit our country's heroes suffering from PTSD (I was a psychology major) due to the tragic experiences linked to being in the military or serving as a fire fighter/police officer.
I hit the car show circuit that May handing out flyers for my event. A die hard Mopar girl, I was careful to make sure that every Mopar I liked got a flyer. When we arrived at a local car show on Friday evening, I spotted two 1969 Plymouth Road Runners, with my flyers in hand I darted in their direction! I personally handed the owners, Steve and John, the flyer and invited them to my car show.
We struck up the typical car show conversation and I told them about the 1971 Plymouth Road Runner that I had and was hoping to restore some day. They didn't believe that a young girl had such a passion and knowledge for Mopar. Steve got up from his lawn chair and walked up to the front of his car. He peered into the engine bay and said "If you can tell me what motor that is, I'll believe you." I took a quick look and said, "Well, that's a HEMI." He nearly fell over. A look of shock and amusement crossed his face and when he spoke he said, "Well, you really are the real life Miss Mopar."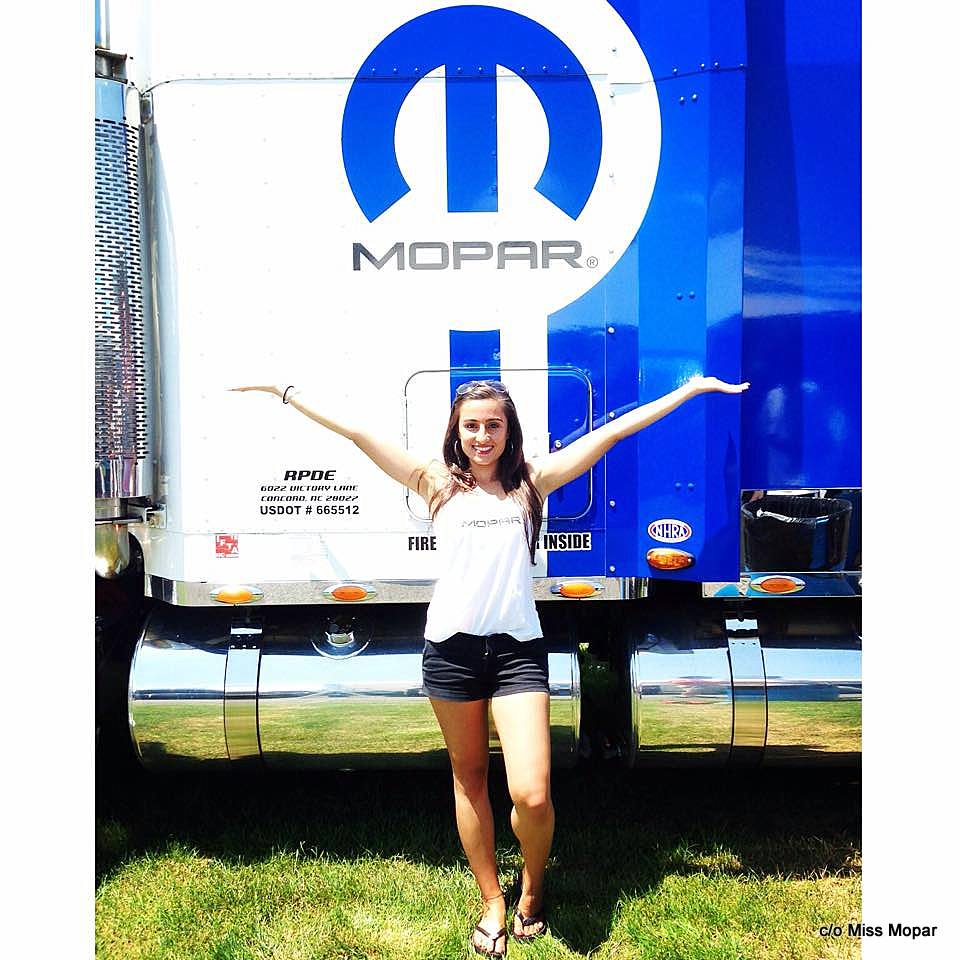 As the summer wore on and I went to more car shows, others started calling me Miss Mopar. I would walk by and people would stop me and joke about how I was the real Miss Mopar. It stuck, and by the time my car show rolled abound in the fall, participants were referring to it as "Miss Mopar's Car Show". It was and still is an honor. I try to wear the title with classiness and respect and passion all in the name of the brand I love so much- Mopar!"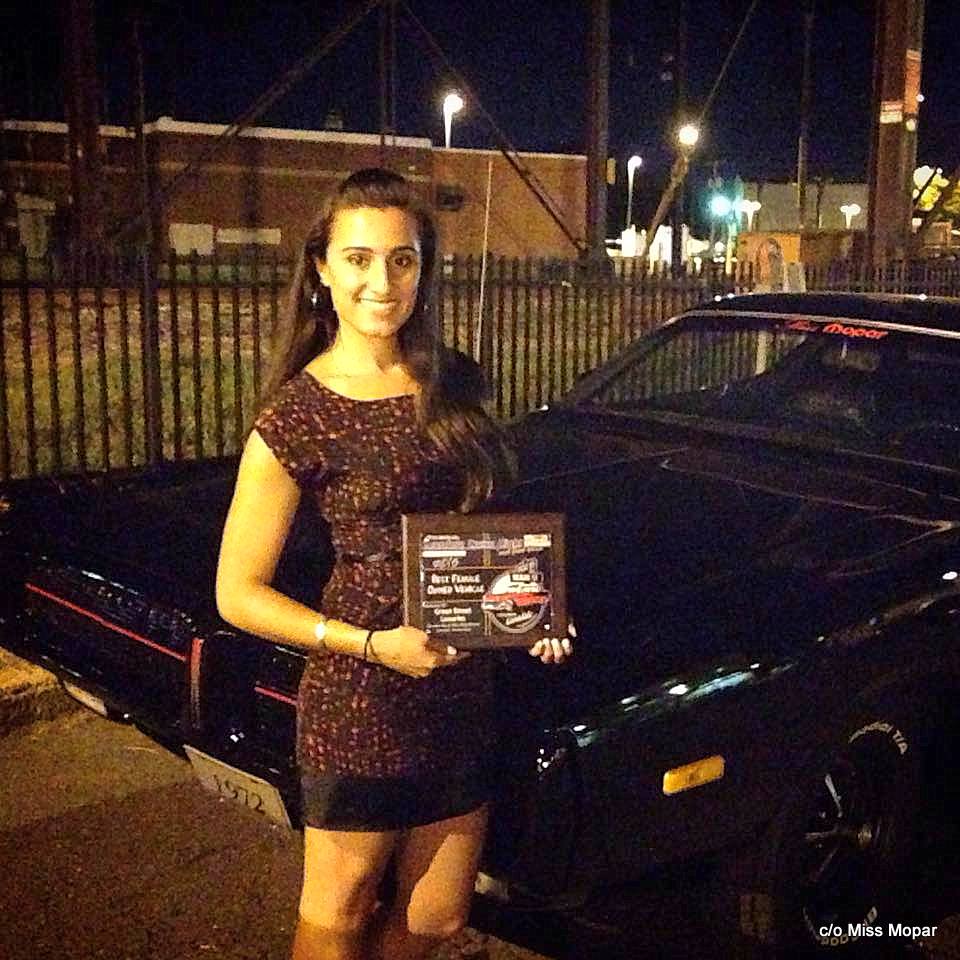 2. Who was your biggest influence (or influences) for your interest in the old car hobby? "My biggest influence in this hobby was, and still is, my dad. I remember going for rides in his 1962 Chrysler 300 (a family heirloom that my grandparents purchased new from the Chrysler dealership where they worked/met) or his 1970 Dodge Challenger. There was no feeling I anticipated or enjoyed more than smelling those carbureted exhaust fumes, hearing the rumble of the engine, and feeling the wind in my face.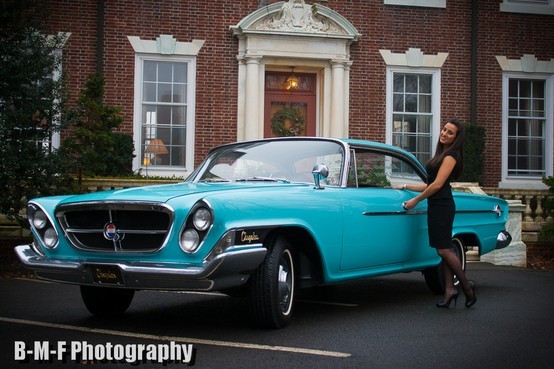 As a young child, car shows were something I would look forward to and I was absolutely giddy once we got there. I was proud to walk the show looking at other cars with my dad and I was even more proud to listen to my dad share his stories with other car show attendees. If my dad won a trophy, my goodness, it was like my Christmas morning.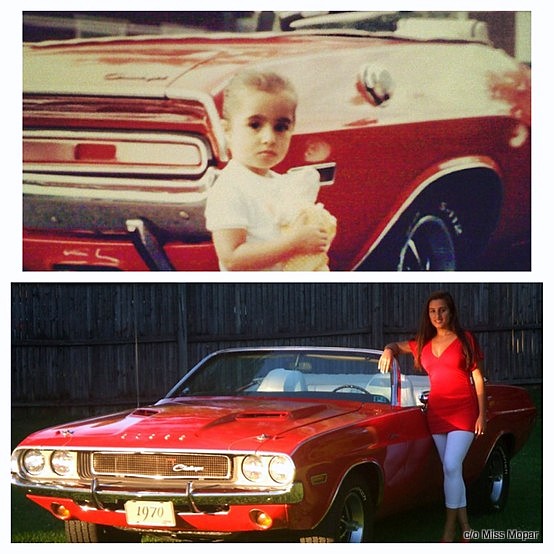 From a young age, I knew I needed to experience all of those things on my own. I needed to restore a car and tell its story-so I did. Two weeks after my "Hot Rides For Heroes" event, I found my 1972 Dodge Charger on Craigslist. I ran out of my Criminal Psychology class to call my dad and before I knew it, we were driving an hour to look at it. I purchased it two days later.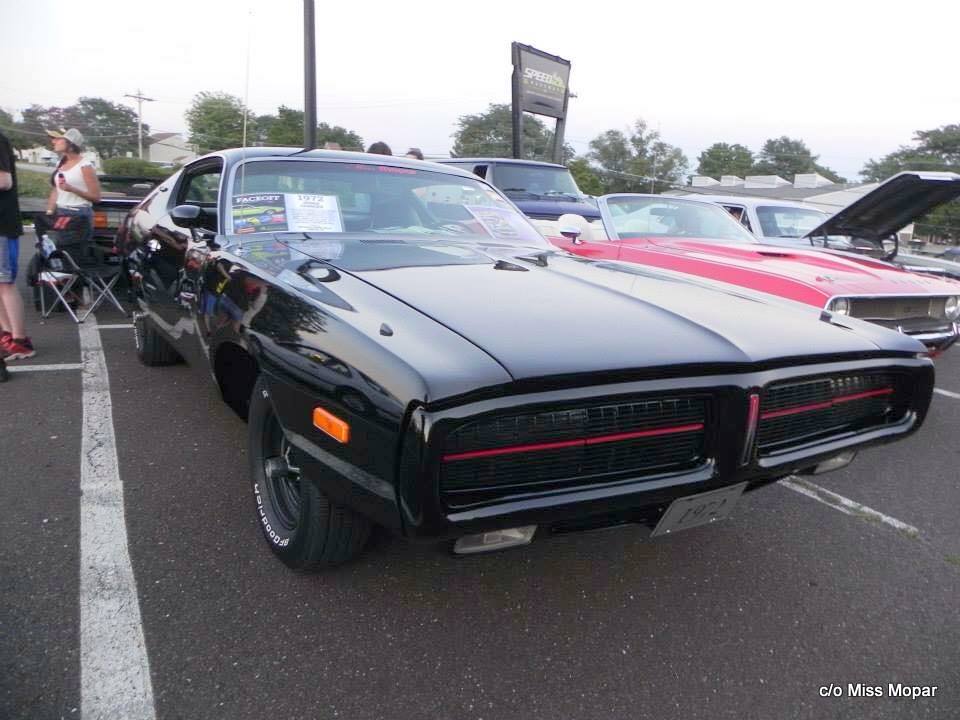 A year into my restoration, my mom passed away due to an undetected brain aneurysm. She now serves as the most influential person in my life as it is for her that I want to follow my dreams and live life to its fullest. She rides shotgun in my Dodge and she reminds me that we are only here for a short time and if I want to restore my Road Runner, or any other Mopar I come across, now is the time to do it! She was my greatest supporter on earth and she is my greatest supporter from heaven as her legacy reminds me every day that My 1972 Dodge Charger and I need to leave a legacy as well. I hope that legacy is that women can find their place in the male dominated world of automotive enthusiasts, and they can be awesome at it!
3. What is the appeal of early 70s Mopars for you? "I just love the lines. There is something so sleek and sexy about them. I love all Mopars, but the early 70s b-bodies are my favorites. I feel like I will have accomplished all of my life goals once I finish my 1971 Road Runner restoration…and add a 1970 Coronet to my little collection."
4. What made you pick the Charger as a project car? "I love the B-bodies, so I had narrowed my search down to the 1972 Charger and the 1970 Coronet. When I saw the title for the Craigslist ad, I felt like Clark Griswold when the heavenly glow shines down on his Christmas tree in "Christmas Vacation." I just knew that was the one and I hadn't even seen it yet. When I finally did see it, it was parked along the road, the steering wheel was in the back seat, it didn't run, and the smell that it radiated was enough to make you gag. It was perfect! It would be my project and it would later become my classic. That's what I wanted…something I had to work to make mine. And boy, did it require a lot of work! But every penny was worth it!"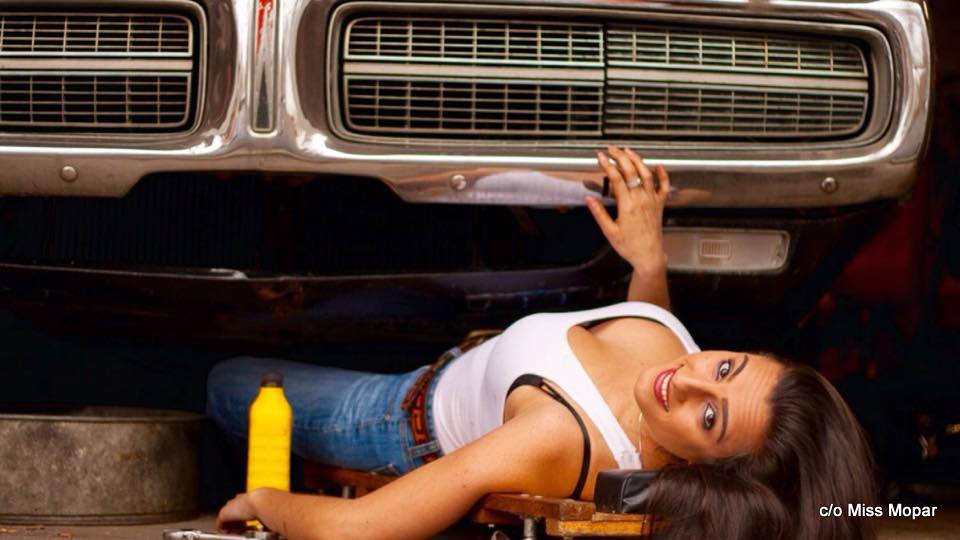 5. How long did it take to complete the Charger project? "I purchased the Charger on October 2, 2010 and I showed it in the Carlisle All Chrysler Nationals Female Owner Invitational July 11, 2013. I don't think a restoration is ever "complete" but on July 11, 2013 it was near perfect."
6. Do you get asked if it's your car?"Oh, all the time. A lot of people assume it's my dad's or my boyfriend's. One time I was entering a car show and the man handing out registration packets said, "Sure is nice of your boyfriend to let you drive his car." I smile and said, "I don't have a boyfriend. Who needs one when you have a car like this?" He didn't have a response".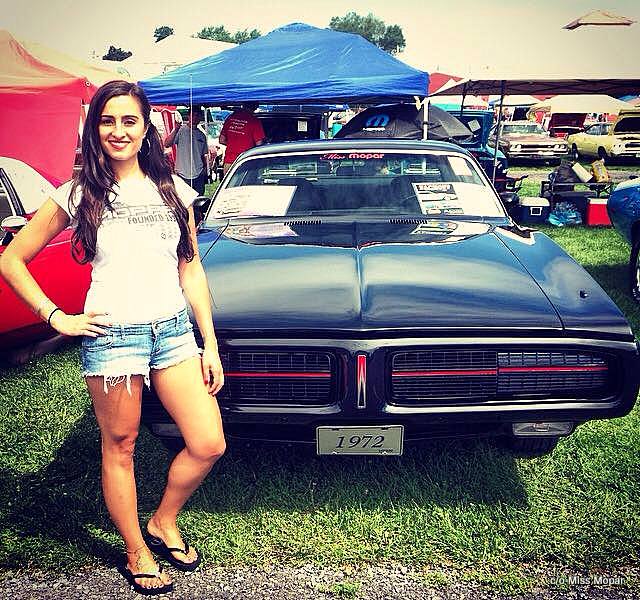 My favorite is when I go to back into a car show space and the person in charge of parking directs me back as if I haven't backed my Dodge into a spot hundreds of times. It's funny and I take it for what it's worth. It warms my heart though every time we are driving in a parade or something and a little girl says, "Oh my gosh, that's a girl driving that car!" Sometimes they even ask to take pictures with me without knowing my internet "fame" as Miss Mopar. That's rewarding, because maybe someday they'll grow up and be "that girl driving that car."
7. Do you have plans to work on more projects? "A year and a half ago, I met a gentleman by the name of Jamey Johnson. If you're a country music listener, you may have heard of him. I have since restored his 1974 Jeep CJ5 Renegade and I am currently restoring his 1986 Dodge Ram D150 100 Custom. We also have a 1966 Dodge Power Wagon Town Wagon that we will work to restore in the future.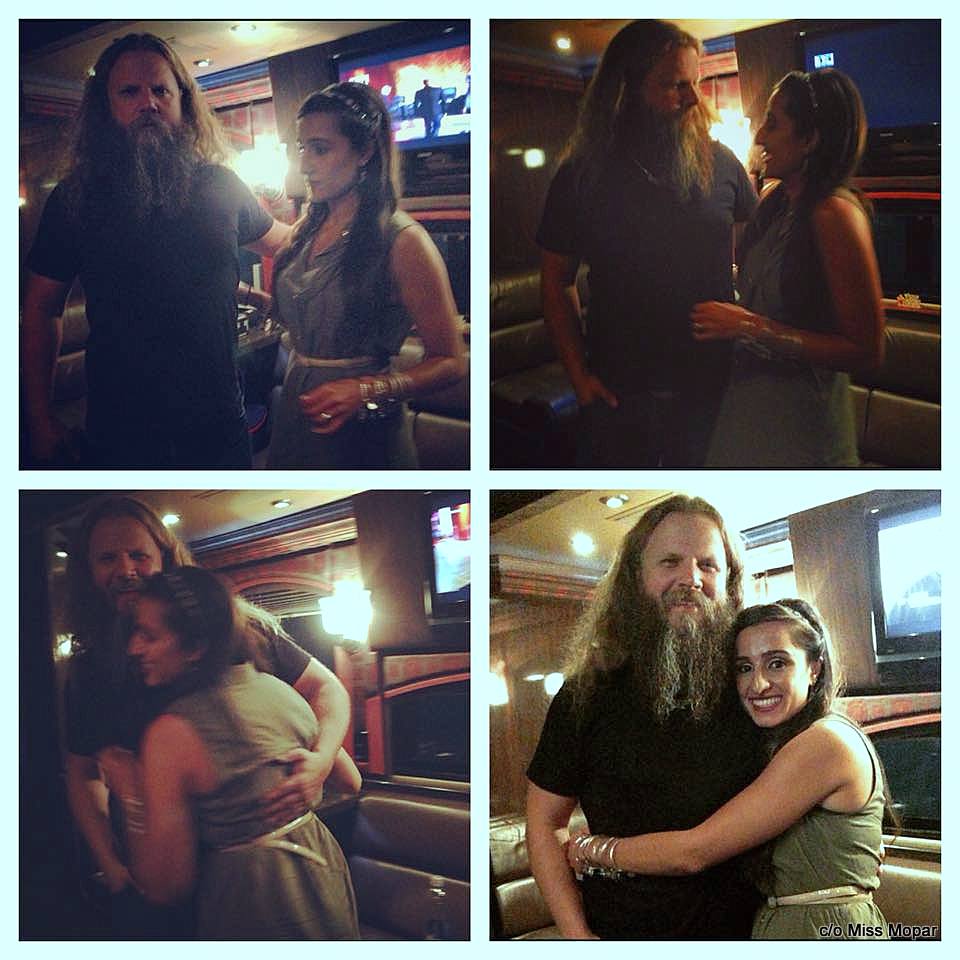 As far as my personal projects, there is always my 1971 Plymouth Road Runner. That poor car was left to rot, and it did. It needs a lot of body work to just be road worthy. It's a rare car- a 340 with a 4-speed, Tor-Red with white interior and a factory ordered full white vinyl top and stripe delete. Someday I will restore it to show room condition. I made some minor modifications on my Charger, but the Road Runner will be 100% factory once it's all said and done!"
8. Who taught you how to work on cars? "Everything I've learned, I learned from my dad, uncle, and grandfather. All Chrysler technicians, there is no one better to learn from."
9. How does the Charger perform on the road? "Oh, so good! I had only ever cruised to local car shows, but this past summer we made the 120 mile trip to Chrysler Nationals. I had trailered the Dodge previous years, but I drove it this year and that car drove like an absolute dream! It actually drove nicer than my daily driver which is a Jeep Wrangler. I used just over a 1/4 tank of gas and the temperature gauge was pegged on C the whole time. I was so impressed with the Charger and even more proud of all it took to get it back on the road!"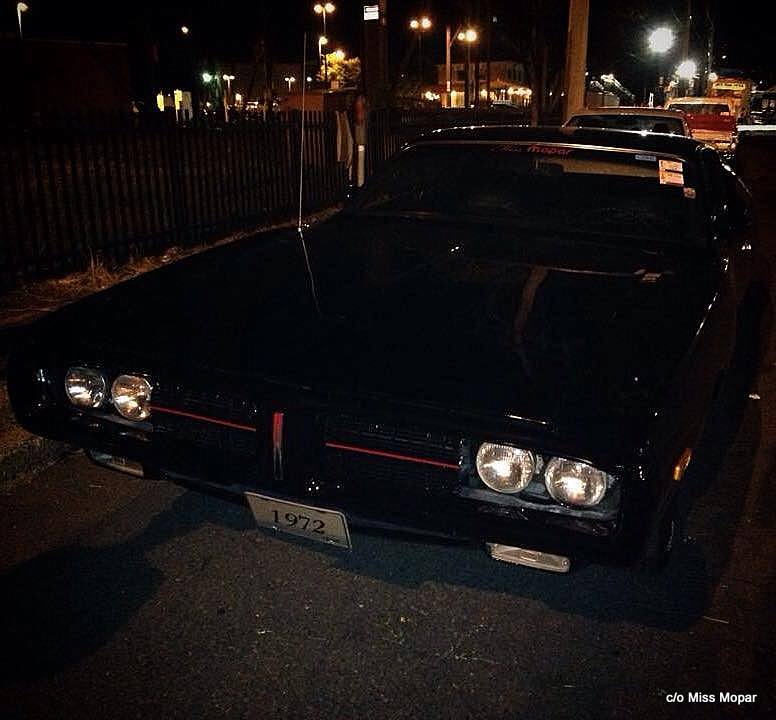 10. What kinds of mods have you done to the Charger? "My Charger is factory stock with few exceptions- I run a 4bbl Holley carb and dual exhaust on it with a 360 truck cam. And, I painted the bumpers and grill. It's powered by its numbers matching 318."
We would like to thank Miss Mopar for taking the time to answer our 10 Questions.
She is a car girl for all of the right reasons and we hope she will be an inspiration to the future car guy and girl generations after her.
Jim Sutherland
CLICK HERE to Like us on Facebook
CLICK HERE to Follow us on Twitter
CLICK HERE to Follow us on Pinterest
Please re-post this if you like this article.