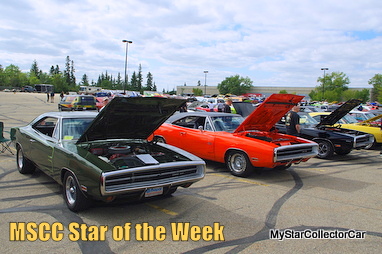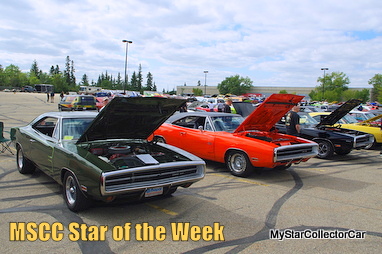 MSCC OCTOBER 26 STAR OF THE WEEK: THREE '70 CHARGERS BEAT A FULL HOUSE EVERY TIME
There are certain cars that defy time because they never get old and the 2nd Gen Chargers are well within that elite group.
These Chargers took style to another level in '68 and continued that fine tradition for the next two years because you simply don't mess with perfection.
The MSCC Star of the Week is this trio of '70 Chargers (one is a 500, two are RTs) at a Mopar show last August.
Three of a kind will beat a full house anytime.
MSCC OCTOBER 25 STAR OF THE DAY: '59 CADDY-THE PINNACLE OF 50S COOL
There were many icons in the 1950s. People like Elvis, James Dean, Marilyn Monroe and concepts like the Cold War and rock and roll defined the Fifties.
Those are big cultural references but few could argue that the 1950s were really defined by the wild automotive styling curve that began in the "I like Ike" era.
This cultural phenomenon literally peaked with this MSCC Star of the Day 1959 Cadillac because this car featured the tallest fins ever grafted on a production car.
That is what you call the pinnacle of 50s cool.
MSCC OCTOBER 24 STAR OF THE DAY: PANTERA MEETS 21ST CENTURY SHELBY
Ford has been in the performance business for decades.
You could successfully argue they've been in the game since 1932 when they put the first V-8 in a lower end Ford.
Ford never looked back.
They've been involved in many forms of racing and one of the high points was the Ford GT-40 that dominated 24 hours of Le Mans from 1966-69.
This MSCC Star of the Day Pantera and the Shelby in the background define how much the performance tradition continued at Ford.
MSCC OCTOBER 23 STAR OF THE DAY: '58 PONTIAC BONNEVILLE CONVERTIBLE—PONCHO UNLEASHED
Pontiac was door number two at GM because most people swung over to the bowtie people at Chevrolet for the mid-range cars.
Despite their lower production numbers, Ponchos had an intensely loyal following.
Pontiacs could run with anything on the street and they did it under the radar until Indy called in 1958 and drafted a tri-power '58 Bonneville convertible for pace car duty.
This MSCC Star of the Day '58 Pontiac Bonneville convertible showed why an unleashed Poncho made such a good pace car.
MSCC OCTOBER 22 STAR OF THE DAY: MAZDA RX 100—A BOLD STEP IN ROTARY POWER
The Mazda RX2 was a concept that was light years ahead of its time.
This little rotary engine compact debuted in an era when street monsters like the Chevelle SS454, Olds W-30, Hemi Super Bird and Mustang Boss 429 captured the imagination of most kids over 10.
Very few of them picked Mazda RX2s as dream rides.
That's too bad because cars like this MSCC Star of the Day Mazda RX2 on the street yesterday represent a very unique, largely forgotten piece of automotive history.
That makes it MSCC caliber cool.
MSCC OCTOBER 21 STAR OF THE DAY: 1966 DODGE MONACO 500—TOP OF THE LINE C-BODY
There were many trim levels in 1966 for the C-Body Dodges because there were many types of buyers.
There were buyers for base line 4-door sedan Polaras with slant six engines and there were buyers for Monaco 500 two-door hardtops with 440 cubic inch fire-breathers.
A range like that was one of the reasons C-body Mopars were popular with buyers from every demographic.
This MSCC Star of the Day Monaco 500 was at the high end of that range and worth every penny.
For past MSCC Stars of the Day please follow this link.
CLICK HERE to Like us on Facebook
CLICK HERE to Follow us on Twitter
CLICK HERE to Follow us on Pinterest
Star of the Day page sponsored by Southside Dodge