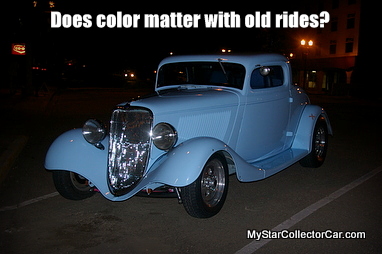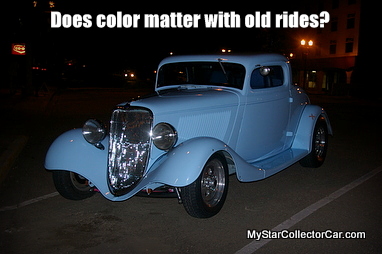 Most car guys have little interest in color schemes in most situations.
They are not generally concerned with color as it applies to rooms, clothes or hair color in their lives, but they are very concerned about color choices for their rides.
The big question for car guys is what color brings out the best in their rides. What paint job will make the car pop at a show?
The answer is complicated by the style, year and customization on the vehicle because some colors just work better than others.
The term is "resale red" in car circles, but the truth of the matter is a red paint job works as a selling point better on some vehicles than others.
Convertibles are a natural fit for red because the color jumps out at you and convertibles were built to be seen right from the factory.
A red convertible is indeed more attractive to a potential buyer because the convertible is a statement car that gives its owner an image boost and the red paint job gives the car an even bigger image boost.
Hot summer days with the top down on a 'vert are the stuff of dreams and a red paint job defines the heat of those moments.
Bright yellow paint jobs are usually associated with New York City cabs and custom hot rods.
Both will grab the attention of onlookers, but a car show hot rod will not require any need for you to fight off other people to get a ride in it.
That's why a hot rod or a yellow truck at a car show is a permanent "Not for Hire" vehicle and your only obligation is to resist the urge to actually jump in the old ride.
Yellow looked good on pre-war rods even before John Milner made the color famous on his early 30s Ford rod in 'American Graffiti'.
The color still works today and we have seen many great examples of custom rides wearing yellow paint.
Purple is a color that gained some traction with young chicks in the late 90s when it became a mainstream paint choice for their modestly powered front wheel drive compact cars from that time frame.
Purple has also enjoyed acceptance in the custom hot rod hobby for many years and we continue to see many purple hot rods driven by decidedly mature adult males at shows.
Black has been a popular color choice for decades because it has a strong association with a quality image for higher end vehicles.
It is an unforgiving color when it comes to dents or impurities in the finish, so many car guys choose colors that do not cause sleepless nights when they decide to take their black vehicles to shows or malls.
Nevertheless, a vehicle with a flawless black paint job is serious eye candy at shows, plus the color works with many different makes, models and years of vehicles.
White is another basic color that will work well with many different vehicles well outside of its application for fleet vehicles.
The color will be more forgiving under close scrutiny than black and will give a clean look to a resto-mod or custom project.
Lastly, the use of screaming loud colors like lime green or orange on vehicles means two things: a factory color on late 60s or early 70s Detroit muscle or a muscled-up hot rod car or truck.
These are colors that need plenty of horsepower to back up their street monster image and work well when the power under the hood can melt the rear tires.
Thus ends a lesson in the only occasion when color really matters to guys.
Jim Sutherland