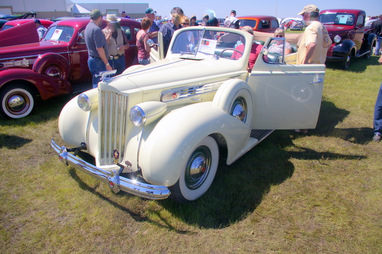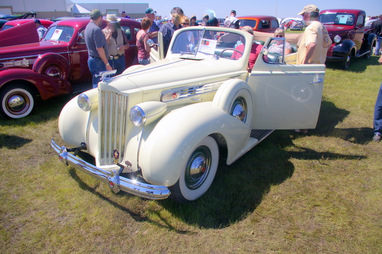 A 1939 Packard Sedan Convertible is not something that you will see at every car show.
They are as rare as a need for air conditioning at the Arctic Circle in January.
'There are reputed to be five or less of these rare classics left in the world- and five would be a highly optimistic number.'
Collin and Rose Marie Oliver are the proud owners of one of the survivors. It began with a visit to Robert Escalante's legendary Santa Ana facility where Collin first saw the beautiful convertible.
He loved it, but he is a smart man who knew that his wife Rose Marie would have to like the car to seal the deal. Fortunately, she liked it, so the car had new owners.
Collin jokes that he bought the Packard because he "couldn't afford to buy the one beside it", but it is very clear that it was a case of love at first sight.
A rare car like the Packard would typically find its way into a private collection, never to be seen again, but that is not the way its new owners roll.In fact, they roll their Packard down the road to every car show they can attend with this beauty. For instance, they trailered it to the International Packard West Coast Tour through Oregon for a one week trip. They like to drive their car as much as possible, so the trip through Oregon was not done on a trailer.
But they also find the time to actually drive it to many small town shows where the Packard is a big hit for its young and old admirers. Collin is a very friendly spokesman for his car because he believes that his car is "kind of nice to have- but nicer to show", in his words.
He thinks that it could use a paint job, but then it would be "too nice to drive", according to Collin.
One of the things that you notice about the Packard is the incredibly quiet engine when it is running. You can barely hear it running. Part of the smooth sound is the legendary Packard engineering, and part of it is Collin's long history as a mechanic. But Collin modestly gives more credit to a master Packard mechanic who works for Robert Escalante for the current purr from the Packard.
Either way, the 73-year-old Packard has lost none of its flashy style or incredible workmanship over the past seven decades. But now it leads a great life in the hands of friendly owners who are generous enough to share their rare beauty with an appreciative world of car people.
'Thank you Collin and Rose Marie, your car may be rare but your kind approach to your car is much rarer.'
Jim Sutherland
More car and owner stories are found at this link-https://www.mystarcollectorcar.com/2-features/stories.html