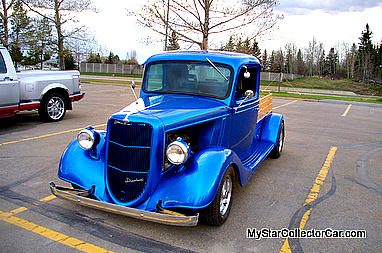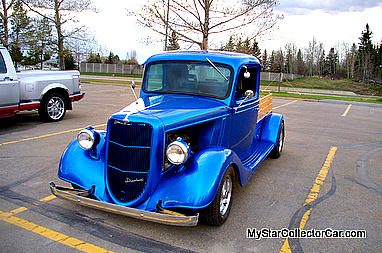 Tom Petty said it best back in the 1980s-the waiting really is the hardest part.
Car guys call it their theme song when they're in the middle of a prolonged car project.
Rob and Brenda are right in the middle of that exact scenario but they found a way to inject patience into the car project game.
They bought a completed project in the form of this classic 1935 Ford truck.
Rob explained how it happened, "I came across the truck and it was what I liked so I bought it to be less antsy about my other old ride and 1935 is my favorite year for Ford trucks". The owner was moving so the truck was part of a liquidation sale.
This truck is a nice blend of old and new and the combination draws people to the old Ford like moths to a light. Rob reported that, " When we drive it people wave at it like they think it can wave back".
The old Ford retains a good part of its stock heritage because the front end is 100% 1935 Ford. Rob admitted that "it rides nice and it handles great- even at 80-90 it drives straight down the road".
The front end is new but the stopping power comes from retro-fitted disc brakes-modern traffic brings out the need for great brakes in a huge way.
The Ford tradition continues under the hood because this truck retained the right to Blue Oval motivation..with.a lot lot more Ford Cobra power.
Rob and Brenda don't do long trips in the '35 Ford, but VW seats assure a better fit than a stock bench seat and Rob pointed out t "there's very little wind noise". At his point there are no plans to sell the truck even after the 38 Ford is done but Brenda admits that, "if he shows up with another one this one could be part of a divorce settlement".
This 1935 Ford truck actually has a bright future with its current owners even after the original project is done.
It's been a great placeholder during that "waiting is the hardest part" phase of a long, drawn out project.
Jerry Sutherland
For more old car and truck stories please follow this link-https://www.mystarcollectorcar.com/