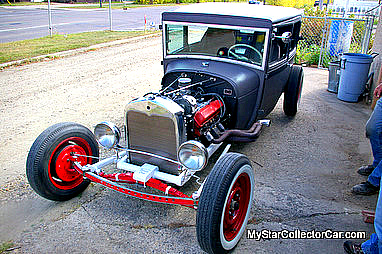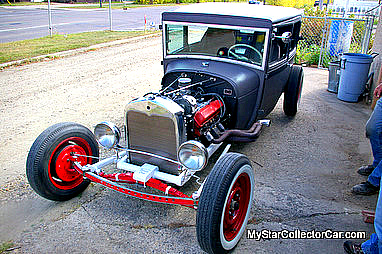 A new generation of car guys has cropped up in the last decade and they are definitely not "tuner guys".
These cats are dedicated to a 50s and early 1960s philosophy-find a cheap ride and build it up with a junkyard supply of parts.
They love new rockabilly music and they have only regret-they were born 30-40 years after the original wave of hot rod builders.
Jim Ewert doesn't have that regret –he's decades older than his newfound colleagues in the brotherhood of the old school ride but he's an accepted member of their club with this 1929 Model A.
New-old member Jim had a vision for the project based on cars that he saw on the streets in the early 1960s so he had a slight advantage over his younger friends in the car world. The car itself was a castoff from a stalled project in the late 60s and early 1970s, so it came with a generous supply of vintage Bondo filler.
Jim took the  body down to metal for an in depth look at the old Model A and that set off a serious binge of welding and panel replacement. The roof was poached from a '62 Ford wagon so a generous amount of surface area was dealt with immediately.
These cars aren't built to be beauty queens, so the welds are crude and the paint is non-existent. Anything more than that level is a serious breach of conduct in Jim's world. His younger amigos are hard-liners who don't bring car wax and detailing tips to meetings.
The car is an incredible blend of cross decade parts shopping and Jim is proudest of his 1965 Olds power train- it cost him 110 dollars. That price is definitely a reflection of 50-year-old junkyard prices. The seats are out of a Pontiac Fiero because, as Jim explained, "there's no such thing as large, tall or wide for Model A seats".
The steering wheel was poached from a '40 Ford and the steering column was liberated from a 1934 Ford truck column. The rear end was borrowed from a 1966 Ford wagon and the heavy duty brakes were found in a 1948 Ford truck.
Jim built the chassis from instructions found in a "how to" book and fitted the original front end to the new build. It worked well but Jim admits that new shocks are in the future. He fabbed up an exhaust system and he admits that "add-on headers with baffles to calm it down" are also in the future of this old school Model A.
The car is still in the "working out the bugs" stage-there are some tire clearance issues and other tweaks are needed but Jim reports that "it's a lot of fun".
Jim likes his role as the new-old guy in his adopted car club and his Model A has truly earned the respect of his new buddies and he's discovered the only difference between the generations?
They have to look it up to see how it was and he only has to look back…
Jerry Sutherland
CLICK HERE to Like us on Facebook
CLICK HERE to Follow us on Twitter
CLICK HERE to Follow us on Pinterest
Re-post this article if you like it…thanks.