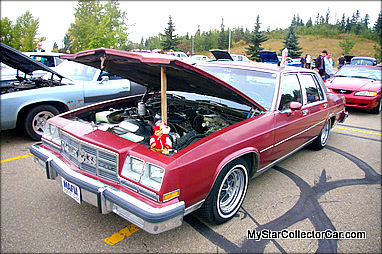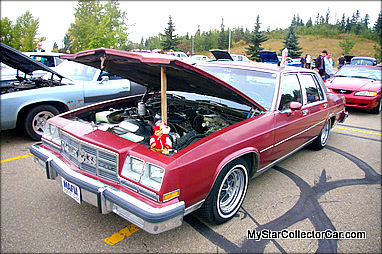 January is a month where spectacular televised auctions bring Hollywood to the old car hobby.
More carnival than reality at times, these auctions are a vital part of a car guy winter for one reason-old cars and trucks hit prime time TV.
An old car auction is a welcome relief from yet another low end reality show about misguided, extremely narcissistic people exposing inner flaws to an equally flawed low end audience.
But the essence of the old car hobby isn't found under TV lights-it's found in cars like this 1983 Buick LeSabre Limited.
This car won't win best of class at most shows but that's not the point. Mark Lay, the current owner, bought the car from the widow of the original owner. Bill Hackman purchased the Buick right out of the showroom because he needed a family car but it was rarely driven so now it has roughly 36,000 miles on the clock. The Buick wasn't a favorite driver for Bill's wife because she spent a fraction of an original mile aimed directly at a light post.
Despite that setback  Bill kept the car and bought his wife a minivan but she never warmed up to the Buick after the mishap.
Nevertheless, Bill loved the old Buick and never intended to sell it but life had other plans when he was diagnosed with cancer. Mark was his best friend and he described Bill with one sentence, "On his deathbed Bill wasn't concerned about himself, he was more concerned about me so he told me to take care of myself". Mark added, "That's the kind of guy he was".
Mark knew how much his buddy had prized the old survivor Buick from the early 80s and he was concerned that it would be sold to somebody who couldn't appreciate the car. As Mark pointed out, "Bill never threw anything out-especially something like this Buick". He transferred the bond with his friend to the car and bought it from Bill's wife for 500 dollars. Those funds were immediately donated to the Cancer Fund in Bill's name.
The road hasn't been easy for the second owner of this legacy car. In July 2011 the Buick was hit as Mark recounted, "She backed into me and they were going to write it off but I told them no way so I made them fix it up".
That incident cost Mark a few car shows because the Buick was in rehab for a few weeks but eventually Mark had the car back on the local show scene. He owes the short turnaround to a very sympathetic local body shop that found a donor quarter panel and put it on his car.
That kind of cooperation from an insurance company and a body shop is nearly unheard of in 2011 but Mark was a very determined owner.
Mark has an immediate and constant mission with the car as he explains, "I get a lot of attention with the car at shows and I use that to spread the word that cancer can be beaten". The car is a rolling tribute to the memory of his best friend and he wants to turn that into a positive on a personal and public level.
Mark explains it this way, "I love my car and I love the memories of Bill I get from driving the car. I miss him every day".
Mark has plans for the car, "I'm fixing the car as I can afford it and eventually I'm going to restore it to original". Ultimately this story distills down to the basics of the old car hobby because it's not about 100 point restorations or frenzied buying under the glare of primetime TV lights. It's about cars like this-cars that meant so much to one man that his best friend is willing to maintain the legacy behind this unassuming vehicle.
He summed it up this way, "Bill was the first owner and I'm the last".
Jerry Sutherland
For more great stories from the front lines of the hobby, please follow this link-https://www.mystarcollectorcar.com/