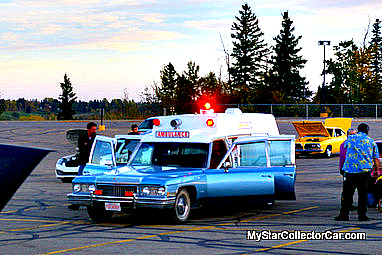 There is a 100% certainty that an ambulance will make an impression on people every time it hits the street.
When you see a vintage 1973 Cadillac ambulance at a car show, it makes an even bigger impression.
This Caddy pulled into a show and proceeded to steal the show.
It is kind of hard to ignore a vehicle like this ambulance when it popped up at a local late season car show, so we tracked down its current owner for an interview.
Surprisingly, it got even more interesting because Pat Jacobsen trained as a rookie EMT on this very ambulance back in 1985, so it represents a significant moment in her professional medical career. Pat "did her first calls" in the massive Caddy and always had a soft spot for the big rig.
She even did a medical transfer that meant a long trip to pick up a patient two provinces over from her western Canadian home. The journey home included a drive-through at a McDonald's where she and her patient on the gurney in back picked up some road food.
Eventually the old wagon was put out to pasture and Pat seized the opportunity to buy her old four-wheeled working partner from her rookie EMT days.
Pat purchased the Cadillac for $750.00, but that was only the start line for her investment into the ambulance. She described it as a "money pit", a moniker attached to many car projects after the final tally on the bill.
However Pat has no buyer's remorse for her restoration costs because it is impossible to put a price tag on her personal memories from 27 years ago behind the wheel of her unique vehicle. It was worth every penny to Pat and now she can showcase her specialized Caddy at every car show.
The sight and sound of Pat's Caddy when she fires up the emergency lights and blasts the siren draws a lot of attention at a car show. Even though a vintage Caddy from the last days of the Nixon era needs little extra attention when it pulls into a show.
When all is said and done, it was a real treat to meet Pat and her old working partner from the past at a car show.
Somehow it just seemed right to see the two reunited after all of these years.
Jim Sutherland
More car stories at-https://www.mystarcollectorcar.com/