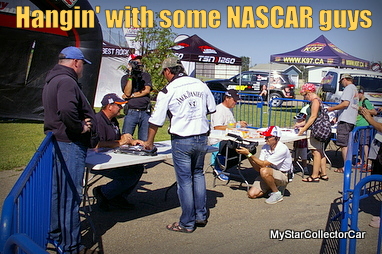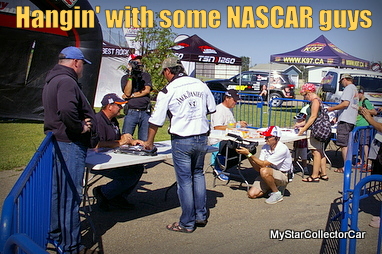 Full disclosure – I've been a NASCAR fan since I was a kid and I live in the land of ice and snow where hockey-talk dominates sports 365 days of the year but I'm not an NHL fan .
Yes, I'm a Canadian who couldn't pick last year's NHL scoring leader out of a police lineup.
I couldn't even tell you the name of three current NHL players, but I can tell you how many times Richard Petty won the Daytona 500 (7) and how many wins The King (Petty) had in 1967 ( 27 out of 48 with a record 10 in a row).
The King made me a lifetime NASCAR fan and I've never regretted that decision.
There was a Race of Champions event recently at Castrol Raceway in Edmonton, Alberta, Canada and the three guests of honor were Kenny Wallace, Kenny Schrader and Michael Waltrip.
I wanted to see these guys in person because all three of them are big names in NASCAR so this was a great opportunity to interact with drivers I watched every Sunday for decades.
I was curious to learn if these guys were anything like the guys you see on TV so here's the report card on these NASCAR legends.
One thing was very clear—these guys are buddies. They had a running dialogue between them based on a lot of personal cheap shots about driving skills and other weaknesses.
They were real guys being real guys around each other so whether it's an autograph session or a few beers around a campfire…these guys like to verbally fence with each other for sport.
Kenny Wallace is a very charismatic NASCAR guy even in a sport loaded with charismatic drivers. Kenny spent most of the 90s in the Winston Cup series where he had 27 top 10s and 3 poles. Kenny was a guy who could fill in wherever he was needed and do a great job so he had a number of different rides over his career. He's still an active driver and a role player.
He's an enthusiastic, knowledgeable guy and he's a big part of NASCAR RaceDay where his energy meshes well with TV.
Kenny Wallace treated every fan like they were the most important people he met that day and he had all the time in the world for every photo-op. The guy you see on TV is the real Kenny Wallace because he makes every fan feel like a VIP.
Kenny Schrader is the man with no first name. I followed Kenny Schrader's career from his Rookie of the Year run in 1985 and he was a real-deal driver but nobody ever seem to call him Ken or Kenny.
Schrader was always simply Schrader. Schrader had a lot of top tens, a number of poles and 4 wins in NASCAR but he always came across as a humble guy who didn't mind making fun of himself.
Schrader was definitely that guy. He sat in the 85 degree heat where he was polite and clearly respected the long line of fans that came out to see him. This is a guy who doesn't need to do this kind PR work anymore and he could easily slip out of the public spotlight but there he was – talking to fans and treating them like gold.
One of Ken's darkest moments happened on live TV when he was interviewed right after the Dale Earnhardt crash at the 2001 Daytona 500 and that was the only time I ever saw him lose his understated, but upbeat demeanor. Schrader's reaction told every NASCAR fan how bad The Intimidator's crash was at the time as the story unfolded and it speaks volumes about how close he was to Earnhardt and a tragic moment in the sport.
Michael Waltrip was another major player in the 2001 Daytona 500 because he won it and his boss was #3 (Dale Earnhardt Sr.). Mikey went from sky-high in the winner's circle to complete shock as the news unfolded that day.
There wasn't a NASCAR fan in the world who didn't share that incredibly poignant moment with him.
Nevertheless, life moves on and Mikey is still a huge name in NASCAR. He's a 2-time Daytona 500 winner, and he had 132 top ten finishes. He's still a Cup driver on selected tracks, he owns a team and he's a featured TV star for NASCAR.
Mikey's strength is he can connect with the average guy and that comes across in a big way when you see him in person. You hear him before you see him because he's amped up 24-7 and he loves to talk plus he's hard to miss—this cat is a big dude.
Mikey is definitely the same guy you see on TV because he's a people magnet. He loves the back and forth with the fans and he thrives in the spotlight. He's like an old buddy you never met in person so an autograph gig is like candy to Mikey Waltrip.
This guy should run for office.
In the end the biggest lesson I took away from this experience was that NASCAR guys are humble, friendly guys with exceptional people skills.
That connection to the fan base is priceless and it's why I've been a fan since The Beatles were dominating the music charts .
Jerry Sutherland
CLICK HERE to Like us on Facebook
CLICK HERE to Follow us on Twitter
CLICK HERE to Follow us on Pinterest