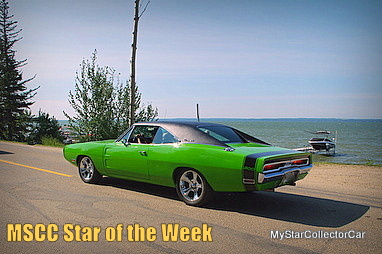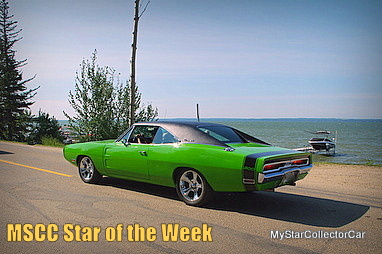 MSCC AUGUST 3 STAR OF THE WEEK: 1970 CHARGER 500 TURNS A SUMMER DAY INTO MAGIC
There are few things better than a sunny mid-summer day in a resort town but you can enhance the experience in a big way.
You can get behind the wheel of a classic ride and turn that summer day in a resort town into pure magic.
This MSCC Star of the Day '70 Charger 500 was a big part of a summer day on Saturday.
The magic was a bonus.
MSCC AUGUST 2 STAR OF THE DAY: GET YOUR HANDS DIRTY – A TYPICAL DAY AT THE SHOW
Unless your car is a trailer queen, you really haven't had the full car show experience until you've had a problem.
It might be something simple like a loose radiator hose or battery cable or something more dramatic like a dead short in the wiring or a catastrophic oil loss.
Whatever it is, you can rest assured you'll be under the hood or under the car with more questions than answers at some point in your old ride world.
This MSCC Star of the Day was at a June car show and there's no word on how the IHC Scout investigation worked out.
MSCC AUGUST 1 STAR OF THE DAY: CLASSIC VETTE PICTURE—YOU CAN'T TAKE A BAD ONE

There are few constants in life. Death and taxes are at the top of the cliché list because they're…death and taxes.
There are a few automotive constants in life like vintage Beetles are cute and Hemi Road Runners are scary but one of the main constants is simple.
You can't take a bad picture of a vintage Corvette.
Look no further than this MSCC Star of the Day Vette at a show last month.
MSCC JULY 31 STAR OF THE DAY: THE LONG AND SHORT OF IT IN PICKUP TRUCKS
You can go in many directions with the stance of an old truck.
You can turn them into belly crawlers or you can turn them into 4-wheeled skyscrapers.
Or you can leave them at a factory ride height.
This MSCC Star of the Day picture of a vintage Ford and Chevy truck from a May show is a good example of factory versus skyscraper stance.
MSCC JULY 30 STAR OF THE DAY: GMC FIRE TRUCK – VINTAGE EMERGENCY VEHICLE EQUALS FLASH AND STYLE
Fire trucks are attention-getting devices by design because you can't possibly hurtle collision-free through traffic at high speeds without bright colors, flashing lights and loud sirens.
Kids love them for those very reasons.
Old fire trucks are rock stars at any car show because people love to get up close and personal with these flashy pieces of fire and rescue history because fire and rescue history is based on real world life and death drama.
This MSCC Star of the Day GMC fire truck was at a show back in early July.
MSCC JULY 29 STAR OF THE DAY: TRIUMPH GT6 – SPORTY, BRITISH AND ROOFED-IN
British sports cars come in two forms – topless or roofed-in. The topless versions included legends like MG-TCs , Austin Healey 3000s, MGAs, MGBs, Spitfires and TR6s.
The roofed-in Brits came with names like DB4, XKE FHC, MGB-GT.
There are British sports car fans who like feel of the wind in the hair and there others who like steel over their head.
This MSCC Star of the Day Triumph GT6 was at an early May show and it made a strong case for the roofed-in British sports car.
MSCC JULY 28 STAR OF THE DAY: A TRIO OF MOPARS LIGHT UP A JULY DAY
Classic Mopars are relatively common at car shows so you'll see a fair number of them lined up at any given event.
They're less likely to show up on a street but when they do, the street looks a lot better.
This MSCC Star of the Day makes a strong case for that argument.
A big, bad Road Runner, a 1st Gen Challey and a Little Red Express will make any street look a lot better.
For past MSCC Stars of the Day please follow this link.
CLICK HERE to Like us on Facebook
CLICK HERE to Follow us on Twitter
CLICK HERE to Follow us on Pinterest
Star of the Day page sponsored by Southside Dodge.