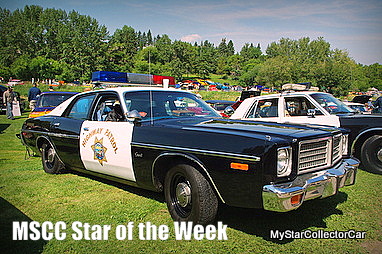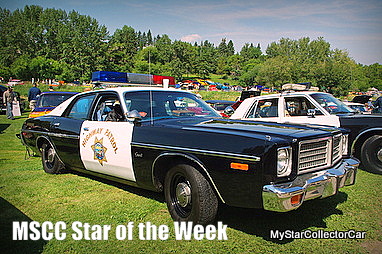 MSCC AUGUST 10 STAR OF THE WEEK: '75 CORONET B-BODY – THE ULTIMATE POLICE CAR
There have been many versions of police cars over the years and most of them were full-sized sedans. That era ended with the last Panther-platform Ford Crown Victoria in 2012.
The Chevy Caprice was another favorite ride for law enforcement agencies but the most popular were the B-body Mopars.
B-body Mopars were basically Road Runners with an extra two doors because they could keep up with everything bad guys threw at them and come out on top.
They were big enough for presence on the street and light enough to respond well to heavy duty police suspensions, brakes, engines and transmissions.
This MSCC Star of the Week '75 Coronet B-body was at a show yesterday to give people a look at the ultimate police car.
MSCC AUGUST 9 STAR OF THE DAY: F-100 – WHEN WORKING TRUCKS WERE COOL
1950s era trucks were some of the coolest vehicles ever built and Ford led the charge with the F-100s.
These trucks wore a clean and simple design and they were the most stylish vehicles to ever grace a farm or construction site.
Modern trucks will never be that cool.
This MSCC Star of the Day F-100 was in traffic a few days ago.
Cool is forever.
MSCC AUGUST 8 STAR OF THE DAY: '64 CHRYSLER WINDSOR – AT THE END OF EVERY RAINBOW IS A POT OF GOLD
There was a weekly drop-in car show scheduled last night but it was called off thanks to a massive amount of rain, wind and hail.
There's truth to the old adage, "In everyone's life a little rain must fall" but there's even more truth to the rumor, "There's a pot of old at the end of every rainbow".
This MSCC Star of the Day 1964 Chrysler Windsor was the pot of gold at the end of last night's rainbow.
MSCC AUGUST 7 STAR OF THE DAY: VOLKSWAGEN TYPE 181—THE THING CAN BE ANYTHING
Volkswagen produced their version of the Jeep for the German military and called it the Type 181.
The civvy version was called 'The Thing' in North America and they didn't break sales records with these function over form VWs.

Appearance wasn't a problem because Things had built-in versatility so VW ad copy said "a Thing can be anything".
They were truly open air machines and they were definitely unique vehicles so in 2014 VW Things are highly sought after rides.
This MSCC Star of the Day VW Thing was on the road yesterday in a rare appearance by a rare classic.
MSCC AUGUST 6 STAR OF THE DAY: '64 FORD THUNDERBOLT—THIS IS WHY YOU GO DOWN SIDE STREETS
There was a poem about the road not taken called, oddly enough, 'The Road Not Taken'.
Many of you will remember this poem because some English teacher from a place and a time long ago forced you to read it.
That same English teacher probably taught you to over-think these words, just like everything else you were forced to read, but there was a basic point to Robert Frost's words.
Frost meant you should check out every road when you're scouting for old iron because that one side street you skipped might have a classic ride on it and you'll regret your decision.
This MSCC Star of the Day '64 Ford Thunderbolt was definitely on a road not normally taken.
MSCC AUGUST 5 STAR OF THE DAY: '64 IMPALA – DRIVE A LEGEND NOT A MERE CAR
'64 Chevy Impalas definitely fall into the American as apple pie category because these cars defined Detroit's sense of style fifty years ago.
You could look at the Impala and see next year's car this year because Impalas led the parade – they didn't join it.
They were timeless in their own way and that explains why these 50-year-old cars still have a cult following in 2014.
This MSCC Star of the Day '64 Impala was at a July show.
MSCC AUGUST 4 STARS OF THE DAY: DUNE BUGGIES — WHY AREN'T THEY COOL ANYMORE?
Dune buggies were a cultural icon in the 1960s and early 70s.
You could pull a body off a humble VW Beetle, slap a very cool fiberglass body on it and be back on the road before the weekend ended.
They were simple, open air rides that could go through the sand like they were on air.
You don't see dune buggies anymore and the world got a little less cool for that reason.
These MSCC Star of the Day dune buggies were at a July show where they could display their vanishing brand of cool.
For past MSCC Stars of the Day please follow this link.
CLICK HERE to Like us on Facebook
CLICK HERE to Follow us on Twitter
CLICK HERE to Follow us on Pinterest
Star of the Day page sponsored by Southside Dodge.