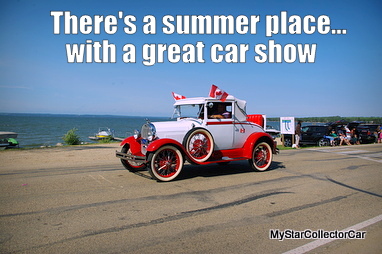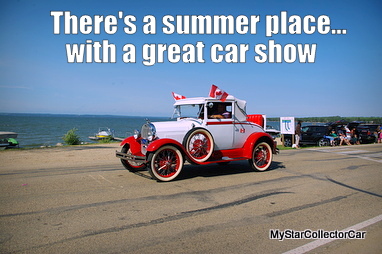 There was a time when summer holiday car trips consisted of a basic no-frills four door sedan filled with kids teetering right on the edge of boredom and car sickness.
Air conditioning consisted of two front vent windows and slightly open rear windows for the kids.
The sole source of entertainment was an AM radio and the music was middle of the road adult music that leaned toward easy listening.
We may have wanted to hear the Beatles and the Stones but we got Henry Mancini and Nat King Cole over the car radio on the long summer road trips from our childhood.
'Summer Place' was a song from that era and it was covered by everyone from Percy Faith to the Lettermen over a 5-year period in the early 60s.
In between was an Andy Williams version that also charted high in 1962 and it was easy to understand why the song was a hit as an instrumental or vocal version: it was about summer and the destination of the road trip.
Those were the days when lake resorts were simple, understated places with a beach and small cabins to rent. They barely exist in 2014 because most resort towns have gotten bigger and cater to a different kind of visitor who wants a palace with all of the whistles and buzzers.
Simple does not cut it when it comes to summer vacation spots in 2014 and something has been lost along the way. Except in a little resort town in Alberta Canada by the name of Mulhurst Bay where time has stood still and you can still find that summer place from your childhood memories.
Mulhurst Bay hosts a car show in conjunction with their annual summer festival and we look forward to their show every year on the calendar. The event kicks off with a small parade that takes about 15 minutes and probably makes every kid in the area very happy based upon the amount of candy thrown their way along the parade route.
We were actually looking for retro four-wheeled eye candy and found plenty of it at the Mulhurst car show. We were treated to a genuine real deal 1970 Dodge Charger Daytona with a 4-speed manual hooked up to a 426 Hemi.
This was an amazing and very rare car barely saved from the crusher because it was rolled shortly after it was purchased in '70. Look for this baby and how it was saved in a future MSCC feature.
We also found a 1967 Dodge A-100 pickup truck survivor with an owner who wants to restore the unusual ride back to its original glory. Learn more about this oddball Mopar truck in a future MSCC story.
The show had a Ford Ranchero with a long history in one family and a future MSCC feature will tell how the vehicle connects to three generations since it was first purchased by the original owner/relative.
One of the most incredible stories of 2014 will be a trio of rat rods built by a precision carpenter because you will not believe what is underneath his three machines. In fact, we doubt you could even guess what lies beneath the three vehicles but you will need to read the future MSCC story to find out what happens when a master woodworker applies his considerable talents to car projects.
The three donor cars for the three custom rides are not typical choices to say the very least and it takes a very talented guy to make them work for the custom projects. This builder was that talented-and then some.
What is our message this week?
There are still a few of those summer places from our childhood left in 2014 and some of them also have excellent car shows.
Jim Sutherland
CLICK HERE to Like us on Facebook
CLICK HERE to Follow us on Twitter
CLICK HERE to Follow us on Pinterest