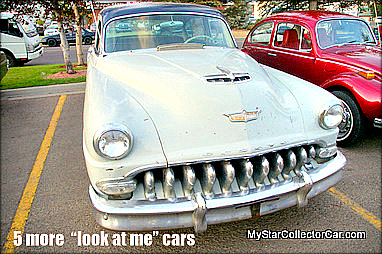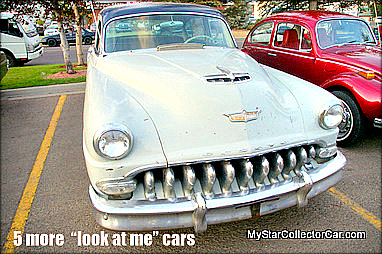 Attention is a tricky concept.
I am an identical twin so I get all the attention I need or want when I hang out with Jerry at car shows.
But there are cars that will immediately push Jerry and me to the sidelines whenever they appear at car shows-and we are very OK with that plan on many levels.
I am well aware that all old cars are vastly more interesting than either one of us on our best day in the public eye; however these five rides are show-stealers even amongst their four-wheeled peers.
The 1956 Pontiac lingers firmly in the shadow of its 1956 Chevy relative in the hearts and minds of many car guys-except that a 1956 Pontiac four-door hardtop is a rare addition to any car show. Look for a crowd whenever a car like this stylish old Poncho makes an appearance at a show.
British car buffs know that 1976 Triumph TR6 marked the last production year for this attractive British sports car. They were incredibly fun to drive and reasonably easy to repair, the latter fact was not lost on do-it-yourself owners of the unpredictable little English drop top. Most importantly, chicks really dug the hot little Brit- and they still do at car shows.
The 1953 De Soto was not exactly cool in a Frank Sinatra sense when it first hit the showrooms. It seemed to gain most of its popularity from its role as a donor car for a custom lead sled. Custom guys loved the De Soto front grille and little else about the car in the 50s.
The '53 De Soto has become a rare addition to recent car shows because they did not survive the ensuing 59 years in huge numbers. Lack of popularity condemned them to a grisly date with a car crusher, so a '53 De Soto will be a welcome and eye-catching addition to a 2012 car show.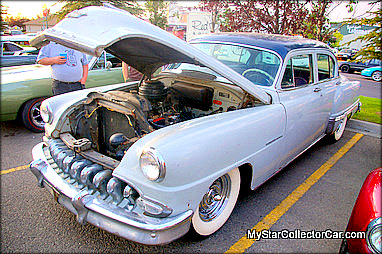 Clearly the 1963 Studebaker Avanti was the hot babe of the Studebaker lineup. These cars oozed sexuality when they were introduced in the early 60s. They were beautiful then and now, plus they could run with a fast crowd then and now. They were rare as reasons that Jethro Bodine could actually become a brain surgeon during their model run, so an original first-gen Avanti is an instant crowd-catcher every time at shows.
A 1925 Model T Speedster is essentially a pioneer in the hot rod go-fast movement. These dependable and famous four-wheeled offspring from Henry Ford are the stuff of legends in automotive circles. The versatile T's did everything except their owners' taxes during their famous run in the early days of Detroit.
The speedster was a sporty version of the T that was capable of top speeds that were well beyond the stock Model T. They were custom tweaked like this one's owner whose personal fear threshold was reached at 55 mph in his Speedster.
Watching a Model T equipped with a Model T engine go down the road at those rates of speed would definitely draw attention in today's world.
Plus our last addition to this installment of eye-catching rides looks great even while parked at a show.
Jim Sutherland
Follow us on Facebook-http://www.facebook.com/MyStarCollectorCar
Follow us on Twitter at- https://twitter.com/#!/MyStarCollecto1