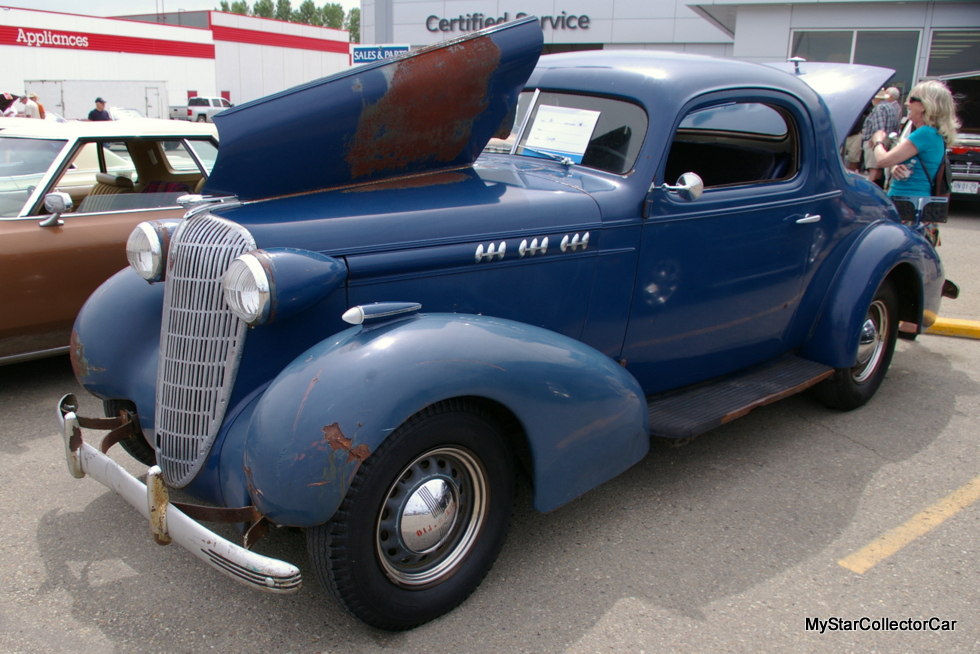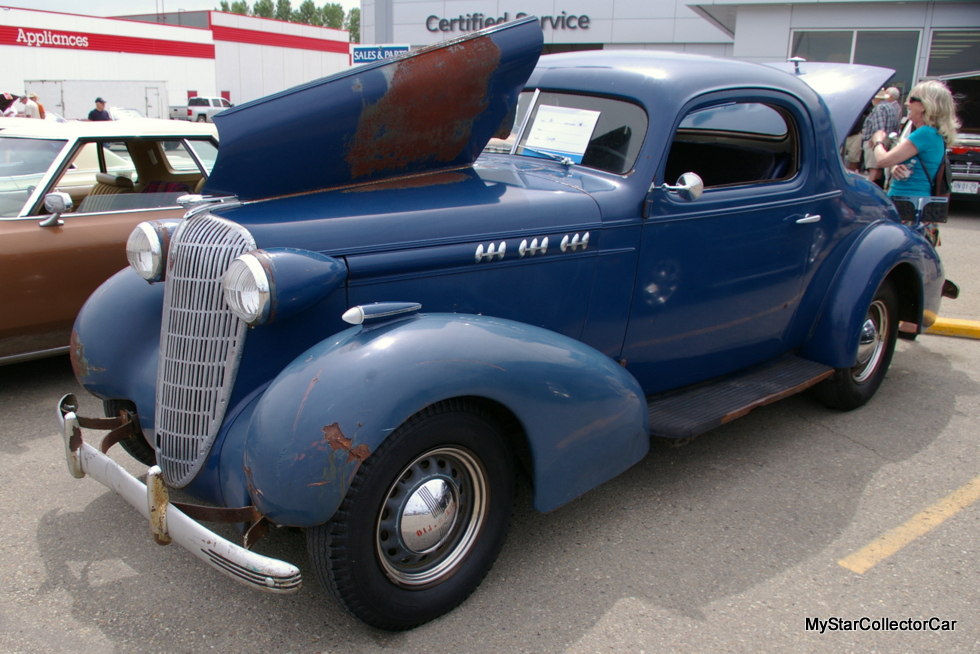 There are very few stock 1936 Oldsmobiles left in the world.
There are even fewer Olds Business Coupes on this planet that have survived in virtually original condition.
An intact 1936 Olds Business Coupe commanded a lot of attention at a summer Oldsmobile meet.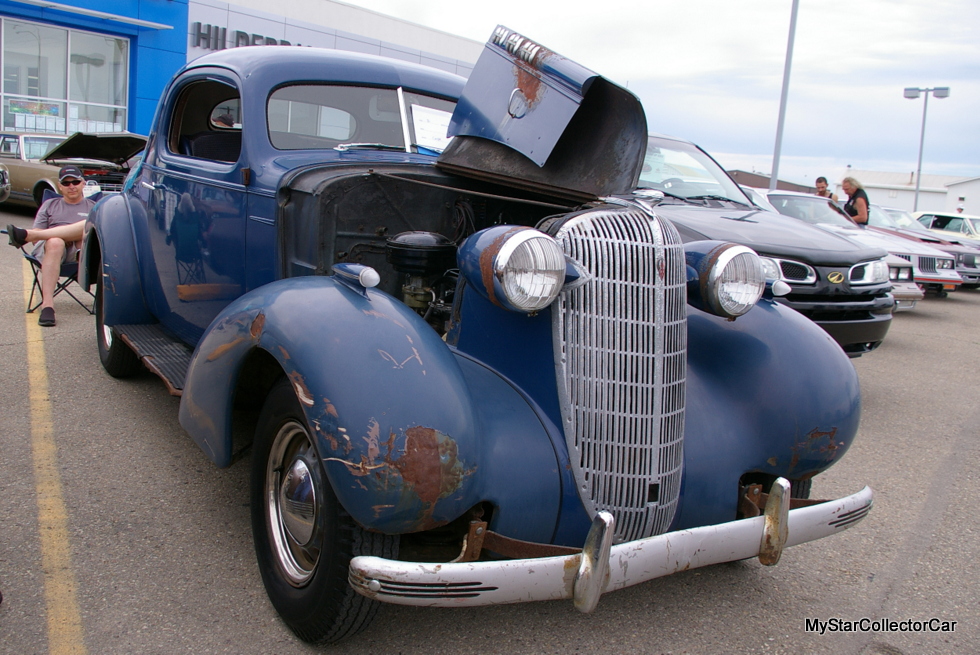 The 81-year-old two-door coupe wore all of its decades on its outer skin and was an excellent example of a survivor car.
The 1936 Oldsmobile was built in the middle of the Great Depression, a time when car sales numbers took a back seat to unemployment numbers in an economically-ravaged North America. The '36 Olds was built about 7 years after the Wall Street Crash and there was precious little room for optimism on the financial front.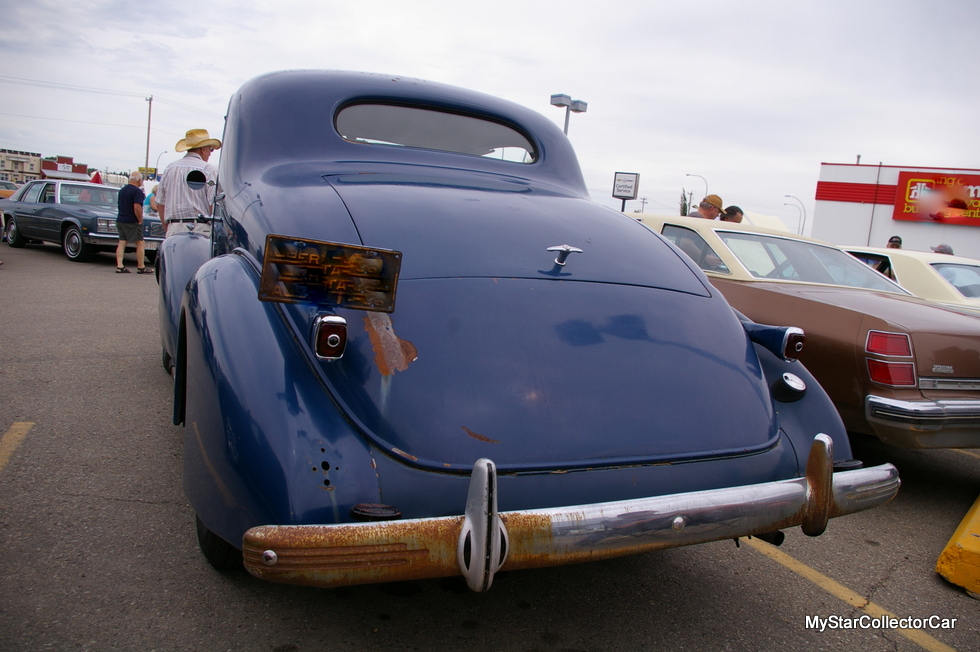 Thus a '36 Olds is a rare beast because General Motors was willing to gamble on the car and produce it during an era when all signs pointed to economic restraint.

Ken Smith became the proud new owner of a 1936 Olds Business Coupe after his cousin bought a rare Indian motorcycle from the Oldsmobile's Seattle owner. Ken's cousin recommended that Ken consider the Olds as his next purchase and then his cousin followed up with some photos.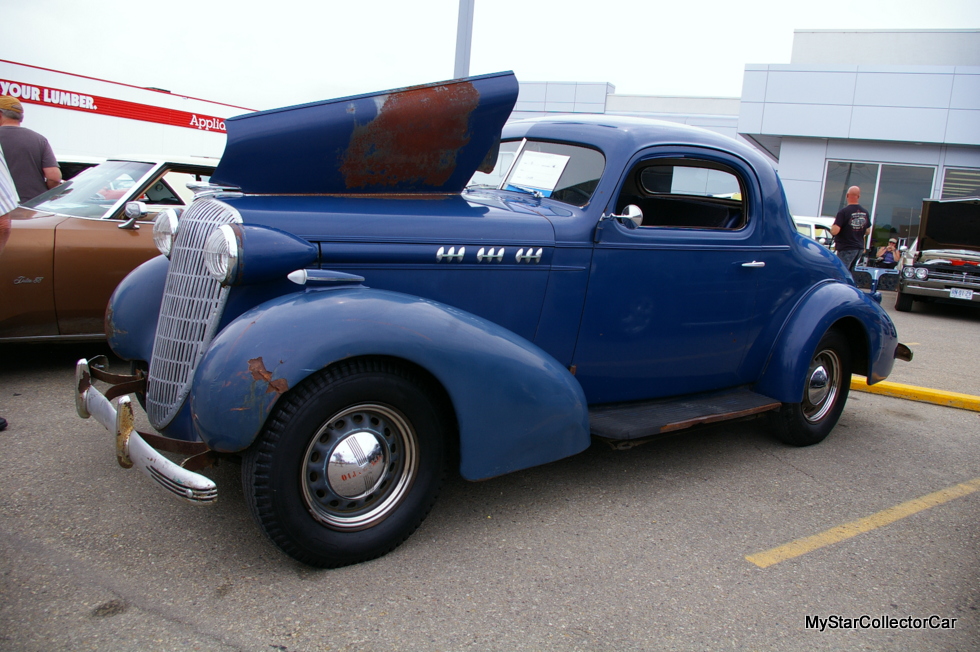 Ken liked what he saw in the photos and bought what he knew to be a survivor 1936 Olds about 4 or 5 years ago. There was no chop to the top and the car was blessed with its original power train, paint and ride height.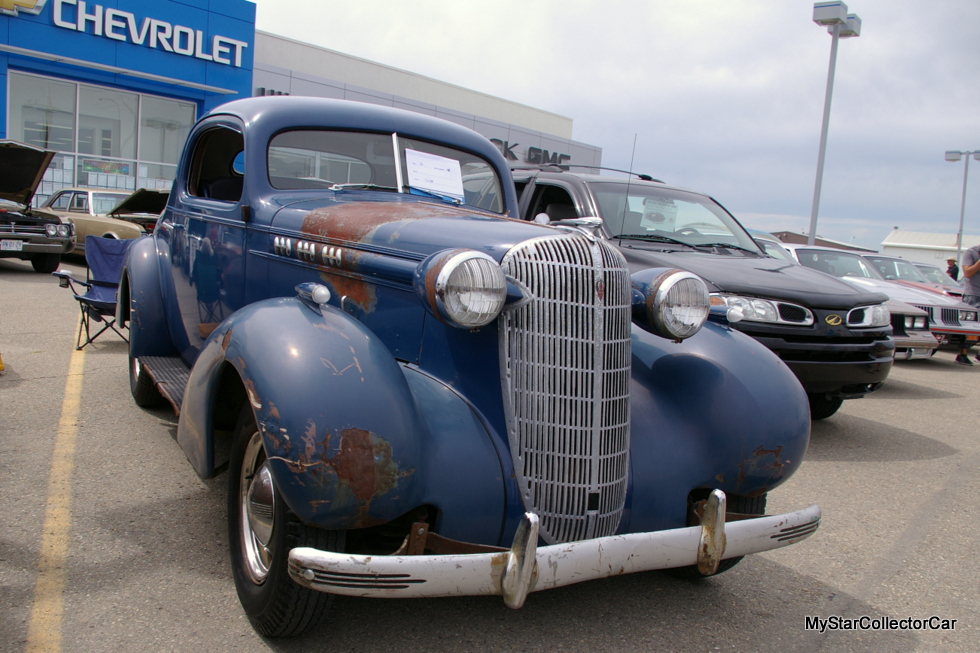 Ken wanted to improve the interior so he became a self-taught upholstery man through a period of trial and error in which he gained an enormous respect for the upholstery trade.
Initially, Ken felt "it can't be that hard" to do upholstery work, but later changed his mind when he encountered a steep learning curve during interior work on the Olds Coupe.
Ken was patient enough to bide his time on the Olds project and visited numerous swap meets and online bid websites to gather parts for the Olds. He was pleased to discover he had a hood emblem in the glove box because the photos did not show an emblem for the Olds hood.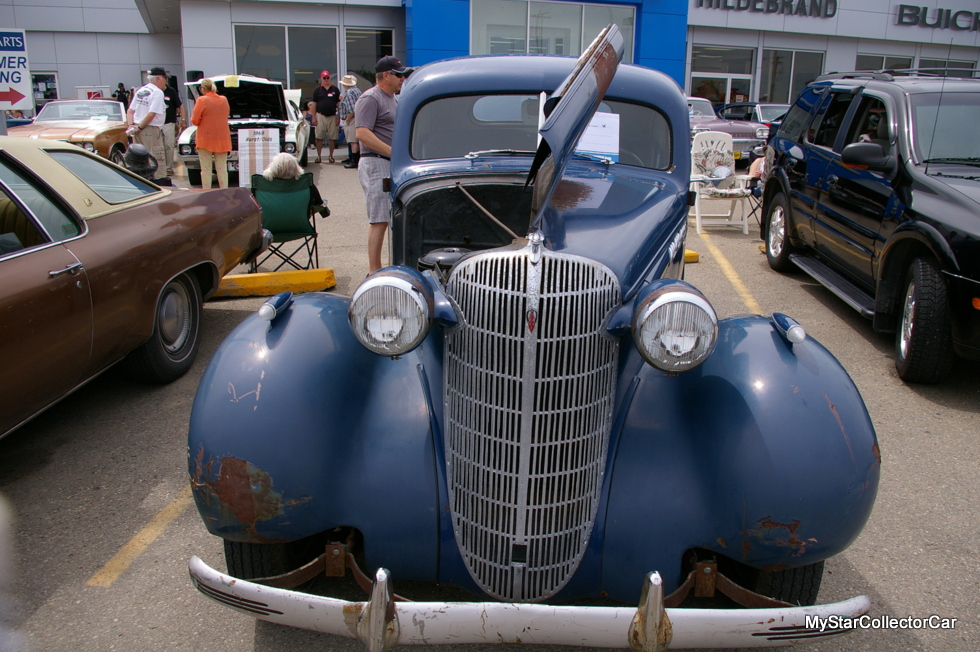 He was also happy to discover the hubcaps for his Olds and was able to complete the set when he found the 4th hubcap on the spare tire in the trunk.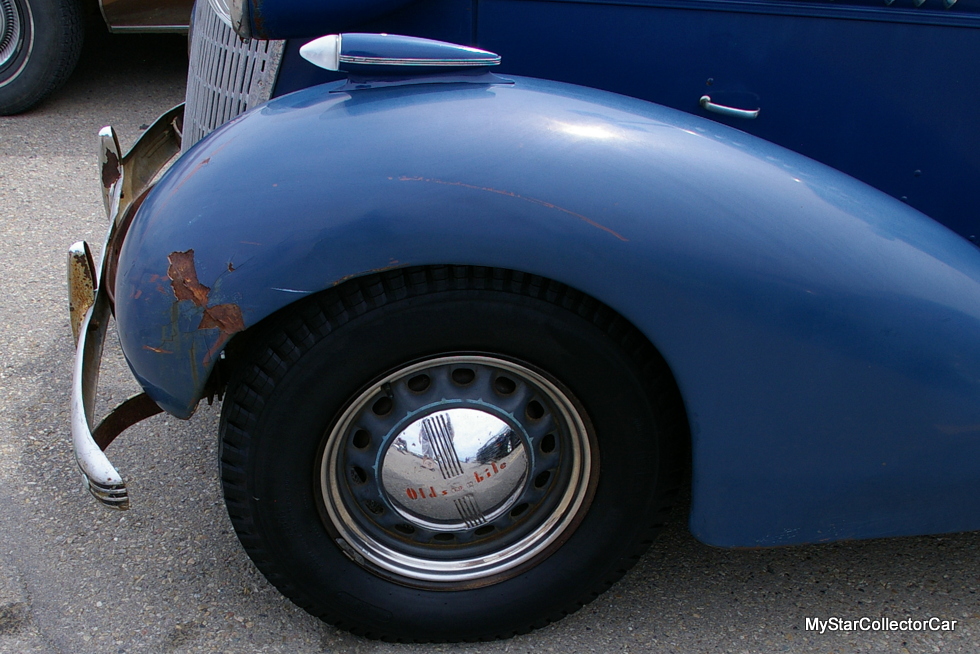 Ken also upgraded the signal light system from the original single brake light on the left rear of the Olds. Now it sports a working signal light system, complete with front fender-mounted signal/park lights from a 1937 Buick which Ken bought at a swap meet.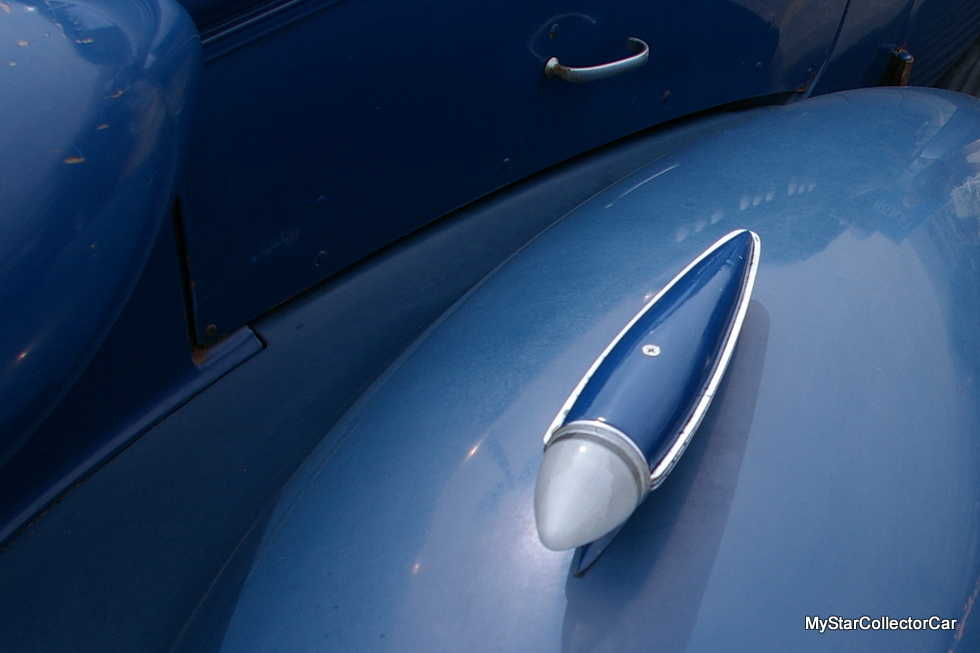 Ken noted the Buick lenses are made of glass and look like they belong on the pre-war Olds Business Coupe.
The Olds retains its original 6-volt tube radio and Ken noted the unusual position of the antenna and the fact it was wrapped like tape under the running board on the driver's side.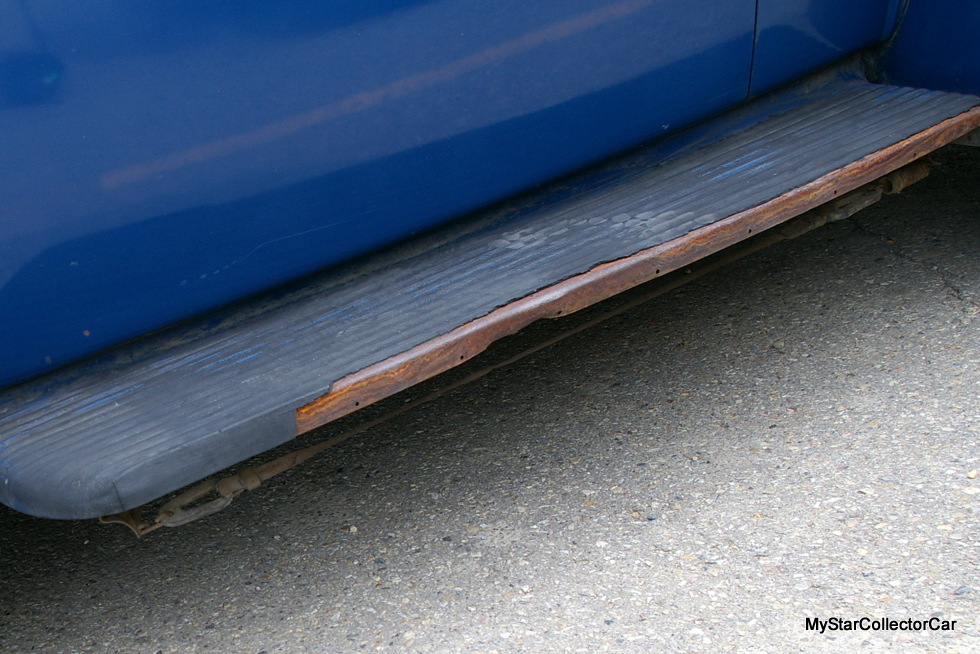 The floor-mounted manual transmission is a three-speed and allows Ken to hit about 40 mph (approximately 66km/h) when he really pushes his Olds.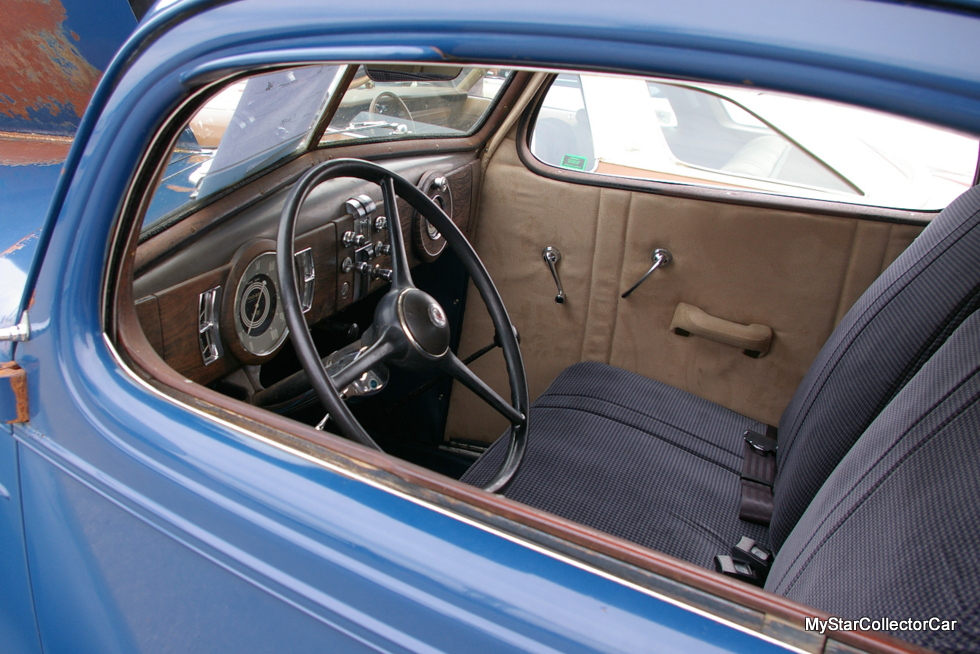 The Olds suits Ken very well because he has no plans to improve his 82-year-old car to 21st century standards. He likes his '36 Olds in original Great Depression-era mode.
Jim Sutherland
CLICK HERE to Like us on Facebook
CLICK HERE to Follow us on Twitter
CLICK HERE to Follow us on Pinterest
Please re-post this if you like this article.