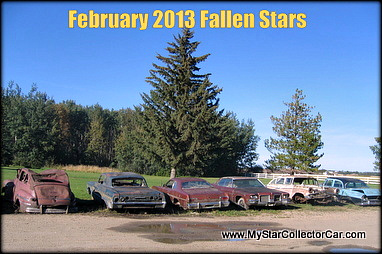 This might sound like heresy but some of what the "non-car people" tell you is true…cars are basically machines.
It's true that cars are designed to have a beginning, middle and an end in life but they've become so generic and disposable in the 21st Century that we've lost our emotional investment in our 4-wheeled friends.
New cars will take a kid through his formative years but they'll never have any kinship with Mom's 2011 Mazda.
That wasn't the case with these old cars because they took kids through what some people might call the Golden Age of kid-hood when vacations were done in the back seat with an open window and the country-side as the only entertainment.
Cars and trucks like these were crude by today's standards but one thing is for sure…you never forgot Dad's light green '63 Pontiac 4 door sedan but kids today will barely remember Mom's Mazda.
* Here's a link to past MSCC Fallen Stars.