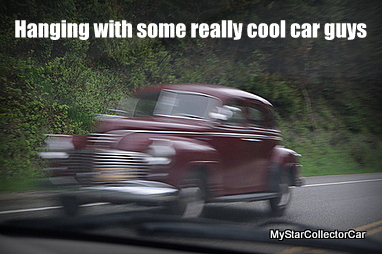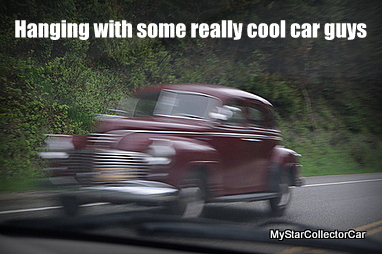 We headed out to beautiful British Columbia, Canada for a few spring car shows on the May long weekend, otherwise known as the Victoria Day weekend in honor of the 19th century British queen.
We encountered a Ford Crown Victoria at the Revelstoke, BC show, a fitting touch to the weekend celebrating the last monarch to preside over the British territory of Canada before its independence as a country in 1867.
Southern British Columbia gets a huge jump on spring because of its geography which ranges from temperate coastal to arid desert, with a positive weather effect on towns like Revelstoke that are situated in the Rockies.
Consequently a car show in Revelstoke on the second weekend in May will not require snow tires, plus the town is in its spring glory for blossoms and greenery.
The weekend car show was an event planned by the BC branch of the Vintage Car Club of Canada (VCCC) hosted by their local Revelstoke chapter.
We arrived late Friday afternoon and followed a steady stream of vintage rides to the downtown core of Revelstoke where the owners had taken over the area with an amazing assortment of vintage rides.
Most of the vehicles were very close to stock and they were a strong mix of pre and post-war rides. The philosophy of their owners was pretty universal: originality as much as possible. They are not people who want to mess with history, so they prefer not to big block, small block, slam or chop their vehicles.
The vehicles represent a significant part of their own personal history because most of these car enthusiasts are well past retirement age, so a blown 350 Chevy under the hood is not an option for them because it has no correlation with their own youth.
We liked these car guys because they are not afraid to get behind the wheel of a vintage car and drive it to shows. They do not believe in trailer queens or museum pieces because, for them, the cars are meant to be driven on the road and not just in an annual parade.
The owners are respectful of their cars' limitations and will drive to shows at a comfortable pace for both of them. A number of the attendees had traveled from the greater Vancouver area to attend the Revelstoke show, a distance of just under 700 km (about 400 miles).
Typically they made the trip a two-day affair and averaged about 70-80 km/hr (40-50 mph) on the roads. They chose a secondary route so they could avoid the Colquihalla Highway; a major fast-paced freeway that connects the West Coast of Canada to the rest of the country.
A few of the owners had taken the Colquihalla on previous trips where they found they and their vehicles were not meant for the blistering pace on that highway.
Their travel route was a very scenic and leisurely two lane road that was formerly the main highway in the past history of BC roadways. Some of the vehicles may have even made the journey many years ago if they were BC cars.
We were impressed with these guys because they and their brides still had a strong spirit of adventure. They were willing to drive vintage cars built many decades ago on mountain roads to a car show 400 miles away and they enthusiastically embraced the opportunity.
We live in a world where much younger people would not even consider this vintage car journey because they lack the courage and willingness to embark on these kinds of adventures.
We at MSCC salute these car guys because they are positive role models for the rest of us who really need to embrace their philosophy about how to truly enjoy and appreciate the vintage rides.
Thank you ladies and gentlemen, you are still setting the pace in the car hobby.
Jim Sutherland