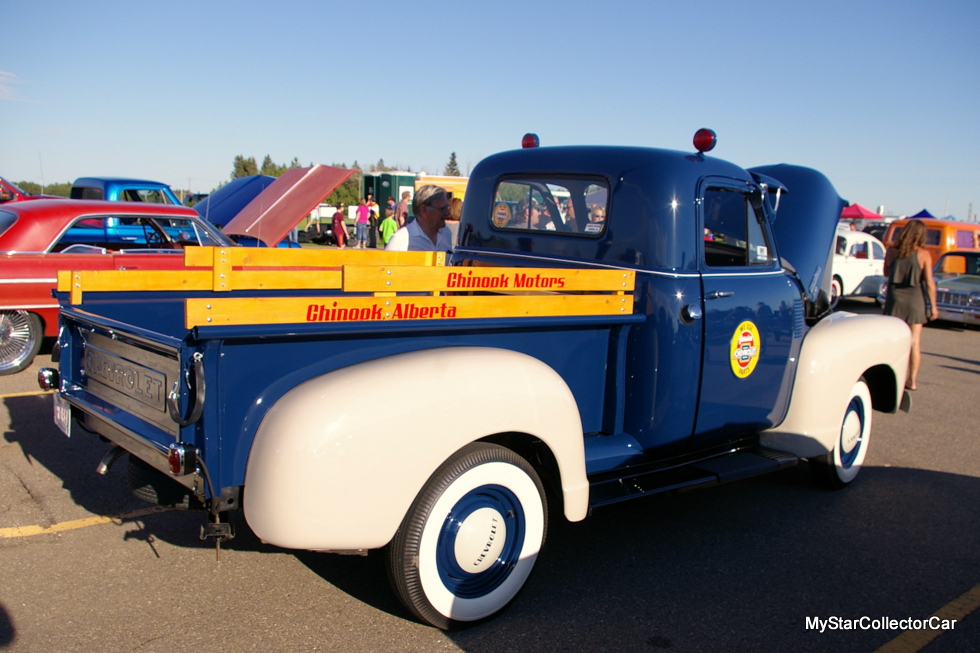 Chinook, Alberta is a small hamlet in western Canada.
The little town's name is based upon a winter event called a Chinook wind that produces warm weather in Alberta during the frigid winter months.
'Chinooks were the naturally-occurring weather events that scared well-known Hollywood eco-flake Leonardo DiCaprio while filming in Alberta a few years ago.'
Leo gave Albertans plenty of laughs with his ridiculous reaction to Chinooks.
Perhaps he should have visited Chinook, Alberta and seen the town where Doug Aitken's 1952 Chevy 1300 pickup was the first vehicle sold at Chinook Motors by Doug's father His father owned Chinook Motors and it  was a thriving GM dealership in the thriving little town of Chinook in 1952.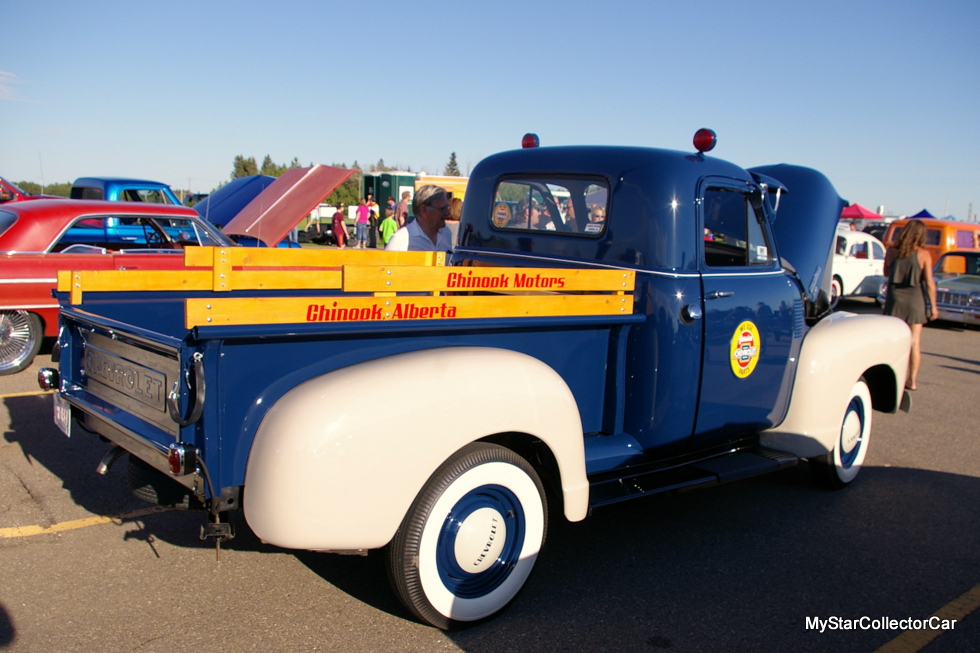 Doug even has the original sales invoice for the truck. The truck's significance in the Aiken family was not lost on Doug and he decided to track the old Chevy down about 30 years ago. He managed to find the truck and began a long process to restore it back to its original glory.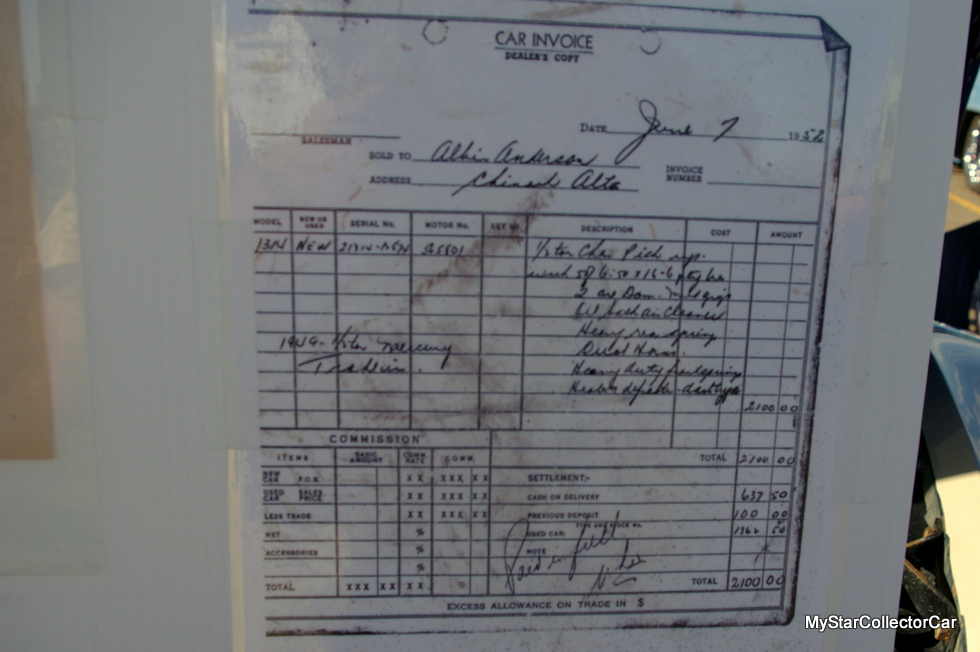 Doug is a licensed mechanic and worked on the truck whenever he had time for the first 25 years while it sat in storage. His wife passed away about 5 years ago and Doug decided to tackle the restoration in a big way.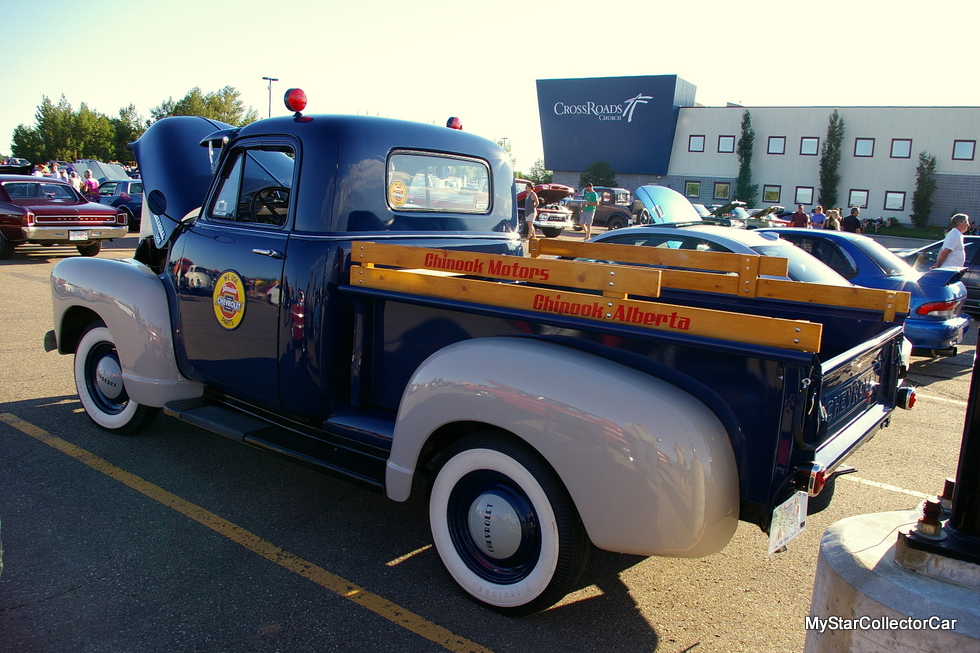 In Doug's words; "I had nothing else to do (after her passing) so I decided to start on the truck."  He always had a strong connection with the truck because of its link to his dad's dealership and now the time was right to bring it back to showroom condition in honor of Doug's late father.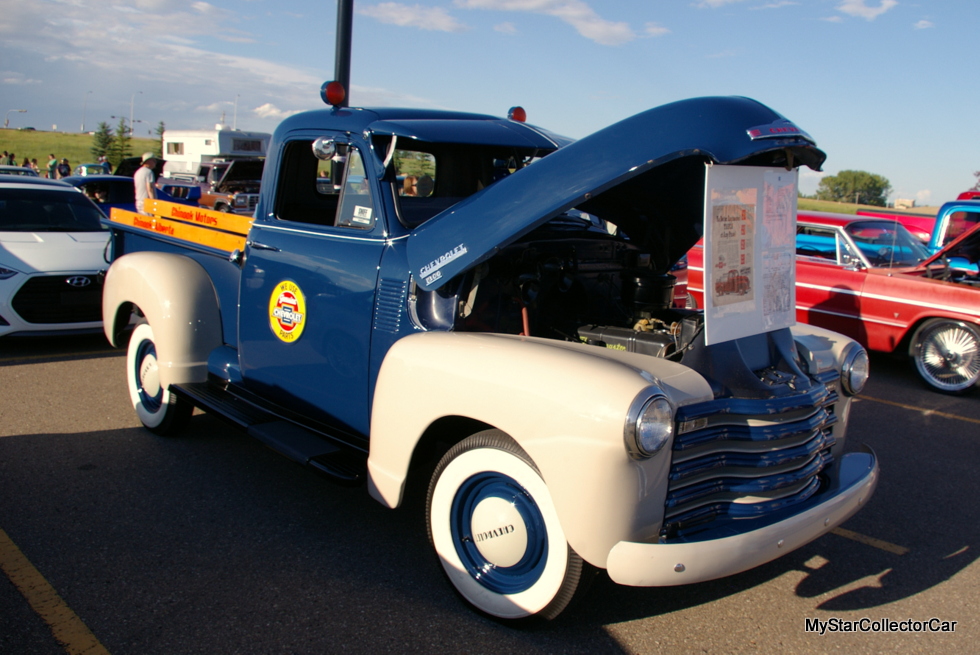 Doug believes the truck had most of its service work done at Chinook Motors before it was retired from the road, based upon its paper trail. The truck's original 216 cubic inch straight-six engine was a pleasant surprise for Doug because it required no work.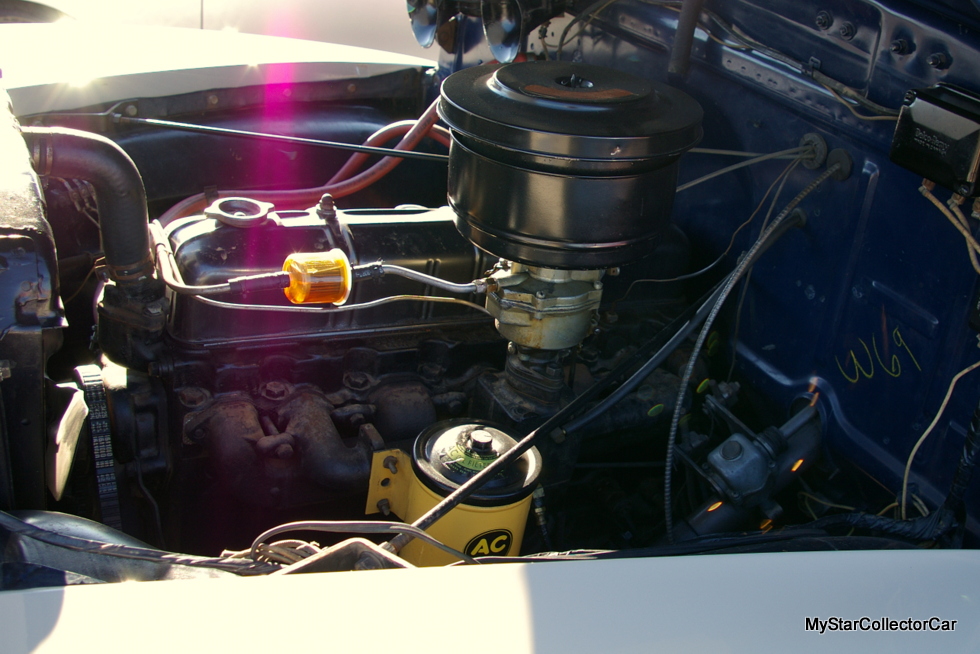 However, the truck did require a frame-off restoration to bring back its showroom look. Doug added a stylish upgrade to the paint scheme when he changed the all-blue truck into a two tone ride. The new color on the fenders is a very good choice because it showcases the classic look of these vintage Chevy pickups.
Doug pointed out an original factory mark under the hood of the truck and it looks like a brand new mark, even though it has been there for 65 years.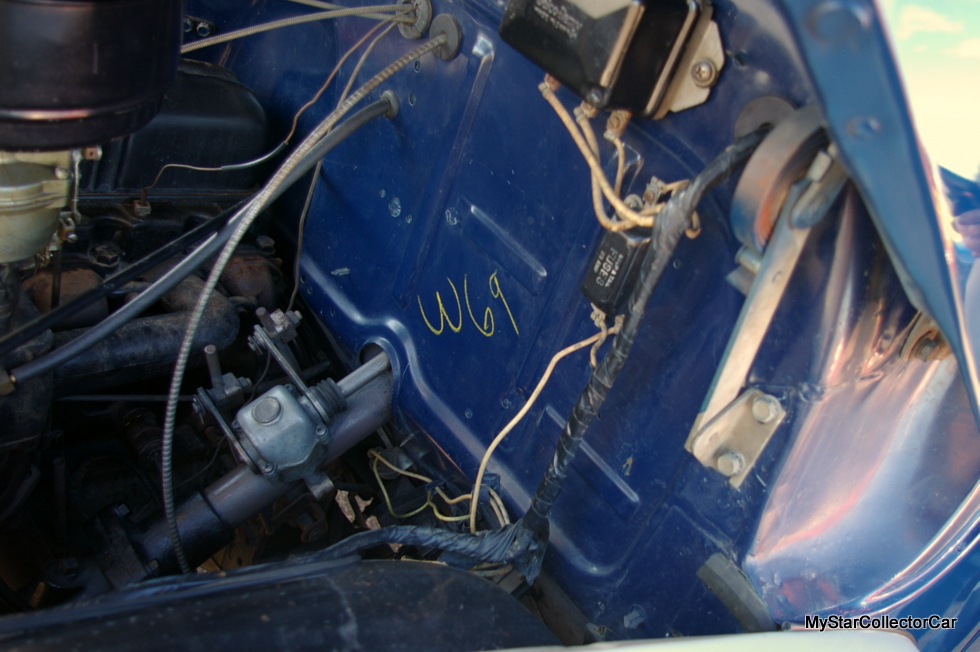 The truck has signal lights and a heater box that were likely added at the dealership because they were not factory items in a 1952 Chevy 1300 pickup. The heater system would be absolutely necessary in Chinook, Alberta because the warm winds of an actual Chinook are not a daily occurrence during a typical Alberta winter.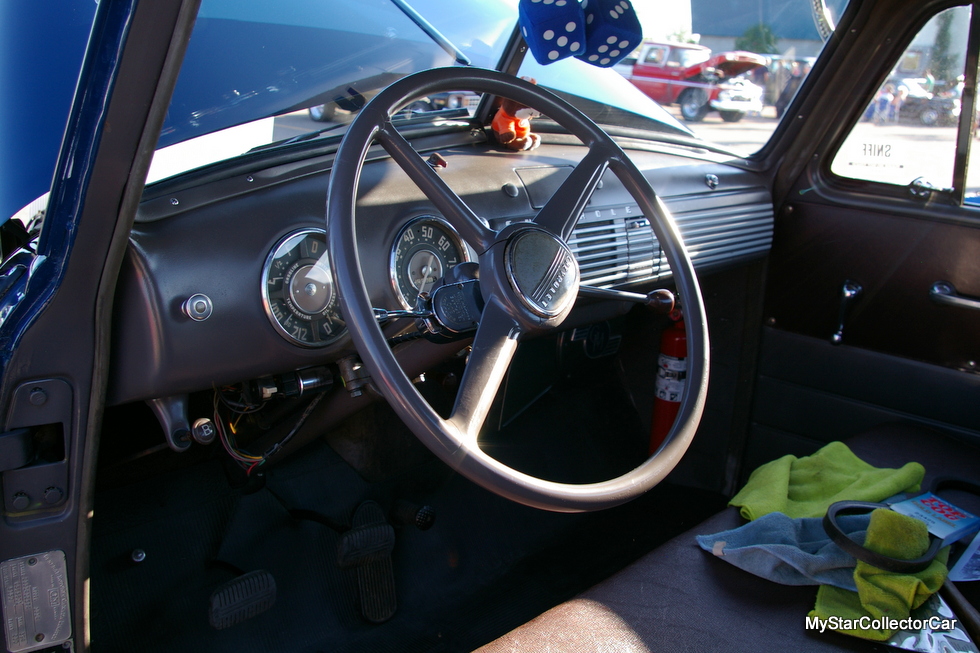 Most days between Chinooks in southern Alberta are pretty wintery, so a heat system would be highly advisable in every vehicle.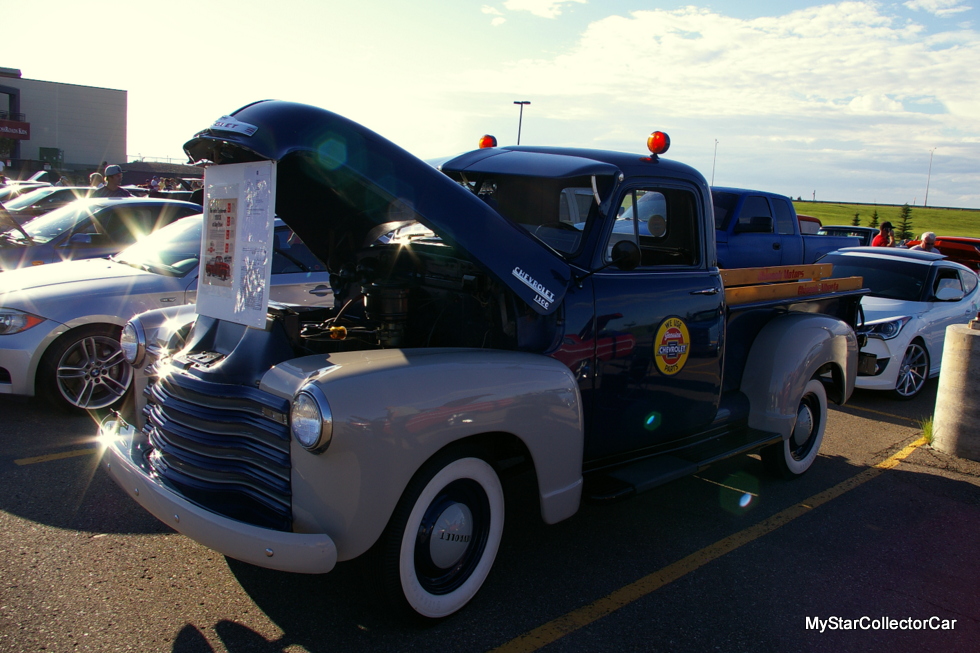 Doug added the Chinook Motors side racks for nostalgia and the visor for a cool factor to the Chevy.
Doug has been pretty easy on his truck since the restoration. He respects the old Chevy truck's advanced years and old school Babbitt bearings in the engine, so he does not push it too hard.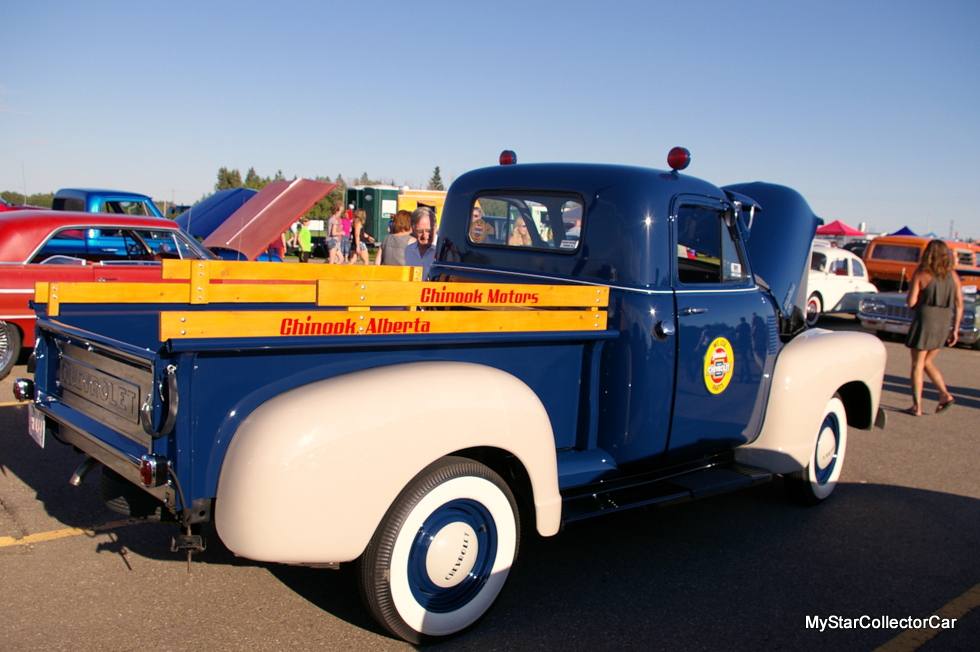 Doug's main goal was to pay tribute to his late father and the long-departed family dealership when he found the Chevy and restored it.
'Mission accomplished in a big way.'
Jim Sutherland
CLICK HERE to Like us on Facebook
CLICK HERE to Follow us on Twitter
CLICK HERE to Follow us on Pinterest
**Please re-post this if you like it.