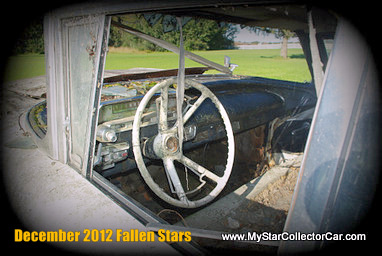 There's a phrase that comes up frequently on MyStarCollectorCar pages that describes the rocky relationship between wives and old iron.
"Aeterna Hostes" in Latin or "Eternal Enemies" in English…
This is not meant to inflame or insult women but the facts are pretty simple—very few females see the upside in Fallen Stars.
Conversely guys grasp the magic in these neglected old rides. They do it in a millisecond. Guys can be the most pessimistic humans on the planet about politics, sports or economics but there isn't a red-blooded male that wouldn't see a future show winner in these old rides.
That's why any of these forlorn old classics would make the perfect Christmas gift for a do it yourself car guy.
Women take note—some of these projects will have your spouse in the garage for the next decade because he won't have time for anything else.
That's called marriage security.
Stroll through these 23 potential Christmas gift ideas and ladies…you'll get them cheap.
It's the gift wrap that will kill the budget.