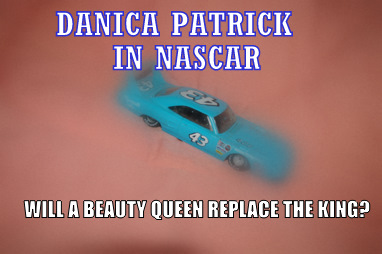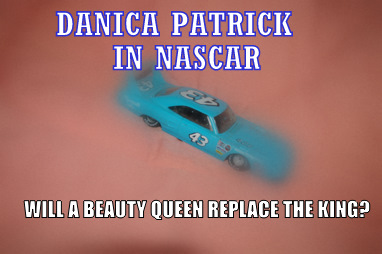 First of all, I really like Danica Patrick. She looks much better behind the wheel of a stationary race car than my personal race god Richard Petty ever did on his best race day.
The problem is that King Richard looked a lot better behind the wheel of a car in motion- race-winning fast motion.
The jury is definitely out on whether Danica will ever be the Queen in her career because of her driver talents.
Some of us really want Danica to win in NASCAR. Either that or appear in Playboy, and not for another interview. As Danica Patrick fans, we would win either way.
The main thing is that Danica Patrick has an opportunity to be multi-dimensional as a talented driver who just happens to be the hottest looking female driver in the world.
That makes her even more interesting in a Jimmy Buffett-ish 'Smart Woman in a Short Skirt' way.
Most guys will claim that a highly attractive woman can rest on her laurels and doesn't have to be Harvard smart. They are more or less right, but few guys would turn down an opportunity to hook up with a hot woman with the optional brain package.
Don't get me wrong, there are a lot of beautiful women that are also very bright, but the two don't always go hand in hand. And that is what makes Danica Patrick such a big ticket item behind the wheel of a race car. She has won an IndyCar race, so she has the chops to make it happen as a driver.
Race car drivers run ahead of the curve in the smarts department. They have to make laser-quick decisions many times during every race. Great drivers just happen to process the information a nano-second faster than their competition. Good decisions and even better luck make champions out of drivers.
So far Danica Patrick has made a lucrative career out of an average race history and a famous Go Daddy commercial package. She is 27 years old and has a great ad career ahead of her because of her looks. If she ever turns the corner on her race career, she could pick up that available cash that advertisers took away from Tiger Woods.
All she has to do is look better than the King at the checkered flag.
So far she has only looked better standing still, and that may never change.
COMMENTS
DENNIS: "One NASCAR race does not a driver make. She was taken out in a wreck that she didn't cause, as well as a few of the "good ol' boys".
She also said in an interview that this was a new game for her and she had a lot to learn. I wonder how well some of the "good ol boys" would do if they had to turn right once in a while?"
EDDIE:"hell yeah she is a race car driver Nascar and Indy. And if she looks good on a poster board then so be it. Don't be hating"