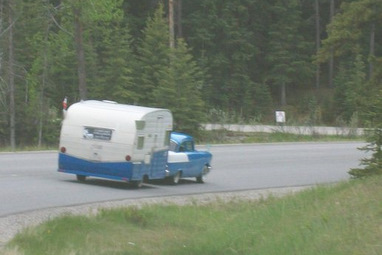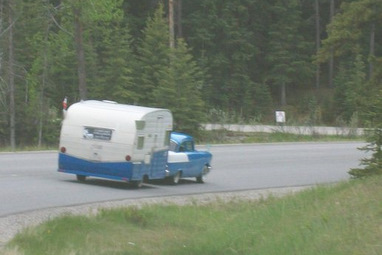 At this point Trevor is as close to "done" on the car as any car guy-in other words it's "nearly there"
He wanted to upgrade the bodywork substantially from his earlier effort because the knew that things such as soft lower edges on the doors would be a future issue.
The trailer was another issue-it was basically sound but it did show the wear and tear of 50 years use, plus Trevor wanted the color to match his blue and white 57 Chevy post.
It was also missing one of the trademark Shasta wings but that was an easy fabrication-for a talented guy like Trevor.
Trevor has given the trailer's interior a retro-diner look and he is dangerously close to a finished look.
But the 50s "home away from home" has already served as a rolling hotel at local shows.
The car was straightened significantly and the rust issues were eliminated because this 57 Chevy is a showcase vehicle for Trevor's auto body shop. Trevor believes that this car helps him empathize with the average car guy-it's a really nice driver that was done on a budget.
One of the upgrades to the paint was a ghost flame look. Trevor's friend Lorne sketched the flames and after that Trevor and 2 other guys spent several hours taping the intricate design but the finished product was amazing.
Trevor finally retired the Nova 305 at this point and replaced it with a 1973 350-he knew that the old engine owed him nothing plus he wanted to upgrade the miles per gallon. The 350 was reworked with 202 heads and a voodoo cam and Trevor happily reports that the setup is good for over 20 mpg.
Except when he's hauling the trailer-gas mileage dips significantly with the 50s brick behind the car but for now Trevor is really happy towing the Shasta to local shows.
But, as we all know, Trevor has a game plan down the road for that as well but like real car guys do, he's enjoying life behind the wheel in an American Graffiti real life fantasy.
Working on a car is great, but this 57 Chevy project is spaced out over decades, not weeks. That's how average-Joe car guys roll.