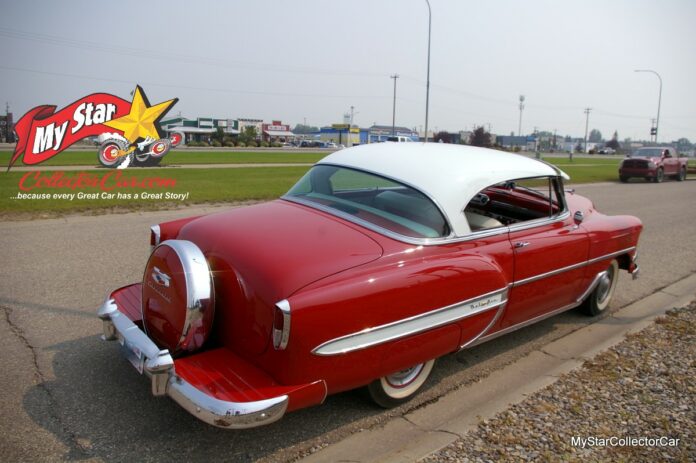 The Tri-Five Chevys built between 1955 and '57 get all the love in the car hobby, but we at MyStarCollectorCar have always been huge fans of the 1954 Chevy models because they blazed their own trail in the style department-and it was a very cool route in our opinion.
However, his search led him to a 1954 Chevy Bel Air, a car that shared much of its design with a '53 Chevy-only a little more stylish in our opinion here at MyStarCollectorCar.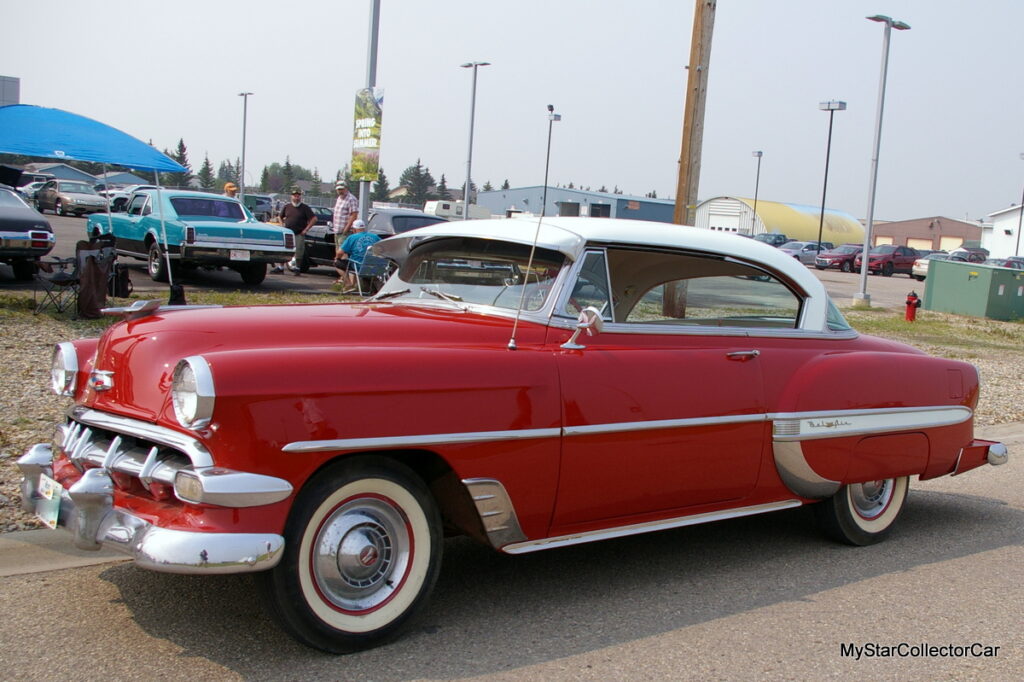 One could present a solid argument about the best way to showcase the overall style of a 1954 Chevy Bel Air- specifically in 2-door hardtop form. The missing B-pillar and thin C-pillar on the car was a runaway hit for the car's overall appearance during an era with a conservative automotive style.
Jim's '54 Chevy is indeed a 2-door hardtop with a two-tone factory paint (white roof/red body) scheme that emphasizes the car's style in a big way.
Jim found the Bel Air about 39 years ago stored up on blocks behind a small-town Chinese food restaurant and no longer in active use. The car's owner was also the restaurant's owner and was willing to sell it for the right price.
The former owner threw out a price ("5") which, given the condition and rarity of the car, could have meant 5000 dollars-even in the mid-1980s. The good news is the man meant 500 dollars, a figure that stunned Jim's teenaged son Jamie–and even Jim for that matter- because it was so low.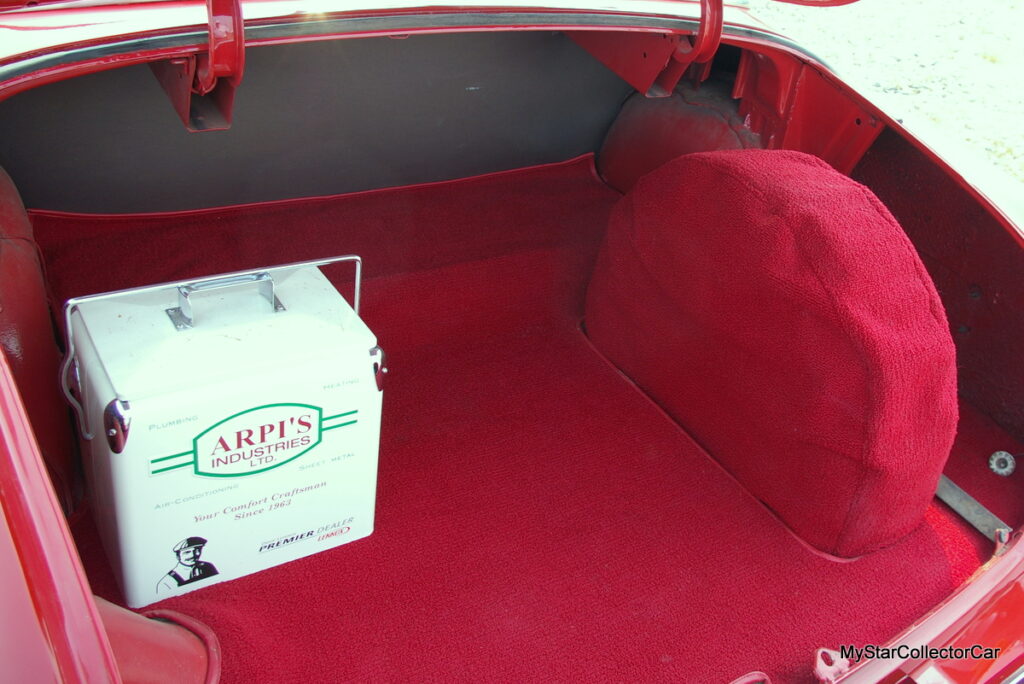 However, Jim is a seasoned negotiator who spent his adult life as an independent businessman, so he offered 300 dollars to the former owner, even though 500 dollars was an incredibly low amount for the '54 Chevy.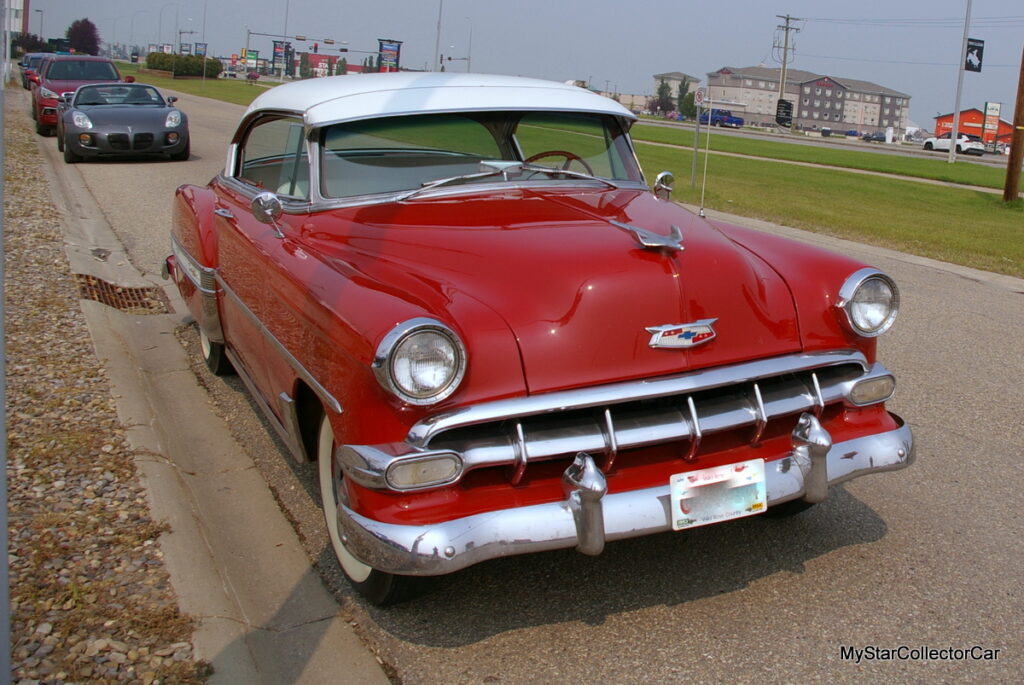 Jim even started to make his way to the door before the former owner called him back and accepted his offer.
The next day, Jim showed up with a tow chain and pulled the car back to his place, roughly 40 minutes away from its former location behind the restaurant and presumably before the former owner came to his senses about the price.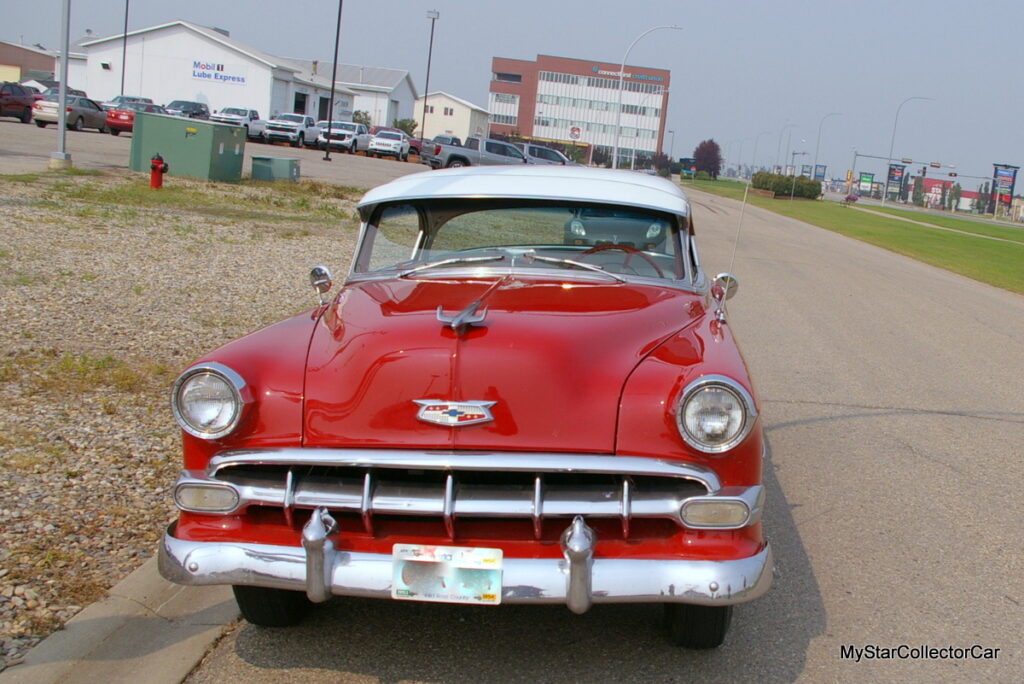 Jim bought a battery and was able to fire up his '54 Chevy shortly after he dragged it home. Thus began his long relationship with his remarkable pre-1955 Chevy two-door hardtop.
For Jim, the most important part of the equation was to retain the car's originality as much as possible during its restoration. He kept its factory powertrain, consisting of a 235 cubic inch straight-six engine and three-on-the-tree manual transmission.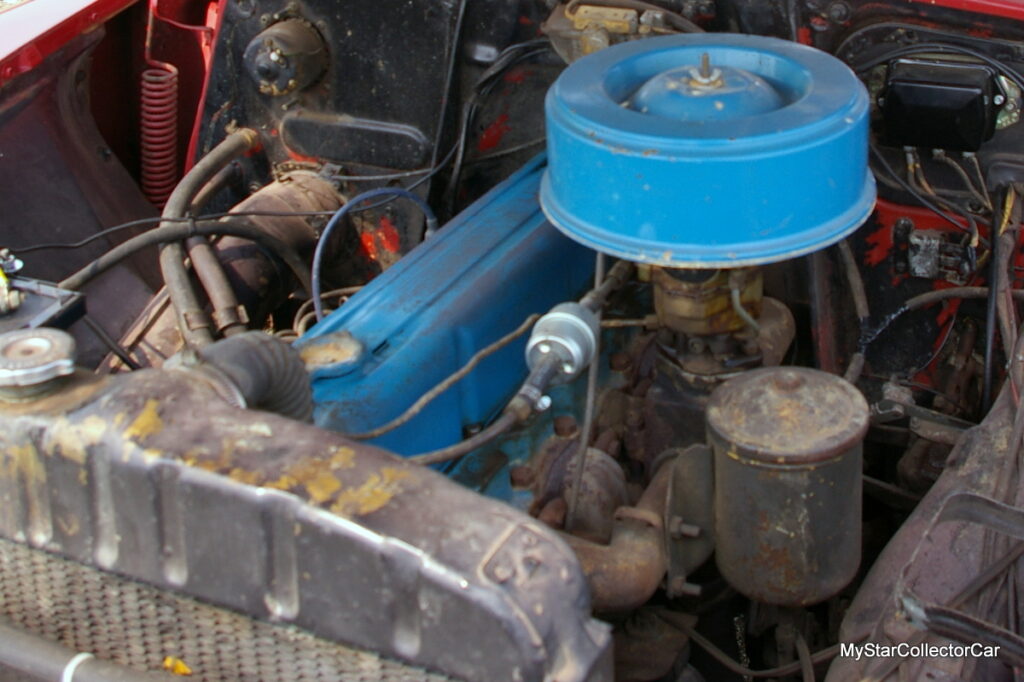 Jim was even able to find original upholstery material for the interior but was able to use the car's original headliner. The car was given a new paint job by Comfort Collision many years ago and still looks like it just left the paint booth.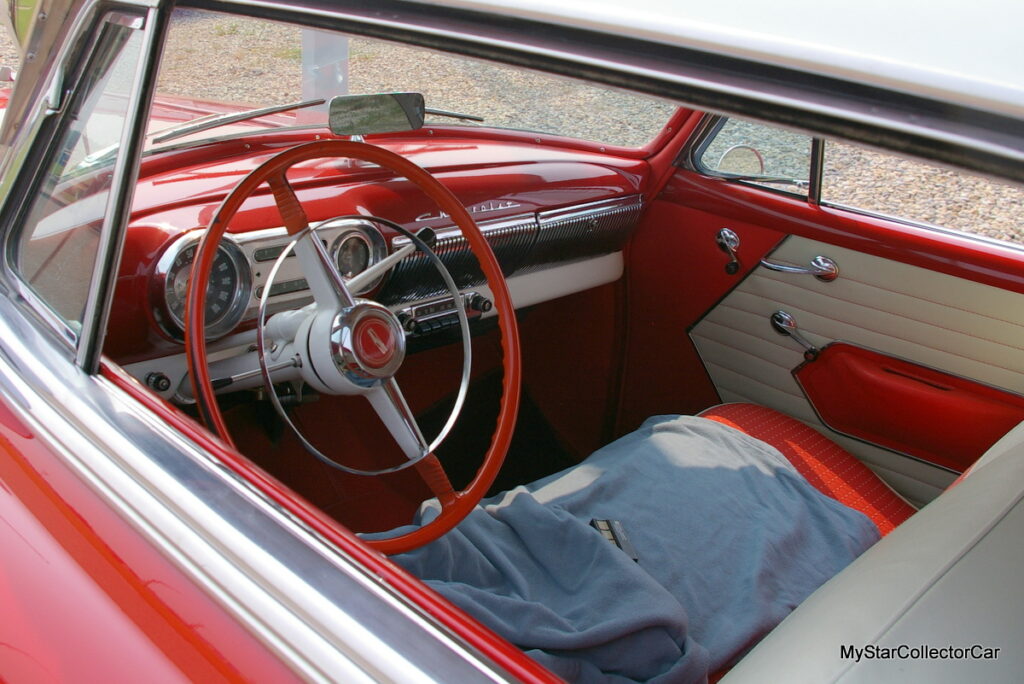 He added a Continental kit to the rear of the car, along with a sun visor over the windshield, two features that are legitimate 1950s-era add-ons for the Chevy Bel Air.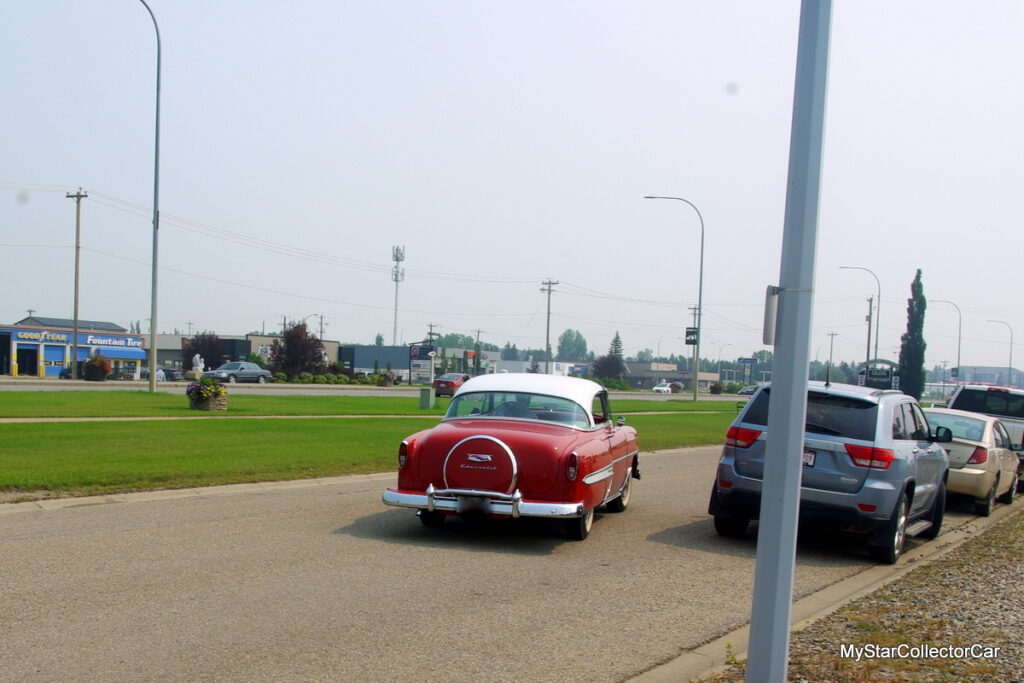 These days Jim enjoys any opportunity to get behind the wheel of his beloved 1954 Chevy Bel Air because, in his words, "I would rather drive it–not store it and just take pictures of it".
BY: Jim Sutherland
Jim Sutherland is a veteran automotive writer whose work has been published by many major print and online publications. The list includes Calgary Herald, The Truth About Cars, Red Deer Advocate, RPM Magazine, Edmonton Journal, Montreal Gazette, Windsor Star, Vancouver Province, and Post Media Wheels Section.