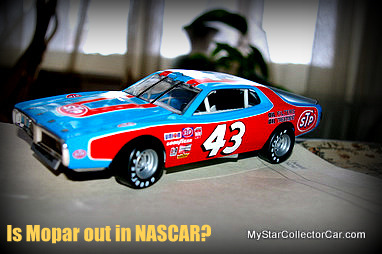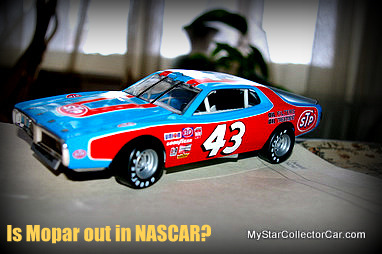 The defection of the Penske race team back to Ford has left the Mopar boys in a major bind.
The long history of Chrysler products in NASCAR was interrupted in the mid 80s when a non-competitive Buddy Arrington Chrysler Imperial and Cordoba combination limped into the 1985 season.
Arrington sold his cars to a racer named Maurice Randall who was forced to retire the cars by NASCAR in December 1985.
The Mopar NASCAR Cup car legacy took a long vacation before its return for the 2001 season with a highly modified rear wheel drive race car from a front wheel drive only factory model.
The big question for Chrysler now is what happens now that Penske has jumped ship on the brand. Will Chrysler find a competitive NASCAR name to fill the gap or will Robby Gordon be the new Buddy Arrington as the only Mopar driver on a NASCAR track?
Three cars in a 43 car field is hardly a recipe for success in the modern era of NASCAR and the fact that Penske only had a two car team made things even more difficult in the new team oriented race philosophy.
Case in point: did anybody really believe that the long long rain-delayed and jet engine fuelled fiery road to the 2012 Daytona victory was about to change on the last lap? Not a hope in hell that was going to happen late in the race as the two Ford teammates played well together as winner and blocker to prevent anybody else from grabbing the checkered flag.
Brad Keselowski was on his own in the Daytona because his lone Dodge teammate had already crashed early and been rendered irrelevant in the race.
Now the Penske race program will be a lame duck team as the team winds down its Mopar affiliation and returns to Ford. That pretty much guarantees a season of monumental mediocrity for Mopar race fans of the Cup circuit.
The golden era of Petty and his electric blue Plymouths and Dodge championship race cars seems like a long time ago as we enter the second decade of a new century. In fact it almost feels like a hundred years ago when Mopar had its own king of the road.
Maybe Chrysler should bring Petty back into the fold and lay some serious coin on a serious race team for the King.
One thing is very true these days: Mopar should be embarrassed by its current lack of representation in NASCAR's Cup series-that situation my friends, is an absolute tragedy.
Jim Sutherland

More car stuff at- https://www.mystarcollectorcar.com/