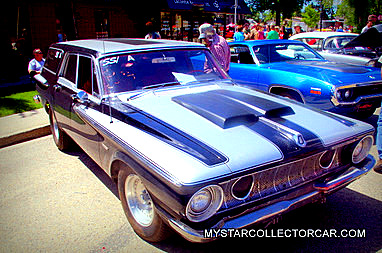 In 1962  a Plymouth station wagon owner probably didn't have to justify his purchase to his wife for a very simple reason.
Plymouth wagons were the most practical answer to the standard 1960s baby boomer question – "where are we going to put all these kids?"
This particular wagon was purchased for a far different yet eminently practical reason but its current owner did have to justify the acquisition.
Murray's Plymouth was originally bought for service as an ambulance, not a grocery hauler. That's why it came with a 361 cubic-inch motor.
Ambulance services in the 60s were based on the pre-paramedic "grab and go" philosophy where horsepower counted far more than medical expertise.
Murray is a retired firefighter so he's well acquainted with the advantages of speed in an emergency situation but these days the old wagon's speed is typically confined to the drag strip. This car routinely cracks the 15-second barrier with a few tweaks but basically it is still running a 361.
The big wagon is incredibly solid on the highway and Murray reports that "it runs 3000 rpm at 70 miles per hour" so the rear gear is clearly sympathetic to freeway traffic.
The biggest battle Murray has these days is justifying the cost of driving this big wagon to his wife but he gets by that with this argument, " I tell her that the fuel costs are offset by the appreciation of the vehicle itself". Golden advice for car guys across the planet-Murray should have a statue built in his honor.
Another defense strategy is found in the car itself. He uses it to haul lumber because as he says, "I don't have a truck so this will have to do". Chances are he'll never own a truck either as long as this Plymouth is part of his stable.
Murray is a typical car guy so there's always room for modifications on a ride and in this case he's considering a radical shift. He'd like to turn this old ride into the world's only 1962 Plymouth 2-door hardtop wagon.
Whatever the outcome of that concept he's definitely keeping this car. In 1962 you didn't have to justify a station wagon, but in 2011 the game has clearly changed…
No worries-Murray is all-pro at that game….
Jerry Sutherland
CLICK HERE to Like us on Facebook
CLICK HERE to Follow us on Twitter
CLICK HERE to Follow us on Pinterest
*Re-post if you like this MSCC article…thanks.