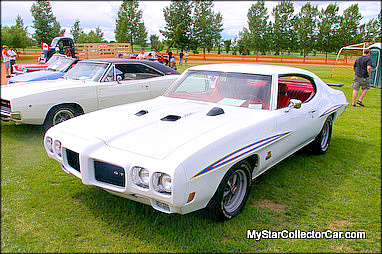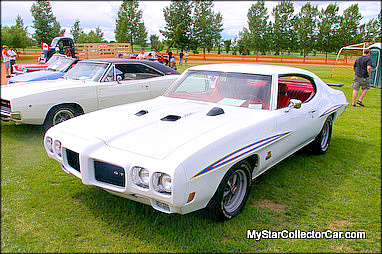 There's a price that goes beyond the spike in value for classic American muscle.
These old classics have become so valuable that nobody wants to drive the wheels off them because that makes them a non-accountant approved, depreciating asset.
Jamie Landals has no such fear.
Jamie comes from a family of muscle car builders so he's not intimidated by any project. He's seen and worked on them all, but he was very intrigued by this 1970 GTO Judge. This was relatively clean car by restoration standards, so Jamie took a serious and professional look at this classic Goat.
His first impressions were good as he explained, "I found it in my travels and the price was right so I bought it".
The Pontiac GTO Judge had evolved a little since its introduction in 1969 as an upgraded Goat. It was still a working class guy's car but the 455 became part of the option package so this GTO had some serious pop under the hood.
Jamie liked that part as he added; " you have to drive them like they were meant to be…".
He admitted that this Judge was far from the toughest job that he's ever taken on in his career but in reality, there's no such thing as a turnkey car project. Some are just less headache generating than others.
The previous owner had gone with an Orbit Orange paint job, probably because most people expect GTO Judges to be bright orange. Jamie knew that this was a factory Polar White car so this Poncho went back to the original paint code.
This wasn't a simple "splash and dash" job because Jamie likes to do quality work so the Judge was media blasted down to metal. Fortunately that exercise didn't uncover some frightening patches of lethal rust so Jamie had a relatively easy time with the body preparation.
"Relatively easy" is a subjective term but Jamie admitted he'd, "seen a lot worse".
The biggest issue after the paint was something that is disturbingly familiar to car builders – particularly with late 60s-70s GM products. Door fit is a long-term process with these cars because they're big and heavy with long surfaces for fit. This GTO Judge was no exception as Jamie explained; " I put a ton of effort into the door gaps. It was a lot of work".
Jamie kept the car basically stock but he confessed to a few things, " the motor's been hot-rodded a bit, I've upgraded a few things". He's still working on some of the factory options, " The Ram Air III works but I don't have it hooked up yet".
He has plenty of time because; " I'm going to hang onto it for a long time. I like this car".
The Judge is, in Jamie's own words, " still a work in progress because there are just a few trim parts left to find and some mechanical stuff to find too."
This 1970 GTO Judge is basically "there" now because as Jamie admits, "so far I've put 600 hard miles on it, I don't spoil it because these cars were meant to be driven".
That's a refreshingly good attitude in today's "buy muscle cars as a hedge against inflation" world.
Jerry Sutherland
Follow us on Facebook at-http://www.facebook.com/MyStarCollectorCar
Follow us on Twitter at- https://twitter.com/#!/MyStarCollecto1