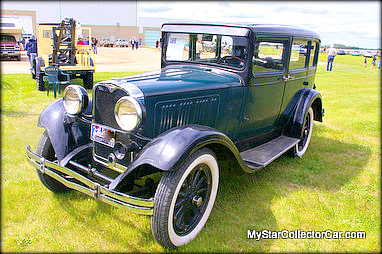 Alfred Johb is no stranger to cars from the 1920s.
In fact, he owned two Model As in the 1930s.
He admits that he never saw a Dodge back in the Dirty 30s and his theory was pretty basic as he explained, "They were too expensive, Model As were cheaper".
Years later, he had an urge to own another car from the Prohibition era and this 1928 Dodge Brothers Super Six Sedan appeared on his radar.
Alfred is a very modest man – he was actually surprised at the interest in his old Dodge at the car show. There was little doubt why people hung around this old classic because it is a true survivor.
Cars from 1928 rarely have original paint for many reasons but the biggest one is the 84-year gap between rolling out of the Dodge Brothers factory with brand new paint and a car show over 8 decades later.
This Dodge has its original Dodge Brothers factory paint and it's in exceptionally good condition. That's like finding a Christmas toy that your parents hid back in 1958.
Alfred bought the car over twenty years ago as he admitted; "I was anxious for an antique so I found this Dodge and had to own it".
This Dodge Brothers Victory Six Sedan wasn't purchased to sit in a museum because Alfred bought the old classic to drive it. This survivor wasn't destined to sit in a building.
Alfred put some unusual miles on the clock of this survivor Dodge Brothers as he said, " I used to drive it in a lot of parades over the years but they're too slow. It was hard on the clutch".
Most aficionados of extremely old iron are well aware of Alfred's dilemma on the parade circuit because these old brutes had a 3 speed non-synchro transmissions.So driving the Dodge was a little tougher than driving a new Lexus in traffic.
The notoriety of a survivor Dodge Brothers sedan has put Alfred in the occasional spotlight at various car shows as he explained, " I was at a Powerama 6 years ago and this guy kept bugging me to sell it to him. He wanted me to trade for his '48 Dodge then he asked if I'd take 20,000 dollars. I told him there was only one problem – I spend the money and you got my car".
Alfred has a strong bond with the old Dodge and he added, "I like to baby it". He believes in maintenance but admits that it doesn't see enough miles to be a huge problem in that area.
One of the other features of the 1928 Dodge is one that would not occur to the casual observer. Alfred explained, " Modern cars aren't built for seniors, I'm more comfortable in this car".
The pace in the '28 Dodge is probably more compatible for seniors too as Alfred admitted, "It's good at 35-40 miles per hour but past that it's working pretty hard".
The incredible passenger room in the old Dodge has pushed it in another direction – as a wedding car. Alfred explained that the spacious car is a very attractive and unique addition to any wedding party.
Alfred has made a few concessions as he and the car get older and now he admits, "I usually trailer it to shows on a flat deck these days" but that hasn't diminished his commitment to the old Dodge.
He explained it this way, " I don't know for how long but I'm still having a lot of fun with this car".
Jerry Sutherland
Follow us on Facebook at-http://www.facebook.com/MyStarCollectorCar
Follow us on Twitter at- https://twitter.com/#!/MyStarCollecto1