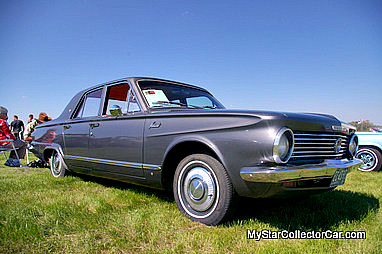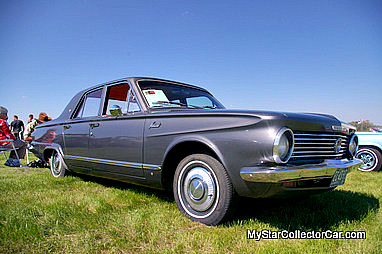 A 1964 Plymouth Valiant was never considered hip-not even in the loosest definition of hipness, but the TV show 30 Rock is considered very hip.
We at MSCC have to fall back on the great poet/philosopher Huey Lewis, a guy who brought us such good news in the 80s when he told us that it's hip to be square.
"Square" is a 60s term that would be roughly comparable to "lame" or "lame-o" in today's jargon. Actually we have no idea if "lame" is even a hip term in 2012, but we don't really care, because we pick the Valiant over 30 Rock every day of every week in a cool factor battle.
We at MSCC are old enough to have picked the Valiant in 1964, let alone 2012 as cooler and hipper than this over-rated TV show-although we might have gone with 'Gilligan's Island' over the Valiant in 1964. 30 Rock tries way too hard to be hip while a 1964 Valiant arrived there 48 years ago when the boys from Mopar built the little compact for owners who blazed their own trails of coolness.
A '64 Valiant owner was unconcerned about flash, chrome and thunder in his or her ride, but a small block 273 was available if he or she chose to spend more time in the literal fast lane. The hippest owner is the one that doesn't try very hard and ownership of a 1964 Valiant was definitely not trying too hard- if at all.
'30 Rock does try too hard to be hip. The entire show is designed around an overwhelming urge to take an overdose of satirical potshots at TV, show biz personalities and political conservatism-all low hanging fruit in Hollywood circles where it is also hip to be left. The Valiant and its owner don't care about this concept-at all.
But think about a 1964 Valiant, it is the ultimate hip statement in 2012 for its owners. It likely has a push button transmission, Slant Six engine, too many doors, bench seats, AM radio and not exactly drop-dead-gorgeous beauty.
It blazes its own path in life and so does its owner-it does not get any better than that in real hipster world.
Jim Sutherland
Follow us on Facebook-http://www.facebook.com/MyStarCollectorCar
Follow us on Twitter at- https://twitter.com/#!/MyStarCollecto1