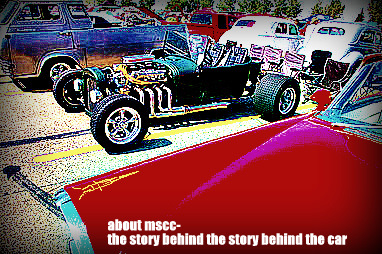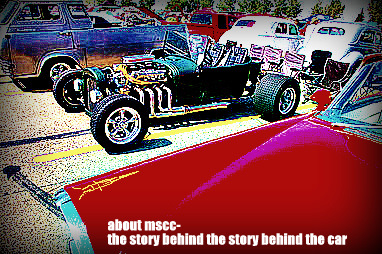 WE ANSWER SOME FREQUENTLY ASKED QUESTIONS ABOUT MYSTARCOLLECTORCAR.COM
April will mark three years since we fired up mystarcollectorcar.com after several years of planning and computer guy auditions.
We were very happy when we found Mike Hermary (Imagine Media Designs) after numerous dead ends that included irritating misadventures with more computer flakes than anybody needs to encounter in one lifetime.
Mike is a consummate pro who treats his business like a business-unlike many in his field.
So now we are three years hence and we can answer some questions about mystarcollectorcar.com.
The obvious question is what exactly is mystarcollectorcar.com? The name itself explains most of the concept because we like to celebrate the car guy culture and the bond between vehicle and owner.
There is indeed a story behind every ride and that is the essence of our philosophy at MSCC. We want a simple and emotional reason why the vehicle is a part of a person's life.
Who does all of the writing at MSCC? Some of our advertisers are completely floored when we tell them that only two of us (Jim and Jerry Sutherland) provide all of the written material for the website. We have had the odd guest contributions from our nephew and heavily committed car guy Angus Sutherland as well as Leo Pare and Dave Nagy from our local daily newspaper and finally our Florida philosopher and correspondent Dennis Halpin. There are literally hundreds and hundreds of articles on our website and hundreds more on the burner. It is what we do best in life.
We do the heavy lifting for all of the material for MSCC on a daily, weekly and monthly basis because the new age of cyber information requires that websites stay as fresh as vegetables just plucked from a summer garden.
We both thoroughly enjoy the written side of the website because the car topic is interesting every time we interview somebody. We also believe that the only way to get the story is to immerse ourselves in the car guy world of shows, gatherings and swap meets. You cannot understand the car culture without mixing it up with these guys in their own world. Besides, it is a great world-and an even better world for a story.
We have also renewed our relationship as collector car feature contributors to The Truth About Cars, a giant automotive website that was named one of Time magazine's Top 25 sites in 2011. The arrangement is mutually beneficial to both parties and places our MSCC articles on a very large world stage. Just remember that you will read the articles on our site first before we send them to TTAC.
Finally, how do you make money with a website? It is all about website traffic when we perform our other jobs as salesmen for MSCC. The numbers of readers mean a great deal for potential advertising customers on our website and our traffic has climbed dramatically in three years. We also provide professional ghost writer services for people, websites and businesses that are challenged by the written word.
Most customers are somewhat familiar with e-commerce advertising and eventually we will live in a world where all of our information will come from a cyber source. That day is sooner than later now and we appreciate that we can place ourselves amongst the many information websites currently available on the Internet and before everybody else from old school print communication (newspapers and magazines) arrives at a new address on the Web.
Final question: can you teach old dogs new tricks? Yes-we are living examples of that concept here at mystarcollectorcar.com
Jim Sutherland
Follow us on Facebook-http://www.facebook.com/MyStarCollectorCar
Follow us on Twitter at- https://twitter.com/#!/MyStarCollecto1