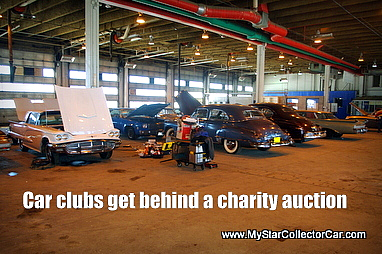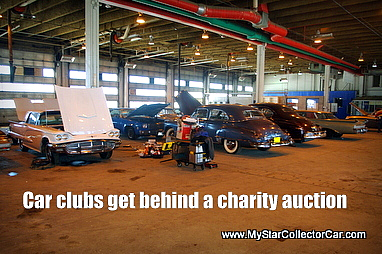 There's an old saying, "tough as herding cats" that describes the mayhem that occurs when a group of independent thinkers try to work towards a common goal.
This is in no way an endorsement of cats because independent thinkers implies superior IQ points (cats don't qualify) but it is a great description of a current project that involves herds of car guys (who do qualify) working on 100 old rides destined to be sold in a charity auction.
JC (Jack) Anderson is a well known local (Calgary AB) businessman and car collector with a large assortment of unique classic rides.
He donated 100 cars from his collection to help Olds College raise funds for a unique program at the school.
Olds College is located in Olds. Alberta. Canada and they were the happy recipients of the coolest charitable donation ever made to an institute of higher learning. Charlotte Adkens-Weiler is the Senior Development Officer at Olds College and she is heavily involved in this unique auction.
Charlotte explained the details behind the fundraiser, "The funds go directly to the Olds College Centennial Rural Entrepreneurial Legacy Fund. Every kid has to take a rural entrepreneurship course and the goal is to get them to start businesses in the rural areas instead of leaving the areas for other opportunities".
There has been a great deal of local support for the auction from various automotive retailers and suppliers and a major sponsor, " Mary Roberts from A&W Canada and their Cruisin' the Dub has given us unbelievable support and it's going to carry on to the actual weekend. The car clubs have also given us incredible support too".
Charlotte has been through a steep learning curve about the car hobby world with the project, "I found out that car guys would pick out their favorites and get pretty attached to them so they'd get pretty excited when they'd skip a weekend and find somebody else working on them the next weekend".
The other thing was the organization side because one of the cars had its oil changed four times because nobody marked it down. She agreed that "It was chaos at first, the checklist that stays with the car was the best thing we did. Now we have an SRS (Start-Run-Stop) system that really helps".
This checklist is extremely important because critical decisions have to made when you're faced with 100 old classics in various stages of repair, "We're working with two appraisers who decide whether a repair or refinement is worth the expense at auction. In other words, will we get a return on that investment?".
That is exactly what entrepreneurship is all about-the tough economic decisions.
The parade of help for the cars extends over many decades as Charlotte explained,"We have 40 car guys show up every Saturday and they range in age from from 16 to 91 years old. The 91 year old guy is the acting supervisor for the work. It's great because we have father-son teams and grandfather-grandson teams coming in every weekend. They're the neatest guys you could ever meet".
This is a car guy project on a huge scale and it extends over a wide range of cars from the 1920s to a 2000 Thunderbird so car guys will appreciate the logistics behind this effort. Charlotte had one big concern, "There's a group of vintage Jaguars in the shop and we can't get guys to work on them so we really need some help in that area to get these cars ready".
The other big concern is car batteries, "We have a huge need for car batteries, we've had a quite a few donated but we need more. I'm willing to take a cash donation, give you a receipt and I'll actually go out and buy some batteries with the funds. We've had great support from local businesses with chargers and stuff and these batteries would really help".
Again, car guys will understand this part of the equation, "We still need a lot of help with these cars and trucks before the auction so any car clubs that could help out would be great. We're going to be open every Saturday until the auction so even if you can come in and help detail these cars that would be huge".
There's one more thing that would really help as Charlotte explained, "If the car guys could get their wives to bake some cookies these guys would really appreciate it because they even eat mine and they're not that good so any baking would be great. We have pizza available but baking goes over in a big way".
Charlotte ended with the same theme, "If there's anyone who can help in any way, then come out to the shop in Airdrie on Saturday and give us a hand. You can contact me through the college at 403.507.7716 or email me at a cadkens-weiler@oldscollege.ca "
"We could really use any help we can get".
Jerry Sutherland