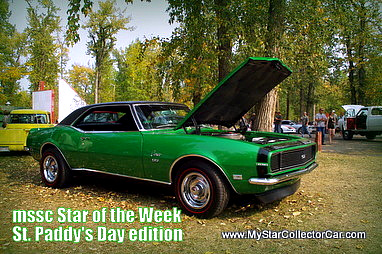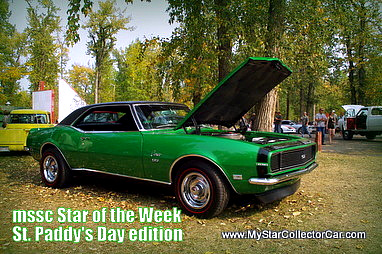 MARCH 17 STAR OF THE DAY: ST PADDY'S DAY-1968 CAMARO, ERIN GO BRAGH STYLE
The Star of the Week landed on St Paddy's Day so anything less than a green car would be an insult to the Emerald Isle.
A green car in the truest sense of the word so don't look for a car that you plug in every night on St Paddy's Day.
St Paddy's Day is a classic celebration so why not bring a classic green 1968 Camaro SS 396 to the party?
Nothing says party til you drop better than this Chevy bad boy so the MSCC St. Paddy's Star of the Week is this muscle car legend from a show last September.
Happy St Paddy's…

MARCH 16 STAR OF THE DAY: '64 FORD GALAXIE-RED, LARGE AND IN CHARGE
The '64 Ford Galaxie is considered huge by 2013 passenger car standards but back in 1964 this was average.
Cars like Lincolns, Cadillacs and Imperials were large…'64 Galaxies were closer to "kind of large" by mid-60s standards.

This one was at a May 2012 show and nobody there thought it was average. They thought this Star of the Day was red, large and in charge.
MARCH 15 STAR OF THE DAY: 1959 PONTIAC PARISIENNE CONVERTIBLE-CANADIAN FLASH WITH A CHEVY HERITAGE
Canadians are known for being just little bit less flashy than our American brothers. The reasons are pretty basic…our friends and neighbors next door are like having an older brother who was a star athlete, Class Valedictorian, Class President, got all the women and drove a great car.
You tend to be overshadowed by a guy like that for obvious reasons-those are big shoes to fill.
Yet in our own way we've done pretty well even with an all-star older brother and this '59 Pontiac Parisienne is a good example. It's the Canadian version of the full-load Pontiac and it's got a northern cool factor that gives it a 'wow' factor even in 2013.
It's slightly smaller than the US Poncho, it was built with a lot of Chevy parts so it's slightly less refined than the southern version.
That doesn't stop this Star of the Day from a 2009 car show from exuding its own version of Canadian flash…and there's no doubt that the cool older brother would agree.
MARCH 14 STAR OF THE DAY: A LOOK BACK AT HOT ROD TRENDS 35 YEARS AGO
This picture was taken in Banff, Alberta Canada back in the Summer of 1978.
There's a trend today to build retro-rides that are a salute to the golden era of hot rods in the 1950's and '60s.
There's no doubt that this reflection on the past is focused on the formative years of the hobby.
The focus on the glory years is understandable because that's when hot rods made the biggest impact on society with the punks and rebels stigma.
The fact remains that hot rods are like rock and roll-they never went away. Guys still built classic rides in the disco era and this picture is clear evidence.
Some elements like the hemi engine and the mags are things that aren't trending in 2013 rods but the fact remains that this Star of the Day was a vital piece of hot rod history.
MARCH 13 STAR OF THE DAY: 1958 CHEVY EL CAMINO-YES IT DOES EXIST
Chevy guys already know this but the less automotive history inclined people probably don't realize that the El Camino debuted in 1959.
That was one year after this very cool '58 El Camino.
The El Camino was Chevy's answer to the Ford Ranchero and the Ford Ranchero was Ford's answer to the question-what kind of truck can an urban cowboy drive in the late 50s?
Clearly this Star of the Day from an auction a few years ago was somebody's real-life response to the hypothetical question-what would have happened if Chevy would have jumped into the Ranchero fight a year earlier?
Question asked…question answered.
MARCH 12 STAR OF THE DAY: A TUESDAY CLASSIC- BIG, BAD WILLYS FROM LAST SUMMER
Tuesday is one of those days with no real status so the only solution is to add a little definition via this big, bad Willys from show last summer.
This is clearly one of those look at me rides because it's about as subtle as a hand grenade exploding in a library.
A Willys is a cool start from Day 1 but this one is clearly in the barely street legal gray area. That's what makes it so impressive because its presence dominates the street…the Bland-mobile beside it barely registers on the perception scale.
That's what makes it an MSCC Star of the Day.
MARCH 11 STAR OF THE DAY: THE FANTASY DREAM TRAILER FOR MOPAR GUYS- A CHARGER AND A DAYTONA
There's a "what if?" scenario that every car guy plays. It's the one where you pretend to have Bill Gates money without his chronic case of geek-itis.
In other words you can own any car you want…the experts call it Jay Leno's real life.
Mopar guys are pretty specific about their rides because they are more loyal than Chicago Cub fans so their car stable would be full of classic Dodges, Plymouths and Chryslers with an occasional DeSoto thrown in for balance.
In this scenario you'd need trailers and they'd carry cars like this…a Daytona and a Charger.
This is a Star of the Day fantasy picture from a real life show from last September but there's only one difference.
In the fantasy world the line of car trailers would stretch for miles…
For past Star of the Day please follow this link.